Richard Dutcher * Matthew A. Brown * Wilford Brimley
Carrie Morgan * Jongiorgi Enos * Tayva Patch
Reviews of and news articles about
Richard Dutcher's film
"Brigham City"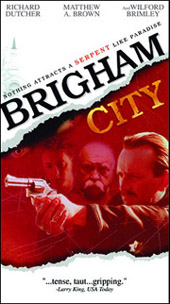 Other Links:
Whodunnit?
Brigham City is a Murder Mystery.

By the looks of things, author/director Richard Dutcher is playing by the rules of the genre:
Somebody has been killed.
Somebody is the killer.
The killer is one of the characters in the film, introduced long before we figure out whodunnit
Do I have any special inside information about the film? No. BUT -- I have the list of principle cast members from the official "Brigham City" web site. As a public service, I'm providing odds on each of the players:

Sheriff/Bishop Wes Clayton (Richard Dutcher)
I don't think so. Not that the "protagonist investigates a crime that he actually committed himself" hasn't been done before (most recently with Tuvok on ST:Voyager), but there's no way Dutcher's made a film in which the bishop is both the hero and the killer. (Now, if Neil LaBute had written this film, the killer definitely would have been the sheriff. If Trent Harris had written it, the killer and the victim would have been Sheriff Clayton.)
Odds: 20 : 1

Stu, Former Sheriff (Wilford Brimley)
Hmm... The old cuddly guy did it? That would be a twist. Maybe that's why Wilford took the role -- to have a chance at being a bad guy for once, instead of yet another curmudgeonly brusque but actually nice guy. And yet, his character is the former sheriff, so he's got to know that killin' people is against the law. (And streneous, no matter how many Quaker Oats you eat each morning). Probably not.
Odd: 8 : 1

Terry, Sheriff's Deputy (Matthew Brown)
Ooh, that would be creepy, wouldn't it? If the greenie deputy (also the greenie missionary from "God's Army") was just pretending to be a hayseed kid and was actually a cold-blooded killer. But wouldn't that make Matthew Brown's throngs of fans squeamish after seeing the flick? (Not to mention being totally out of character, from what Terry seems like in the trailers.) Probably not him.
Odds: 7 : 1

Peg, Sheriff Clayton's secretary (Carrie Morgan)
Why would she kill anybody? She looks like an extremely happy person. And, although we know Dutcher is a modern man, a progressive kind of guy, he's also just too traditional to have a woman do the murders in his first mystery film. Sorry, ladies.
Odds: 10 : 1

Ed, Peg's boyfriend (Jon Enos)
Hmmm... Could be. He's the local tow-truck driver, so he's got opportunity, driving around late at night on those Brigham City roads. The murder victim is found in her car on the side of the road, after all... Maybe Carrie Morgan's bright and sunny demeanor drove him to a homicidal rage? PLUS: Jon Enos is an excellent veteran actor, exactly the kind of guy you'd want to have play your killer.
Odds: 4 : 1

Meredith and Garcia, FBI agents from New York (Tayva Patch and Jeff Johnson)
No. They fly out to Utah after the murder. So that would make no sense at all if one of them was also the killer.
Odds: 50 : 1

April, Deputy Terry's wife (Wendy Gardiner)
Matthew Brown (Terry) is such a cutie. If I was married to him I wouldn't kill anybody. Unless... I thought he was cheating... No... These kids are so young, they're probably still on their honeymoon. Besides, this is Brigham City, not New York City.
Odds: 12 : 1

Glen, Mayor of Brigham (Sterling Brimley)
The mayor...? Maybe he's proactively trying to preserve the town's old-fashioned ways. I'm sure there are lots of mayors who wish they could kill lots of people. But the guy's old, probably has arthritis... (I wonder who Rocky would knock off if he could get away with it. Actually, I know who he would do in, but I'm not going to tell you.)
Odds: 6 : 1

Ralph, construction foreman in town, Frank Gerrish
Big, strong guy like Frank... Yeah, he coulda done it. Why else is a construction foreman, not related to any of the investigating officers, town leaders, or church leaders even in the film?
Odds: 3 : 1

Evelyn, Miss Brigham's mother (Janice Power)
Okay, I know I said the killer's not a woman. But Evelyn looks suspicious in her cast photo. And why is she listed before "Miss Brigham" and before her husband, who is the sheriff's friend and bishopric counselor? And note her name: You can make the words "evil" and "villain" out of "Evelyn." (Is "Evelyn" even a real name???)
Odds: 4 : 1

Ernie - Miss Brigham's father, Wes' church counselor (Rick Macy)
Well, that would be rich... The killer is the counselor (in the bishopric) to the investigator. Lots of drama there. It doesn't seem very realistic (why would somebody voluntarily be in a bishopric, an unpaid position with lots of work required yet no glory because you're not the bishop, if they were secretly evil?) But... having the bishop's "first officer" be the killer would certainly provide balance for those cinematic types who aren't comfortable having the film's most religious guy be the hero.
Odds: 4 : 1

Ivan and Max (Jerry North and Jack North)
Ivan and Max are two brothers who have lived in Brigham their entire lives. Killers? Nah. They're red herrings. Probably suspects early on, to throw the sheriff off the track of the real killer.
Odds: 7 : 1

Spencer, 12-year-old Deacon (Nick Whitaker)
I doubt it. No actor from the Whitaker family has ever played a murderer. Jaywalking while sipping a Dr Pepper is about as naughty as they get (onscreen, anyway). And a twelve-year-old?
Odds: 20 : 1

Miss Brigham, local beauty pageant queen (Jacque Gray)
The beauty queen? Not likely. But won't we all be surprised if it is her! (Besides, isn't she the victim?)
Odds: 25 : 1
---
If You Like Brigham City, You'll Like...
Deb Ralston mysteries - This popular mystery series from St. Martin's Press includes over a dozen mystery novels. Texas writer Lee Martin (the pseudonym for writers Anne Wingate and Thomas Russell Wingate) is a convert to the Church of Jesus Christ of Latter-day Saints and her character, Deb Ralson, joins the Church as well in the later novels. Check out http://www.pink-tree-press.com/lee_martin.htm with cover and plot summaries, and this bibliography which mentions some of the author's other works. Books in the series include Genealogy of Murder (St. Martin's Press) and The Thursday Club (Deseret/Bookcraft).

Anne Perry - One of the best-selling mystery novelists alive today, Perry is best known for her historical Victorian mystery novels. One major series features Detective Charlotte and Detective Thomas Pitt, and another features Detective William Monk and Nurse Hester Latterly. She has had a novel made into a television movie ("The Cater Street Hangman"), has twice won the Association for Mormon Letters Award for Best Novel (for The Sins of the Wolf in 1994 and Tathea in 1999), and she writes a monthly column for Meridian Magazine. Perry may seem mild-mannered in person, but her novels grapple with the darkest of human emotions, albeit from a deeply moral perspective.

Sherlock Holmes - Everybody has heard of Sherlock Holmes, the fictional character that launched the mystery genre. But did you know that Sir Arthur Conan Doyle's very first tale of Holmes, A Study in Scarlet featured Mormons -- as the detective's nemesis! Doyle later journeyed to Salt Lake City, met actual Mormons, and expressed regret for his earlier, laughably inaccurate portrayal of them (which had been based on anti-Mormon and anti-Semitic propaganda). Thereafter, he only wrote and spoke of Mormons with sincere respect. [Source.]

Alexandra Campbell mysteries - Genealogy and murder combine in two novels by G. G. Vandagriff about a mystery-solving Latter-day Saint genealogist named Alexandra Campbell: Of Deadly Descent and Cankered Roots.

The Mystery of the Chinese Junk - In this 1967 movie the Hardy Boys become owners of the Chinese junk Hai Hau. They head to New York City and go spelunking to break up a gang of criminals. The connection? "Aunt Gertrude Hardy" is played by none other than Portia Nelson, the actress who was born in Brigham City, Utah. (Nelson was also in the original Doctor Doolittle.) Yeah, it's a stretch. Sue me. (In case you're wondering, other actors who were born in Brigham City include Mortimer Snow and Eric Lichtenberg, who is in Tim Burton's new "Planet of the Apes" movie.)

God's Army - Released in 2000, this ground-breaking film is not a mystery, but it was written, directed, and produced by Richard Dutcher (who also stars). But you knew that already.

Eliza and I - You knew about "God's Army." But have you seen "Eliza and I" yet? This is another film directed by Richard Dutcher. Made for PBS, it presents the story of Eliza R. Snow, the poet and lyracist who was an early convert to the Church and who married Joseph Smith and later Brigham Young. It's basically a one-woman play, and the writer, producer and star is Elizabeth Hansen, so it's not an all-out Dutcher-fest. But if you're interested in what else Dutcher has worked on, you might check it out. Here's a full-length review.
---
Top 10 Possible Films Richard Dutcher Will Make Next
God's Navy - Richard Dutcher stars as the wise captain of a U.S. Navy battleship. Co-star Matthew Brown plays his first officer, an eager soldier who learns about life and death from his c.o.

God's Army 2 - Returned missionary (played by Matthew Brown) struggles to pretend he enjoys reading James Joyce in order to impress a pretty teacher's aid in his freshman English class at BYU. His compassionate but hardline bishop (played by Richard Dutcher) counsels him to just be himself.

Rockwell - Wilford Brimley stars as Porter Rockwell, the cantankerous bearded body guard to the prophet Joseph Smith (played by Richard Dutcher)

Billy - Shawn Bradley stars in this moving biopic about the life of Billy Barty, veteran actor, civil rights activist, and active Latter-day Saint

Johnny - Richard Dutcher stars as the suave Polynesian courtier "Johnny Lingo" in this remake of the 1969 Wetzel O. Whitaker classic. Jacque Gray plays "Mahana."

New York City - Set in the fictional metropolis of "New York" (not to be confused with the actual New York City), Richard Dutcher stars as a kind but stubborn big city detective who shows a neophyte investigator (Matthew Brown) the ropes as they investigate the murder of a Mormon missionary.

Battlefield Galactica - New adventures of Apollo (Richard Dutcher) and Starbuck (Matthew Brown) as they search for Earth while being pursued by the Cylons (led by John Travolta).

Girl Crazy 2 - Richard Dutcher stars in this follow-up to his first epic blockbuster.

Purple Pain - Matthew Brown stars as pop singer "Ronny Ormond", who becomes a national phenomenon while hiding a shameful secret: arachnephobia!

Saturday's Warrior: The Movie - Richard Dutcher leads an all-star cast in bringing this beloved classic to the big screen. The ensemble cast includes Matthew Modine, Eliza Dushku, Bruce Newbold, Patrick Fugit, Julie Stoffer, Maren Ord, Jon Enos and Matthew Brown.
---
Cast of Brigham City
The cast of Richard Dutcher's film Brigham City (2000) is listed below. Dutcher stated in interviews that about 90% of the cast and crew were Latter-day Saints. This would make sense, because Latter-day Saints comprise about 90% of the population of the cities where casting and filming was done. Many of the larger speaking parts in Brigham City were given to actors with previous film and television experience. But for many of the actors in smaller or supporting roles, this was their first feature film.

[SOURCE: Official "Brigham City" website.]
Actor
Part
Richard Dutcher
Bishop Wes Clayton
Matthew A. Brown
Terry
Wilford Brimley
Stu
Carrie Morgan
Peg
Jon Enos
Ed
Tayva Patch
Meredith
Jeff Johnson (I)
Garcia
Wendy Hoop
April
Sterling Brimley
Glen
Frank Gerrish
Ralph
Janice Power
Evelyn
Rick Macy
Ernie
Jerry North
Ivan
Jack North (I)
Max
Jacque Gray
Carolyn Merrill (Miss Brigham)
Richard Clifford
Steve
Barta Heiner
Clara
Tim Hansen
McCay
Robert Nelson (IV)
Parker
Elisabeth Simmons
Jamie
Nick Whitaker
Spencer
Chris Clark (VI)
Ben
Christopher E. Kendrick
Mike Sommers
Emily Pearson
Kathleen
Madison Gordon
Sommers Girl #1
Bill Osborn
B. Markham
Kathryn Little
S. Markham
Haley Fife
Jenny Markham
Anne Sward
Carole
Bus Riley
Bob
Jayne Luke
Judy
Jeremy Elliott
Jack
Shannon Engemann
Sherry
Ivan Crosland
John
Shirley Bliss
Mae
Georgia Cullimore-Faux
(as Georgia Faux)
Georgia
Oscar Rowland
Oscar (Old Man)
Ali Seable
Rose
Ryan Shupe
Singer
Kent Richards
Red
Andres Orozco
Bill
Rolland Grubbe
Customer
J. Scott Bronson
Carpenter
Michelle Evans (I)
Woman #1
Becky Christensen
Woman #2
Drew Thueson
Husband
Logan Houston
Son
Teddy Carter
Boy #1 (Teddy)
Ethan Dutcher
Boy #2 (David)
Kellen Jones
Priest #1
Ian Ferguson (V)
Priest #2
Eric Peterson (I)
Scott
Cathleen Mason
Townswoman
Owen Clark
Malachi
Catherine Cooley
Sommers Girl #2
Tori Houston
Sommers Girl #3
Eli Dutcher
Sommers Boy #1
Eva Terranova
Markham Girl #2
Sydnie Carter
Red-Headed Girl
Ray Pinales
Man
Sam Curtis
Counselor
Denise McKinnon
Choirister
Bryton Bonner
Deacon
Justin Christiansen
Deacon
Alex Cope
Deacon
Cole Gordon
Deacon
Cody Romney
Deacon
Peg Carter
Martha Sorenson
Roger Archibald
Band Member
Craig Miner
Band Member
Jeremy 'Bones' Nielsen
Band Member
Bart Olson
Band Member
Sandi Jorgensen
Sexy Bar Maid #1
Evette Lee
Sexy Bar Maid #2
Dan Rascone
Channel 2 News Reporter
David Thieme
Channel 2 News Cameraman
Brian Petersen
FBI Agent
Carl Hacking
FBI Agent
Jeremy Hulse
FBI Agent
Rocky Hansen
FBI Agent
Steven Borgquest
Investigator
Nyrna Borgquest
Investigator
Brent Hall
Investigator
Rebecca Hall (I)
Investigator/Mom at Fruit Stand
Andy Tanner
Tract Home Searcher
Paul Johnson (II)
Tract Home Searcher
Gwen Dutcher
Sara, Wes's Wife
Lucas Dutcher
Richard, Wes's Son
Holly Peterson
CA Woman
Rebecca Richins
Lisa Colvin (Dead Rock Climber)
Monica Hall
Toddler
Joseph Hall
Baby
Jamie Taylor
Claire Conway
---
Brigham City: Crew
[SOURCE: Official "Brigham City" website.]

Writer, Director, Producer    Richard Dutcher

Line Producer            David Greenlaw Sapp
Unit Production Manager  Brian A. Brough
1st Assistant Director   David Greenlaw Sapp/ Brian A. Brough
2nd Assistant Director   Brian Petersen
Location Manager         R. Adam Abel
Script Supervisor        Alisa F. Anglesey
Casting Director         Jennifer Buster
Casting Assistant        Julina Hall
Director of Photography  Ken Glassing
1st Assistant Camera     Brandon Christensen
2nd Assistant Camera     Jon Winquist

Loader                   Jarom Z. Ellsworth
Still Photographer       Carl Hacking
Gaffer                   Tom Bango
Best Boy Electric        Preston Conner
Key Grip                 Robert Conder
Best Boy Grip            William Long
Dolly Grip               Lawrence "Doc" Heavirland
G/E Swing                Rick Peebles
Sound Mixer              Matt Davis
Boom Operator            Paula Thompson
Leadman                  Randall Rawe
Swing                    Hillary Straga

Production Designer      Kee L. Miller
Set Decorator            Anthony J. Straga
Propmaster               Jeff Gallup
Asst. Props / Props PA   Krik Myers

Key MU/Hair              Kathy Varga
Asst. MU/Hair            Heather Couch
Asst. MU/Hair            Hillary Schroeder
Costume Designer         Camile J. Morris
Asst. Wardrobe           Jennifer Graff
                         Nancy Cannon

Craft Service            Colin Reynolds
Catering                 Bart's Catering
Transportation Coordinator   Christopher E. Kendrick

Producer's Asst.       Julina Hal
Production Assistants  Laura Johnson
                       Nicki Christensen
                       Brittany Brough
                       Andrew Tanner
                       Emily Clark
                       Eddie Gramp
                       Rocky Hansen
                       Darren Everitt

Assistant to Mr. Brimley   Nicki Christensen
Production Accountant      Scott Wright
Carroll & Company

Visual Effects        Native Digital
Processing            Fotokem
Telecine/Transfer     George Carlston
Editor                Michael Chaskes
Music Composed By     Sam Cardon


Camera provided by        Otto Nementz
Grip/Lighting Equipment   Redman Movies & Stories


SPECIAL THANKS:
Larry H. Miller
Steve Tarbet
Bob Marchello
Rob Manahor
Tamara Little
Kent and Sam Waren
Hal Wing
Dale, Tad, and Derek Peterson
Kendra Patterson
Pappy's Motorhome Rentals
City of Mapleton, UT
City of Springville, UT
Town of Wallsburg, UT 

---
Opening Credits from "Brigham City"
[Transcribed from the film, using the DVD.]



Zion Films presents


a Richard Dutcher film


Brigham City


Richard Dutcher

Matthew A. Brown

and Wilford Brimley
as Stu

with
Carrie Morgan
Jongiorgi Enos

and
Tayva Patch

casting by
Jennifer Buster

film editor
Michael Chaskes

music composed by
Sam Cardon

director of photography
Ken Glassing

produced by
Richard Dutcher
---
Closing Credits from "Brigham City"
The credits below have been transcribed from the "Brigham City" DVD. Most, but not, all of the names were included in the credits copied from the official "Brigham City" website (see above).

Notable ommissions from the credits found on the official website are Ryan Little and T.C. Christensen, both of whom served as Second Unit Directors of Photography. This and other ommissions were probably caused simply by clerical errors or oversights.

The credits appear below exactly as they appear in the film, except for the fact that in the film almost all of the credits are set in ALL CAPS (except for the dedication at the end). Credits are listed here in mixed case for enhanced legibility, and so that case-sensitive searches on this site will be able to locate names.




written & directed by
Richard Dutcher




Wes
Richard Dutcher
Terry
Matthew A. Brown
Stu
Wilford Brimley
Peg
Carrie Morgan
Ed
Jongiorgi Enos
Meredith
Tayva Patch
April
Wendy Gardiner
Malachi
Owen Clark
Steve
Richard J. Clifford
Glen
Sterling Brimley
Ivan
Jerry North
Max
Jack North
Ralph
Frank Gerrish
Evelyn
Janice Power
Ernie
Rick Macy
Garcia
Jeff Johnson
Clara
Barta Heiner
McKay
Tim Hansen
Parker
Bob Nelson
Jamie
Liz Simmons
Spencer
Nick Whitaker
Ben
Chris Clark
Mike Sommers
Christopher E. Kendrick
Kathleen Sommers
Emily Pearson
Sommers Children
Catherine Cooley
Eli Dutcher
Madison Gordon
Tori Houston
Brother Markham
Bill Osborn
Sister Markham
Kathryn Little
Markham Girls
Haley Fife
Eva Terranova
Carole
Anne Sward
Bob
Bus Riley
Judy
Jayne Luke
Jack
Jeremy Elliott
Sherry
Shannon Engemann
John
Ivan Crosland
Mae
Shirley Bliss
Georgia
Georgia Faux
Oscar
Oscar Rowland
Rose
Ali Seable
Red
Kent Richards
Bill
Andres Orozco
Man in Bar
Rolland Grubbe
Carpenter
J. Scott Bronson
Townswomen
Michelle Evans
Becky Christensen
Husband
Drew Thueson
Son
Logan Houston
Priests
Kellen Jones
Ian Ferguson
Scott
Eric Peterson
Cute Kid
Ethan Dutcher
Townswoman
Cathleen Mason
Carolyn Merrill
Jacque Gray
Red-haired Girl
Sydnie Carter
Man
Ray Pinales
Counselor
Sam Curtis
Choirister
Denise McKinnon
Deacons
Bryton Bonner
Teddy Carter
Juston Christiansen
Alex Cope
Cole Gordon
Martha Sorenson
Peg Carter
The Band
Ryan Shupe
Roger Archibald
Craig Miner
Jeremy "Bones" Nielsen
Bart Olson
Bar Maids
Sandi Jorgensen
Evette Lee
Reporter
Dan Rascone
Cameraman
David Thieme
FBI Agents
Brian Petersen
Carl Hacking
Jeremy Hulse
Rocky Hansen
Investigators
Steve Borquist
Myrna Borquist
Brent Hall
Rebecca Hall
Home Searchers
Andy Tanner
Paul Johnson
Ron Johnson
Wes's Sexy Wife
Gwen Dutcher
Wes's Son
Lucas Dutcher
California Victim
Holly Peterson
Lisa Colvin
Rebecca Richins
Mom at Fruit Stand
Rebecca Hall
Toddler
Monica Hall
Baby
Joseph Hall
Zed (the Dog)
Zed the Dog
Crew
Line Producer
David Greenslaw Sapp
Unit Production Manager
Brian A. Brough
Location Manager
R. Adam Abel
Script Supervisor
Alisa F. Anglesey
1st Assistant Camera
Brandon Christensen
2nd Assistant Camera
Jon Winquist
Film Loader
Jarom Ellsworth
1st Assistant Directors
David Greenslaw Sapp
Brian A. Brough
2nd Assistant Director
Brian Petersen
2nd Unit Directors
of Photography


T.C. Christensen
Ryan Little
2nd Unit Assistant
Michael Buster
Gaffer
Tom Bango
Best Boy
Preston Conner
Key Grip
Bob Conder
Grip
William Long
Dolly Grip
Lawrence Heaverland
G/E Swing
Rick Peebles
Sound Mixer
Matt Davis
Boom Operator
Paula Thompson
Set Decorator
Anthony J. Straga
Leadman
Randy Rawe
Swing
Hillary Straga
Propmaster
Jeff Gallup
Assistant Props
Krik Myers
Props PA
Krik Myers
Key Make-up/Hair
Kathy Varga
Assistant Make-up/Hair
Heather Couch
Hillary Schroeder
Costume Designer
Camile J. Morris
Assistant Wardrobe
Jennifer Graff
Nancy Cannon
Still Photographer
Carl Hacking
Craft Service
Colin Reynolds
Catering
Bart's Catering
Transportation
Christopher E. Kendrick
Producer's Assistant
Julina Hall
Production Assistants
Laura Johnson
Nicki Christensen
Brittany Brough
Andrew Tanner
Emily Clark
Eddie Gramp
Rocky Hansen
Darren Everitt
E.M.T./Safety Officer
Krik Myers
Assistant to Mr. Brimley
Nicki Christensen
Mr. Dutcher's Stand-in
Ron Johnson
Casting Assistant
Julina Hall
Production Accountant
Scott Wright
Carroll & Company
Post Production Accountant
Jonathan Wiggins
Post Sound Supervisor
Jeff Carter
Foley Mixer
Chris Bitner
Foley Artists
Craig Ng
Nancy Parker
ADR Mixers
Chris Bitner
Jeff Carter
Negative Cutter
Debbie McAfee
Mixing Engineer
Jeff Carter
Computer Visual Effects
Native Visual
Camera Rental
Otto Nemenz
Grip/Lighting Equipment
Redman Movies & Stories
Telecine/Transfer
George Carlston
Color Timer
Saul Escobedo
Titles and Opticals
T&T Optical Effects Co.
Color by
Fotokem Film & Video



Post Production Sound by
Mach 1 Audio
A Division of Zion Films
Provo, Utah


"Banjo Boy"
Written by Ryan Shupe
Performed by Ryan Shupe & the Rubberband
Copyright 1999© Ryan Shupe (BMI)
Courtesy of Tydal Wave Records

"New Emotion"
Written by Ryan Shupe
Performed by Ryan Shupe & the Rubberband
Copyright 1999© Ryan Shupe (BMI)
Courtesy of Tydal Wave Records

"Big World"
Written by Ryan Shupe
Performed by Ryan Shupe & the Rubberband
Copyright 2001© Ryan Shupe (BMI)
Courtesy of Tydal Wave Records

"These Two Hands"
Written by Rob Honey
Performed by Rob Honey
Copyright 2000© Studio Bee Music (BMI)


Kodak

Color by
FOTOKEM

DOLBY


Special Thanks to


Larry and Gail Miller
Craig Earnshaw
Tom and Ann Yull
Drew and Tamra Kriser
Ed and Beth Thomas
Rick and Linda Bon
Ron Carroll
Josh Harmon
Brigham Taylor
Steve Santore
Craig Stitt

The Larry H. Miller Group
Audio Post and Picture
Kodak


FILMED ENTIRELY ON LOCATION IN
THE GREAT STATE OF UTAH.

AN EXTRA-SPECIAL THANKS TO THE CITIZENS OF
MAPLETON, SPRINGVILLE AND WALSBURG.
WITHOUT YOUR ENTHUSIASM AND SUPPORT,
THIS MOVIE WOULD NOT HAVE BEEN POSSIBLE.

MUSIC FROM THE BRIGHAM CITY SOUNDTRACK
AVAILABLE ON HIGHWAY RECORDS.


BRIGHAM CITY IS A WORK OF FICTION. THE CHARACTERS
AND EVENTS DEPICTED IN THIS STORY ARE FICTITIOUS.
ANY SIMILARITY TO ACTUAL INCIDENTS OR TO ANY
PERSONS, LIVING OR DEAD, IS COINCIDENTAL

THIS MOTION PICTURE IS PROTECTED UNDER THE LAWS
OF THE UNITED STATES OF AMERICA AND OTHER
COUNTRIES. UNAUTHORIZED DUPLICATION, DISTRIBUTION
OR EXHIBITION MAY RESULT IN CIVIL LIABILITY AND
CRIMINAL PROSECUTION.



THE END



This film is dedicated to
Tim Hansen
1960-2001
We love you, Tim. And we miss you.
---
Crew Members Who Also Had Parts on Screen
As everybody knows, Richard Dutcher was on the crew as well as part of the cast. Not only did he play "Wes," the lead role, he also wrote, directed and produced "Brigham City."

There are a few other individuals who were crew members, but who also were cast in small parts in "Brigham City."

Brian Petersen, the 2nd Assistant Director, and Carl Hacking, the Still Photographer for the film, both appeared briefly on screen as FBI agents.

Rocky Hansen, one of the Production Assistants, also appeared as an FBI agent.

Andrew Tanner, another Production Assistant, was one of the featured home searchers.

Christopher E. Kendrick, the Transportation Coordinator, had a small role as "Mike Sommers," the father of the Sommers family.

Aside from those individuals, it appears that the cast was made up of actors and extras on the set specifically for their roles, not crew members.
---
Haven't I Seen You Somewhere Before?
Actors in Both "Brigham City" and "Testaments"
Utah's acting community is not as large as Hollywood's, and you'll see some of the same talented actors in many productions filmed in the state.

Four fine actors appeared in both "Brigham City" (the independent film written and directed by Richard Dutcher) and "Testaments", the big-budget Church-commissioned film written and directed by Academy Award-winning filmmaker Kieth Merrill:

Tayva Patch - In "Brigham City," Tayva Patch had the female lead, playing the part of "Meredith", the FBI agent from New York City. Her part was smaller in "Testaments", but she played a far more famous character: Mary Magdalene.

Rick Macy - Macy had one of the most challenging, emotional roles in "Brigham City": he played "Ernie," the counselor in the bishopric led by Wes (Richard Dutcher). In "Testaments", Macy had the male lead, playing "Helam", the fictional man who awaits the coming of Christ even while he is challenged by his son's rebelliousness.

Barta Heiner - Featured in the PBS series "Artists in Zion", Ms. Heiner is one of Utah's premier actresses and acting teachers. She played "Clara" in "Brigham City" and the diseased woman in "Testaments."

Oscar Rowland - Rowland has appeared in numerous films, including "Bats" and "Footloose." He was the tree salesman in "Mr. Krueger's Christmas." He has small parts as an old man in "Brigham City" and a leper in "Testaments."

It's also interesting to note that Tayva Patch, Rick Macy and Oscar Rowland have all made guest appearances on "Touched by an Angel," one of the national television dramas that is filmed in Utah.



Haven't I Heard You Somewhere Before?
Actors in Both "Brigham City" and "American Prophet"
The following actors who appeared onscreen in "Brigham City" also lent their voices to the critically acclaimed 1999 PBS documentary "American Prophet":
Shannon Engemann - "Sherry" in "Brigham City"
Anne Sward - "Carole" in B.C.
Frank Gerrish - "Ralph" in B.C.
---
Go to "Brigham City" page 2