Back to "Brigham City" page 6


Reviews of and news articles about
Richard Dutcher's film "Brigham City"
- Page 7 -
REVIEW by Hollywood Reporter
By: Michael Rechtshaffen
Date: 9 April 2001
Source: Hollywood Reporter
URL: http://www.hollywoodreporter.com/hollywoodreporter/search/article_display.jsp?vnu_content_id=821847

Writer-director Richard Dutcher, who single-handedly advanced the notion of Mormon cinema with last year's independent success story "God's Army" (which went on to gross almost 10 times its $300,000 budget), builds on that promise with "Brigham City," an honest-to-goodness Mormon murder mystery.

Very much in the "Witness" mold, this involving, nicely crafted whodunit achieves the neat trick of remaining culturally and theologically true to its environment without being heavy-handed or preachy.

While it should be a respectable niche market performer for its Salt Lake City-based distributor, Excel Entertainment Group, the picture actually has some crossover potential. It would certainly be the perfect companion for something like A&E's "Murder in a Small Town."

Dutcher also steps in front of the camera to play the part of Wes Clayton, the soft-spoken sheriff of the compact, insulated town of Brigham who also serves as a Mormon bishop when not officially keeping the peace.

But the community's nominal tranquility is uprooted when a woman visiting from California is found murdered, and Clayton and his devout posse -- including young deputy Terry (Matthew A. Brown), retired sheriff Stu (Wilford Brimley, crusty as ever) and his spirited secretary, Peg (Carrie Morgan) -- find themselves having to answer to a big-city FBI agent (Tayva Patch) dispatched to solve the crime.

When it subsequently becomes apparent that the murder was the work of a serial killer, and suspicions shift from being cast upon outsiders to the disturbing likelihood of the perpetrator being one of their own, the once friendly town becomes engulfed in a sea of paranoia as doors are locked and windows are shuttered.

Meanwhile, Clayton, who previously lost his wife and child to a tragic accident, suffers a crisis of faith through his inability to nab the murderer and quell the growing fears of his neighbors and congregation.

Working within the well-defined boundaries of the classic movie murder mystery, Dutcher manages to sneak in a couple of genuine surprises in this well-paced if slightly overlong production that benefits greatly from its carefully detailed Mormon backdrop.

Although Dutcher's earnest but mechanical performance proves he's no triple threat, the rest of his predominantly Mormon cast is solid, with effective work from the always reliable Brimley as well as from Patch, who, as the constantly observing but nonbelieving FBI agent, essentially takes the viewer on a guided tour through Dutcher's very personal universe.

Production values certainly go a long way in this $1.2 million production, specifically director of photography Ken Glassing's quietly evocative visuals and Kee L. Miller's convincingly homey production design.


BRIGHAM CITY
Excel Entertainment Group
A Zion Films presentation
Director-screenwriter: Richard Dutcher
Producer: Richard Dutcher
Director of photography: Ken Glassing
Production designer: Kee L. Miller
Editor: Michael Chaskes
Costume designer: Camile J. Morris
Music: Sam Cardon
Color/stereo
Cast:
Wes: Richard Dutcher
Terry: Matthew A. Brown
Stu: Wilford Brimley
Peg: Carrie Morgan
Ed: Jon Enos
Meredith: Tayva Patch
Garcia: Jeff Johnson
Glen: Sterling Brimley
Running time -- 120 minutes
MPAA rating: PG-13
---
Christian Science Monitor Capsule Review of "Brigham City"
By: David Sterritt
Date: 15 June 2001
Source: Christian Science Monitor
URL: http://www.csmonitor.com/durable/2001/06/15/p14s1.htm

Brigham City (PG)

Director: Richard Dutcher. With Richard Dutcher, Matthew A. Brown, Carrie Morgan, Wilford Brimley. (118 min.)

** [2 out of 5 stars, meaning "fair"]

A brutal crime is investigated by a Utah sheriff who's also a Mormon bishop. He wants to solve the case, but he cares as much about protecting the psychological serenity of his flock as ferreting out the evildoer, and there are signs that naivete may be blinding him to hard realities. Few movies have sought this particular blend of detective-story melodrama and religious sensitivity, but the result would be more impressive if its ideas matched its sincerity, and if Dutcher had cast a more compelling actor than himself as the crime-solving clergyman.
---
Filmmaking in Utah
By: Joseph L. Puente
Date: July 2001
Source: Junction Magazine
URL: http://www.nuj.com/articles/filmutah.htm

I remember seeing the film This Boy's Life and feeling kind of cool when I saw the Utah State Capital building in the distance behind Tobias Wolfe's house. I thought, "Hey, I've been there." When I saw the Melissa Joan Hart vehicle, Drive Me Crazy, I looked beyond the thin, predictable plot and enjoyed seeing Ogden High School and Union Station on the big screen. I guess I'm not the only one who gets a kick out of even hearing a reference to Utah in a Hollywood movie, be it Fletch, Raising Arizona, Broken Arrow or the forgettable Wild Wild West. But it was probably Robert Redford who really put Utah on the movie making map when he founded the Sundance Institute and the Sundance Film Festival in Park City. Utah has been a favorite movie-making location for more than half of the last century.

What I find most interesting is a lot of people outside of Utah think the only thing even remotely related to film making in our state is Sundance. And that's just once a year. In the June issue of The Publication, I briefly addressed that very question. Here, I will go into a bit more detail.

My objective was to find out what brings filmmakers to Utah. So, who better to ask than filmmakers themselves? I also wanted to get perspectives from both commercial and independent filmmakers. While the majority of film projects in Utah are commercial ventures, the independent spotlight shines brightest on Park City. I decided to track down filmmakers in each of these categories.

Representing the commercial film industry is Jeffrey Morton, a producer who has been working in television since the early 80s. His credits include Mickey Spillane's Mike Hammer, Robin Cook's Invasion and the Sci-Fi Channel's miniseries sequel to Firestarter, filmed in part in downtown Ogden.

Firestarter II is Morton's fourth Utah project. He prefers working in Utah because he finds the crews very professional and the Utah Film Commission incredibly supportive. The only problem he encountered on this recent shoot was a shortage of manpower because of the popularity of shooting in Utah. Firestarter was only one of nearly a half dozen projects going on at the time, which meant bringing in crew members from outside the state. Another advantage Morton related to filming in Utah: "It's not Canada... I would much rather be here and give these people the work... because these people care a lot more."

Richard Dutcher, who made the indie hits God's Army and Brigham City, shares this view of the Utah film community. "The main advantage of filming in Utah," says Dutcher, "is that the communities are more friendly, so you have better access to locations, and it's not as expensive to get shooting permits and permission to shoot places." This was the case for Brigham City, filmed in Mapleton. God's Army, which was filmed in Los Angeles, was a guerrilla film which meant setting up a shot, getting it in the can and running before the cops arrived to ask for the permit you didn't have. One disadvantage to filming in Utah that Dutcher did note, primarily for independent projects, was the lack of an independent spirit in Utah. "There are a lot of crews here that have been spoiled by NBC, and Disney, and everybody else who comes up here to shoot stuff, so it's hard to get an experienced crew that will work for a reasonable rate. I don't think they love movies. They will do anything for a paycheck and they will not do anything if there isn't a paycheck there." (You can hear more of Dutcher's interview at The Online Junction and read more about him in the July issue of The Publication).

Jeff Morton's response to crew attitudes like those mentioned above is that "You can find that in specific cases, of course, but you can find that anywhere you go. L.A., Canada, Australia, wherever. But I say 95 percent of these people care about what they're doing and they take pride in their work."

It should also be noted that we're getting the views of two very different filmmakers. Not just in the types of films they make, but in the budgets they work with. Brigham City was made for approximately $300,000, whereas Morton describes independent features he's worked on as having budgets as "little" as one million.

For our third and final perspective on the Utah film scene, I went to, of all places, Park City. In a small cafe near the indie movie Mecca, I spoke with Ian Shorr, a 19-year-old filmmaker who got his movie making start in high school. An eccentric and non-LDS resident of Utah, Ian's perspective on the film scene is mostly positive. Though a guerrilla filmmaker in his own right, he testifies to the advantages of working with the state film commission to find assistance for his work, as well as living in Park City, which has become a retirement community of sorts for film industry professionals who have been more than happy to provide advice and input on his projects. The best thing about making movies in Utah for Ian: "This place is an endless source of inspiration for me."

And, we hope, a source of inspiration for filmmakers to keep coming to our state and helping the local film scene continue to grow.
---
Samuelsen's AML REVIEW of "Brigham City"
By: Eric R. Samuelsen
Date: 6 April 2001
Source: AML-List
URL: http://www.aml-online.org/reviews/b/B200121.html

I was tickled silly to have been invited to the big Hollywood premiere of Brigham City up at Jordan Commons in SLC. Watching Barta Heiner and Bob Nelson show up in limos was essentially priceless. And I just have to drop a few lines and let y'all know about it.

Doggone good flick, is what I think.

Brigham City is not actually set in Brigham City, it's set in a southern Utah town of the same name, or actually, just called Brigham, which is parts Mapleton, Springville and other Utah locales. This may a bit confusing to those of us who know this Pretty, Great State pretty well, but it works okay -- most non-Mormons know Brigham Young if they know any Mormon type names. Dutcher plays Wes, a guy who is both Sheriff and Bishop in the small town of Brigham. (Sheriff of Kirtland County -- a lovely touch). What's interesting about this film is the fact that Wes wears both hats, Sheriff and Bishop, and that he can't always separate them. A woman in his ward needs to confess her sins, and so she goes to the sheriff's office; he asks her to come back when he's bishoping, and she says it can't wait, and so, with a sigh, he puts away his gun and hears her confession. Benign stuff, but it becomes the central issue of the film; because he's bishop, he knows things that impact his role as sheriff. He suspects a guy in his ward, we're led to believe, because of stuff that guy told him in confession. (That issue isn't explored much, but it's part of the fabric of the film, and I really liked it and wish there'd been more of that kind of dilemma.) And because he's a fundamentally decent man, actually THE FACT that he's a fundamentally decent man, impacts his role as sheriff in some pretty negative ways. He's a small-town guy, in a peaceful and decent town, and he just doesn't cope well when it becomes clear that there's a serial killer in his town.

This is what I liked best about the film, it's exploration of Mormon insularity as both a strength and a weakness. Wes's Sheriff (who townspeople tend to call, interchangeably, Sheriff and Bishop, usually inappropriately), immediately is sure that the serial killer couldn't be a member of his community. The first victim is in a car with California plates; it's just a coincidence that she's killed in his town, and he can't wash his hands of it fast enough -- he just hands the case to the FBI and tries to forget it happened; even covers it up. Okay, another death shocks and galvanizes him; he's devastated to learn that there's a serial killer in town. What to do? He then immediately suspects a group of migrant construction workers. They're outsiders, and so must be guilty. Next in line are inactives -- he stakes out the one bar in town, because obviously his serial killer would frequent a bar. He goes around questioning people and basically asking "do you know anyone who could do such a thing." The only answer to that is, of course, no, and Wes is satisfied -- he doesn't either. And, without giving away the ending, let me also say that a major plot twist involves the fact, because he's a bishop, because he's a naive and trusting man, he neglects the most routine and obvious piece of police procedure.

At the same time that he's screwing up the investigation, the FBI agent assigned to the case, a non-Mormon from New York (superbly played by Tayva Patch), becomes more and more impressed with him as a human being and as a bishop. And so we see the other side of it. He's insular, naive and prejudiced, but he's also deeply compassionate, and spiritually inclined. He gets a break in the case, or at least a clue about how to solve it, through prayer, for example, (in that Dutcher favorite, the kitchen sink epiphany scene.)

It's in that context that the ordinance scenes are so important. There's already been some controversy about this film, because Dutcher shows a baptism and he also shows the sacrament ordinance. (The Daily Universe helpfully ran a story recently quoting folks who hadn't seen the film saying how awful it was -- that's such a valuable service for a student newspaper to offer. Let me voice my opinion right now that the 2002 Salt Lake Winter Olympic were a complete disaster, and the 2004 Presidential race a sham and a fraud.) Ahem. Aside aside, let me say that the ordinance scenes are terrific, essential and the best thing about the film. And the reason they're so essential is simply this: Mormons believe that ordinances actually work. You can't explore Mormonism without understanding that. The film ends with the passing of the sacrament, and that's the right way, the best possible way, for it to have end. I won't say more, except just to add how nice it is to have a Mormon artist who understands and whose work reflects the fact that we take ordinances seriously.

As a murder mystery, it's pretty good too. You suspect four different townspeople of being the baddie, and there are some dandy red herrings, while the clues to who it really is are all there -- when the killer is revealed, you bop yourself on the head and say 'I shoulda seen it,' and there were enough clues for you to have gotten it. The great thing where a woman gets in a car and you see her framed in the right half of the frame and you just know there's someone in the back seat and then it turns out THERE IS! He's got that in this film. You know that other cliche, where a woman has a flat tire and she's all alone and a creepy guy comes and asks if he can help her and she can't really not say yes, but she's scared, and you see her fingers close around the gun in her handbag? That's in here too. Cliches, sure, but used effectively and with a little twist. It's a pretty good movie mystery film, quite apart from what it says about our culture.

Other great things about the film. It's shot entirely in Utah, and cast almost exclusively with LDS actors (the two major exceptions being Matt Brown, who was the greenie in God's Army and who is the Sheriff's deputy in this, and gruff old Wilford Brimley, who's the other deputy.) The acting is, frankly, superb. Dutcher is very good, as always, but the best thing about the film are all the wonderful townspeople faces. Barta Heiner is in the film and she's great. Richard Clifford has a small but central part and he's magnificent. Carrie Morgan is great, Jon Enos is great, Chris Clark and Chris Kendrick are both great. I know these people; they're all friends of mine, and it's hard for me to be objective, but really, the acting is superb.

It opens tomorrow in 100plus screens nationwide. Go see it. It's darn good, better at most levels than God's Army, which I also loved. I even missed West Wing to see Brigham City, and that's a sacrifice I don't make every day (though, of course, I did record West Wing, and watched it afterwards. That is, after all, why the Lord invented the VCR.)
---
Desert News letters to the editor about "Brigham City"
[Letters published in April 2001, soon after "Brigham City" was released in theaters.]


'Brigham City' disgusting

I saw the "Brigham City" movie this past weekend, and I was disgusted. The content was filled with unnecessary gore. The last violent scene in the movie went way overboard. Yes, murder happens every day in this country, but why go to the lengths to portray these vicious crimes in detailed gore on screen, especially for a predominately Mormon audience? Because of the gore in the movie, it could have been justifiably rated "R," and yet director Richard Dutcher is quoted in several newspaper articles as saying he is, in essence, very proud of the PG-13 rating the movie received. Ironically, Dutcher hopes the rating won't deter the LDS audience. Go figure. The LDS Church teaches its members to have viewing standards with the media, and here is a man who continually pushes the envelope with what is acceptable. I have read several media interviews with Richard Dutcher, and he buries himself every time he opens his mouth with blasphemous statements about the very religion he claims to be such an advocate. It is disappointing that this man represents the LDS world to moviegoers. He has used the LDS Church's sacred ordinances, splashing them on screen with little explanation for non-LDS viewers. The Priesthood blessing scene alone in "God's Army" was enough to make any non-member believe the LDS religion is a cult of sorts. Dutcher's arrogance as an actor is not to be overlooked. He casts himself in leading and supporting roles because he is hungry for the popularity vote. I feel pity for Dutcher. He is mixed up in his LDS belief system, and he has taken the Mormon faith and used it to promote his own selfish interests.

Lisa Johnson
Orem

- - -

This is an alternative reaction to Lisa Johnson's surprisingly negative letter, with its dark and personal insinuations about Richard Dutcher's motives and character, as he produced the movie "Brigham City." As a current bishop in The Church of Jesus Christ of Latter-day Saints, I related powerfully to the burden carried by Dutcher's sheriff/bishop character. The sheriff's role seemed to me to be a metaphor for the bishop's role. The sheriff has a duty to protect people's lives and property. The bishop is a sort of spiritual sheriff, trying to ward off evil influences on his flock. I experienced as very real the movie's portrayal of the sense of burden and failure in the lead character. A person in such a role may tend to blame himself for not having warned people in a way that will help them avoid evil or in not assisting them effectively enough that they will fully repent if the evil deed was done. Dutcher's sheriff/bishop character was a sort of everyman in this role. He wasn't particularly articulate or insightful. Sometimes he was dominated by his own personal struggles. As a very ordinary man, his strengths were his love for those he served, a willingness to be responsible and a dogged persistence to not let go of problems until solved. I loved the final Sacrament scene, with its evolving and healing response by the congregation, which seemed to me to communicate to their leader, "We love and respect you for your efforts to serve and protect us. We forgive you for any shortcomings. We continue to sustain and support you." This movie gave me greater insight into the pressures inherent in my own calling and the need for continuing selfless labor. I personally look forward to seeing "Brigham City" again and to future works by the same writer/director/producer/actor. Bravo, Brother Dutcher!

Robert Lewis
Salt Lake City

- - -

Dutcher deserves praise

I just have one question for Lisa Johnson of Brigham City regarding her letter to the editor on Richard Dutcher's motion pictures: If "God's Army" offended her so much, why would she go see "Brigham City"? Mr. Dutcher never intended to make "warm and fuzzy" LDS films. He intended to make people think and in some cases take them out of their comfort zones. As for the "violence" in the film, has Ms. Johnson read the Bible or the Book of Mormon? Studied church history? Violence in the world is real, and it occurs, even in LDS communities in rural Utah. As for Mr. Dutcher's "selfish interests," he didn't just take the money from his first project and run. Mr. Dutcher is an actor first who got frustrated with roles and stories that were degrading. He's trying to do something about that; few, very few, even try. He is a pioneer filmmaker venturing in new directions. I personally praise his efforts to take us to areas that make us think and ask very pertinent questions that we wouldn't normally ask. Let's praise that endeavor, not scorn it. If Ms. Johnson doesn't like his films she shouldn't see them. I personally will see every one. Forgiveness took on a whole new meaning to me after seeing the last 10 minutes of "Brigham City."

Bonnie Larson
Salt Lake City

- - -

Dutcher is self-promoter

I don't feel pity for Richard Dutcher as Lisa Johnson of Orem expressed in her recent letter to the editor. However, I am equally disappointed by his "me, me, me" productions and performances. After much reluctance, I saw "God's Army" on video and was glad I had not spent the money to go to the theater or rent the video myself. Reading several articles in the print media about Mr. Dutcher has left a consistent impression: He is arrogant and a self-promoter. His decisions to make common and public solemn and sacred events is without merit. Perhaps he should make a good, hard R-rated movie so that he can properly divest himself of the religion that seems to be holding back his creative career.

Dennis Gillie
Spanish Fork
---
Campus Insider (News):
Single, Young Mormon
Date: 14 August 2001
Source: Daily Trojan City (University of Southern California)
URL: http://www.usc.edu/student-affairs/dt/V144/N01/section-c.shtml

Brigham Young University alumni are making a movie about what it's like to be in a singles ward, where young members of the Church of Jesus Christ of Latter Day Saints gather to worship and socialize.

The comedic look at life as a single religious person is designed to be a classic film that every adult on the market would want in his or her library, screenwriter John Moyer said.

Mormon film director Richard Dutcher made waves and friends in both the industry and church with "God's Army" and "Brigham City."

Following Dutcher's lead, Moyer wants to mix the sacred and the profane in his "The Single's Ward." But unless you've spent time in Utah or in an LDS community, watch out, the filmmaker said.

"This is definitely a Mormon film for Mormons made by Mormons," Moyer said. The film's soundtrack features holy songs and hymns. With the attention of the Olympic Winter Games, it's bound to get more attention.

The profits from the movie, which was produced with a $500,000 budget, will be used to start a perpetual entertainment fund so other members of the Church of Jesus Christ of Latter Day Saintscan use it for their own shots at mass entertainment. More may be coming soon to a theater near you.
---
REVIEW
'Brigham City' comes home to theaters on the Wasatch Front
By: Ryan Gotteridge
Date: 6 April 2001
Source: The Signpost (Weber State University)
URL: http://www.weber.edu/signpost/archives/4.6/thepaper/a&e/a&e2.html

Nothing attracts a serpent like paradise" is the tag line of the new film "Brigham City" which will be released in theaters in over 70 markets nationwide April 6.

In 2000, with his acclaimed "Gods Army" being released into theaters, actor/director Richard Dutcher went to work on his next project "Brigham City," a murder mystery.

The serenity of the small Mormon town of Brigham City is disrupted when the local sheriff Wes (Dutcher) and his deputy Terry (Matthew A. Brown of "Gods Army") spot an out of state car on a local road. Near the car, the body of a bludgeoned woman is found dead. Not only is Wes the local sheriff but also he is the bishop of a ward in town.

This is the town's first murder and Wes will do anything to keep this secret away from the peaceful townspeople. But when more bodies turn up closer to town, he has no alternative but to protect them the best way he can.

Wes has to figure out a way to be both sheriff and bishop to these people who depend on him for protection as well as spiritual guidance. Wes must put his faith to the test while upholding the law.

"Brigham City" qualifies as a relatively low budget film with a production cost of $1.2 million but moving steadily upward compared to "God's Army" which he spent $300,000 creating.

Because of this, expect to have poorer acting quality than one is used to and plot holes and character flaws the size of Texas. Wilfred Brimley, of course, is the exception. He plays Stu and is one of the "cuter" characters (in personality) and the only indication of actual acting in this film.

When Wes and Terry find the body of the first young woman, Wes immediately calls the FBI because "The car has out of state plates." So what, to their knowledge, the car has not been used in a federal crime or an out-of-state crime or to evade from a federally committed crime. But the FBI comes and without the local sheriff first conducting an official investigation.

Then the FBI arrives that night with X-Files Mulder and Scully look-a-likes Meredith and Garcia.

After the bodies start turning up left and right, Wes goes to the local bar. Why, because the character of the tavern is seedy and he wants to exhaust all efforts to weed out the local people. So he devises a sneaky plan of hiding in the back room while the secretary Peg (Carrie Morgan) goes under cover as a cocktail waitress to gather a beer bottle or glass with fingerprints from every patron at the bar to run through the FBI laptop back in Brigham City. He collects over 400 samples and goes to work.

The other problem was the development or lack of development of the killer's character. But without giving away the movie's intriguing end, that issue cannot be touched upon.

Weber State University students have mixed emotions about this film. "I thought 'God's Army' sucked and this one doesn't look very exciting either," said Mark Hoyal, a WSU senior. But Brice Anderson had this to say, "I thought 'God's Army' was a great portrayal of what serving on a mission was really like and 'Brigham City' looks good."

"Brigham City" is rated PG-13. It rates a C- and that's being kind but will have its faithful followers. People will see this film because it deals with their faith and believe me, it does.

It appeals to a certain market that happens to be a huge part of the population.

With the release of "God's Army," Dutcher created a new niche in the market and will continue to do so with this film.
---
Best of Utah 2002
By: City Weekly staff
Date: 18 April 2002
Source: Salt Lake City Weekly
URL: http://www.slweekly.com/editorial/2002/feat_2_2002-04-18.cfm

BEST CINEMATIC TREND FOR SAINTS

Mormon Multiplex Movies

Temple Square isn't the only place to catch movies with that special Mormon flavor any more. Following the success of Richard Dutcher's God's Army and Brigham City, LDS filmmakers went wild in late 2001 and early 2002 with independently-distributed efforts. Suddenly, you couldn't swing a jumbo popcorn without hitting a "Mormon movie" -- The Other Side of Heaven, The Singles Ward, Out of Step. If you can't beat secular pop culture, join it on your own terms.
---
'Brigham City' video release postponed
By: Jake Christensen
Date: 26 October 2001
Source: The Signpost (Weber State University)
URL: http://www.weber.edu/signpost/Online/20011026/articles/a_e_03.html

Using grass-roots publicity tactics, the locally made film "Brigham City" has succeeded in extending its big-screen release. As a result, the production company Zion Films has postponed the video and DVD release.

"Brigham City" is the second film by Richard Dutcher, who wrote and directed "God's Army," released in 2000. "Brigham City" is a fictional murder-mystery set in a predominantly Latter-day Saint town. Like "God's Army," the film takes an insider look into Mormonism. Many local citizens assisted in making the film, which was shot in Mapleton, Utah. Dutcher himself is a Latter-day Saint.

"Brigham City" was made on a budget of just under $1 million, and has never shown on more than 55 screens at a time, according to TheMovieTimes.com. Since its April 6 release, the film has grossed over $854,000, according to Mary Jane Jones, who handles press relations for Excel Entertainment Group. Excel Entertainment Group handles distribution for Zion Films, as well as other Utah-based entertainment groups.

Though "Brigham City" has not been as financially successful as "God's Army," it has received critical acclaim nationally, including reviews in "The New York Times" and "USA Today."

Recently, the film began showing at a cineplex in St. John's Arizona. It opens on another screen in California this weekend. On November 2, it will open in three locations in Florida. The film will begin showing on two additional screens later in November. To publicize the film, supporters of Zion Films download fliers off the movie's Web site and place them in areas where the film is slated for release.

The film has also spawned a CD of original music by local artists. The CD, entitled "Welcome to Brigham," includes original songs by such artists as Julie de Azevedo, Ryan Shupe & the RubberBand and Peter Breinholt.

Though the film has actively sought local support, it has also received criticism for the way it depicts Mormonism and ordinances of the church. Some viewers have expressed that re-enacting ordinances, like the laying on of hands and the sacrament, are not appropriate subjects to be filmed, because of their sacred nature.

Ben Broadbent, a WSU student and returned missionary, has seen both Zion Films releases. He feels the films help open people's eyes to what Mormon culture is like.

Speaking of "Brigham City" Broadbent said, "I liked it. It showed different aspects of the church. It showed what LDS people do and what they believe."

Broadbent did express misgivings about the depiction of sacred subjects. However, he mentioned that investigators of the church will be exposed to these things sooner or later.

Dutcher and Zion Films are currently in pre-production for "The Prophet," a major motion picture about the life of Joseph Smith. According to Jones, the casting process has begun, the locations have been picked, and shooting is scheduled to begin in April.

No date has been set for the video and DVD release of "Brigham City." However, Jones says to expect it sometime next year.
---
PRESS RELEASE:
"Brigham City" Coming to DVD
Excel Entertainment issued the following press release on 6 April 2002, exactly one year after "Brigham City" premiered in movie theaters:
Brigham City Coming to DVD April 30!

Richard Dutcher's highly acclaimed motion picture BRIGHAM CITY will be available on DVD starting April 30!

But don't wait until then to purchase your copy of the movie that received praise from the likes of Larry King, who called it "...tense, taut...gripping," and the New York Times, which said "Engrossing...concise, skillful filmmaking...the performances are impeccable."

Be the first to own a DVD of this intense thriller that took LDS cinema to the next level by going to your nearest LDS bookstore and preordering your copy today, or preorder online by going to www.clicktobuyonline.com
---
A Tale of Two Brigham Cities:
Two different versions of "Brigham City" video/DVD sleeve art (cover)
6 April 2002 - The "Brigham City" DVD goes on sale later this month, on 30 April 2002.

There are two different versions of the "Brigham City" sleeve art on different commercial websites that sell videos and DVDs. One version is intended for the Utah/Latter-day Saint market already familiar with the movie. It is adapted directly from the movie poster. The other version appears to be intended for the horror/thriller home video market and is sold through a different distribution company. This sleeve features a surprisingly grisly image.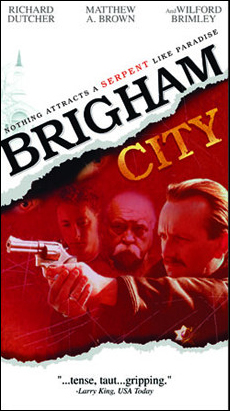 ("Sleeve art" refers to the cover you see when you buy a video or DVD. With a DVD, for example, the plastic cases are frequently made from generic molds, and are distinguished only by the thick printed paper that is bent and inserted behind a plastic "sleeve" on the outside of the case.)
An image of the "Brigham City" DVD can be seen on clicktobuyonline.com, a site that sells Excel Entertainment products. This sleeve art, adapted directly from the movie poster, depicts the movie's top-billed actors, Matthew Brown (the deputy), Wilford Brimley (the retired sheriff), and Richard Dutcher (the sheriff). Dutcher is pointing a gun. Eyes of a killer can be seen subtly in the background (right behind Matthew Brown).
The text on the clicktobuyonline.com page (which lists the price as $27.98) reads:
Brigham City is the perfect small town that is shaken to its core at the discovery of a murder. Suddenly, nothing is what it seems, and everyone becomes a suspect. The sheriff, who is also a Mormon bishop, must use every resource to find the murderer and keep the town from tearing itself apart.
A DVD with a different version of the sleeve art can currently be seen on a number of other commercial websites that sell videos/DVDs, including foreign sites selling movies to the Spanish and Brazilian markets. One such source is PriceGrabber.com Other websites offering this version of the DVD for sale include DVDPlanet.com, buy.com, Movies Unlimited, and DVD Empire. Prices range from $20.99 to $26.99, before tax and shipping charges are added on.
This sleeve art depicts the bloody hand of a murdered woman in the foreground. Behind the hand is wood from an old shed, and peering through the wood is a single large eye -- a clearly evil eye. The title, "Brigham City," appears to be written in dripping blood.
The DVD with the alternative sleeve art is distributed by MTI Home Video. The website for this company features a large collection of videos and DVDs, many of which are direct-to-video products. Pretty much all of the movies sold by this company are thrillers and horror films. A distribution deal was probably struck between Excel and MTI Home Video so that Excel will distribute to the LDS/Utah market, and MTI will distribute to the national market, giving the video/DVD wider retail exposure than "God's Army" had.
According to product description information at DVDplanet.com, the "Brigham City" DVD features:
5.1 Dolby Digital, Dolby Surround audio
Audio commentary track
Filmographies of the filmmakers and stars
"Making of" documentary
Original movie trailer
Other websites indicate that the DVD features a wide-screen version of the film. If it is like the "God's Army" DVD, it will also feature a full-screen (pan-and-scan) version.
---
'Heaven' is content to preach to the choir
Fresno Bee REVIEW of "The Other Side of Heaven" compares it with "Brigham City"
By: Donald Munro
Date: 12 April 2002
Source: Fresno Bee
URL: http://www.fresnobee.com/lifestyle/movies/story/2153749p-2542845c.html
Grade: B-
With its gorgeous tropical sunsets and slick production values that set a new standard for faith-based films, the piously rendered "The Other Side of Heaven" is aimed squarely at audiences most receptive to its message: that spreading God's word is one of the most noble endeavors a person can pursue.
That message certainly will fall on fertile ground in the Central Valley. And in a world in which secular Hollywood pumps out enough gore, sex and bad language to choke a ratings board, it's no surprise that religious-themed films are targeting their own niche markets.
This fact-based tale of 19-year-old Mormon missionary John Groberg, who had never even seen the ocean before he traveled to Tonga in the 1950s, is a sweetly spiritual affair more interested in lushly orchestrated moments of inspiration than narrative or characterization.
In that sense, "The Other Side of Heaven" isn't as interesting cinematically as the more rough-hewn "Brigham City," another recent offering from distributor Excel Entertainment. That film -- about a serial killer in a small Utah town, of all things -- was firm in its spiritual values but more nuanced. "Brigham City" gave us a multifaceted glimpse of its Mormon characters, warts and all. It even included a "nonbeliever" asking some tough questions about faith and God.
"Heaven," based on Groberg's book "In the Eye of the Storm," is content to preach to the choir. It plays out as if Groberg were standing to the side during the filming, making the producers extra careful to portray him as a saint without a trace of human fallibility. (Groberg, now a member of the First Quorum of the Seventy of the Church of Jesus Christ of Latter-day Saints, had reservations about adapting his book into a movie and had a lot of input in the production.)
Still, "Heaven" has a solid emotional impact. And with a budget of $7 million -- minuscule by blockbuster standards but hefty for an independent film -- director Mitch Davis got a lot of bang for his buck. The production has a far more polished and professional feel -- and more spiritual oomph -- than such recent Christian special-effects offerings as "Megiddo: The Omega Code 2."
When Groberg (Christopher Gorham) gets his missionary call, he makes the treacherous journey from Idaho to one of the Tonga Islands. There, with help from a native Tongan named Feki (Joe Folau), his mission companion, he has to get used to a whole new way of life, including learning the language, killing mosquitoes and protecting his feet while he sleeps from hungry rats. (He still manages to wear the trademark white shirt with tie, however.)
At the same time, he has to try to keep his relationship alive with Jean (Anne Hathaway, of "The Princess Diaries"), who's waiting for him back home. Though she's pursued by another suitor, it's a mark of Groberg's youthful cockiness that he never much worries that she'll wait for him.
Gorham, a Fresno native and Good Company Players alumnus who starred in the WB series "Popular," has a cheerful, boyish appeal, and he develops a strong bond with the island residents. The film's production values are slick, including a raging storm that nearly snuffs out the islanders. While the narrative never fully develops -- there's little sense of a story arc beyond stringing together anecdotes -- it's endearing to watch the farm-fresh main character slowly adapt to island life.
If "Heaven" has an irritation, it's the missionary's self-confident sense of righteousness that borders on pompousness. Though there's another Christian minister on the island, Groberg in the film never pauses to consider his beliefs. And there's never any question that the "great white missionary" is anything but the answer to the natives' prayers -- we never even see any evidence of their own religion.
Then again, a mark of faith is the certainty of one's own beliefs. And in that regard, "The Other Side of Heaven" never strays.
---
With 'Brigham City' on DVD and 'The Prophet' On Deck,
Dutcher Looks at LDS Cinema Boom
By: Sean P. Means
Date: 21 April 2002
Source: Salt Lake Tribune
URL: http://www.sltrib.com/2002/apr/04212002/arts/729926.htm

Richard Dutcher, the Moses of LDS filmmaking, is excited, but he can't really talk about it.

"We should have a talk in a couple of weeks," Dutcher said over the phone from his Utah County offices recently.

Dutcher is deep into pre-production on "The Prophet," a movie biography of the founder of the Church of Jesus Christ Latter-day Saints, Joseph Smith. The project has had its ups and downs -- the potential of a government strike in Canada (where he will shoot principal photography), and having to scramble to find investors after support from one Utah bigwig fell through.

In the meantime, Dutcher is touting the DVD release Tuesday of his last movie, "Brigham City," and casting a fatherly eye on the explosion of LDS-themed movies that have followed in the wake of Dutcher's "Brigham City" and "God's Army."

"The Other Side of Heaven" opened regionally last December, and went national a week ago (the reviews were excoriating -- Stephen Holden of The New York Times, for one, wrote that "the movie's vision of a white American zealously spreading a Puritanical brand of Christianity to South Seas islanders is one only a true believer could relish.") Two more hit Utah theaters in February: the romance "Out of Step" and the comedy "The Singles Ward." (Dutcher made a cameo in "The Singles Ward," but has requested his scene be removed from the movie's video release.)

"Last month, there was one weekend . . . I opened up the paper and saw these three LDS movies playing at the same time," Dutcher said, not without some pride.

"At the same time, I seriously question the wisdom of releasing them all at the same time," he said. "They're all going for the same audience."

Dutcher is concerned about the quality of other LDS filmmakers' movies. "My hopes for Mormon filmmaking have changed," Dutcher said. "I had the hopes that they would all be intelligent and there would be a real depth and substance to them, and a certain level of technical quality. The reality is that those are going to be the highlights. . . . I want all of them to be 'Lawrence of Arabia' quality movies, and they're not going to be."

Dutcher fears a parochialism could creep into LDS filmmaking. "I don't want Mormon cinema to be Utah cinema. I want Mormon cinema to be very diverse," he said. "Whatever the story is, if you're telling it honestly and with sincerity, even though it may have Mormon particulars and may be saturated with Mormonism, then it can become universal. It can transcend the regional specifics."

He cites "Out of Step," about a Mormon girl following her dancer's dreams in New York, as an example of a good movie with crossover potential. It fared poorly in its limited February run, but Dutcher said, "I'm hoping that film will get another shot at it."

Dutcher is supportive of other LDS filmmakers. "I've always had this open-door policy, as far as sitting down and sharing whatever information I have," he said. "People are very guarded about distribution information, exhibition information, how you actually get movies into theaters. . . . I'm always very open about that, and will continue to do so because I want to see these movies made."

But Dutcher is learning to be more careful about letting his name be used for dubious projects. "I'm becoming wiser about this," he said.

The DVD release of "Brigham City" is testing the limits of marketing an LDS-themed movie. The distributor, Spartan Home Entertainment, will have two video-box covers for the movie: One features Dutcher's sheriff character holding a gun, next to images of costars Wilford Brimley and Matthew A. Brown; the other, which Dutcher calls "the B-movie horror approach," includes a sinister eye, a gnarled hand on an ax handle, and the movie's title dripping blood.

"I see the reasoning behind it from a marketing standpoint," Dutcher said of the slasher-movie art, which will be available at major national chains. (The tamer cover will be more prevalent in Utah stores.) "I do have concerns that the people who would really enjoy this movie may not rent it. . . . and the people who rent the movie based on the cover art may not enjoy it."

The DVD will include a director's commentary, but Dutcher looks forward to having enough time to create deluxe DVDs of "Brigham City" and "God's Army." "I will someday, probably when they don't let me make movies anymore," he joked.

"It's fun to see them continue on," he said. "Now it's interesting, just because we're having 'God's Army' about to open in Latin America in theaters, and we're watching that happen at the same time 'Brigham City' is coming out on video and DVD and making foreign sales, and being on heavy preproduction on 'The Prophet.' They don't go away. I guess they're like children -- you have to keep watching them and seeing what they go out and do in the world."
---
TV Guide REVIEW:
The town that dreaded sundown
By: Ken Fox
Date: 2001
Source: TV Guide Online
URL: http://www.tvguide.com/movies/database/ShowMovie.asp?MI=42864

*** [3 out of 5 stars]

It's clear from the opening scene that this is no ordinary thriller: A middle-age man climbs out of bed, straps on his leg brace and holster, pins a badge to his uniform, then pores over the Book of Mormon. He's Wes Clayton (Richard Dutcher), sheriff of tiny Brigham, Utah, and one of that fictitious Mormon enclave's 17 bishops. And this is the latest offering from Zion Films, a company dedicated to bringing entertainment about the Mormon community to the screen. But while the film does center on issues of faith that will no doubt speak most directly to LDS members, it's also a tight and surprisingly effective murder mystery. Brigham may be feeling the effects of national prosperity, but Sheriff Clayton likes his hometown exactly the way it is: safe, squeaky clean and isolated from the outside world. The outside world, however, comes crashing in the day Clayton and his young deputy, Terry (Matthew A. Brown), discover the body of a murdered woman hidden in a barn. Clayton tries to convince himself that the murder has nothing to do with Brigham — after all, the victim was a stranger from California. But when the battered body of one of Brigham's own is found stuffed under the town gazebo, the situation becomes painfully clear: Brigham has its very own serial killer. Written and directed by Dutcher, the triple-threat auteur behind Zion's first feature, GOD'S ARMY, the film poses a fundamental question: Must we lose our innocence to gain wisdom? The answer on hand is a surprisingly downbeat one, and while Dutcher is no David Lynch, he presents a world in which festering psychosis underlies even the most idyllic communities. The film isn't without problems: Those who hold the Constitution sacred may find Wes's complete disregard for laws governing illegal searches and seizures a little hard to stomach, and it's a shame that the only character whose skin isn't a perky shade of pink should be presented as an automatic suspect. But on the whole, Dutcher has fashioned rare thing: A mystery that's filled with genuine sorrow and capped off with a denouement that may take even seasoned mystery buffs by surprise.
---
CitySearch.com REVIEW
By: Jason Esplin
Source: CitySearch.com
URL: http://newyork.citysearch.com/review/11457450/editorial/

This Mormon murder mystery may be full of religion, but it won't come knocking on your door.

Editorial 8 [out of 10]

The Setup
The residents of Brigham, Utah, enjoy living in what they call a paradise. Wes Clayton (Richard Dutcher), as Brigham's sheriff and bishop of the local Mormon church, protects the temporal and spiritual lives of his people. When a murdered woman is found, Clayton is quick to assume that the killer is an outsider. When more dead bodies turn up, the town struggles with the notion that the murderer is a Brigham resident.

The Breakdown
As star and director, Richard Dutcher walks a fine line between preaching and portraying his devout faith in the LDS religion. His use of spirituality is at times heavy-handed, but the sketch of this small town requires an in-depth study of its faith. The murder-mystery plot is compelling, though it only narrowly avoids being overshadowed by the religious overtones.
---
Talking Pictures REVIEW
By: Tony Toscano
Date: 2001
Source: Talking Pictures
URL: http://www.rottentomatoes.com/source-576

A heavy-handed and preachy film.
"Brigham City" is written, directed by and stars "God's Army" writer, director and star Richard Dutcher.

Dutcher plays a sheriff who is also the bishop in the LDS Church in the quiet and fictional Mormon community of Brigham, Utah. When a woman's body is found murdered the community is shaken.

Dutcher attempts to mix Mormon culture with a murder mystery. The mix almost works. But, Dutcher puts far too much emphasis on showing off different aspects of LDS church life, requirements of an LDS Bishop and prayer. The result is a heavy-handed and preachy film.

Dutcher needs to spend more time on solving the case. It's when the story focuses on the police work used to solve the murder the film actually becomes interesting and intriguing.

Dutcher does a splendid job in the starring role. He shows us a character of dimension and depth. He's a caring individual who acts as guardian angel for his town.

Matthew Brown plays Dutcher's deputy. Brown is less sure of himself as an actor than Dutcher -- and it shows. Brown did well in his last outing in "God's Army." But I think he did well because he was familiar with the subject -- a returned LDS missionary.

In the final assessment, "Brigham City" lacks universal appeal. It needed to widen its scope to be appealing to a broader audience.


"Brigham City" is rated PG-13 for violence and intense scenes.



---
Go to "Brigham City" page 8