Jaelan Petrie * Stephanie Albach
Chris Kendrick * Shannon Skinner * Gretchen Condie
Joel Bishop * Lincoln Hoppe * Scott Christopher * D'art Wells
"Handcart"
Kels Goodman's epic film
about the Martin handcart company



Opens October 11th, 2002!



---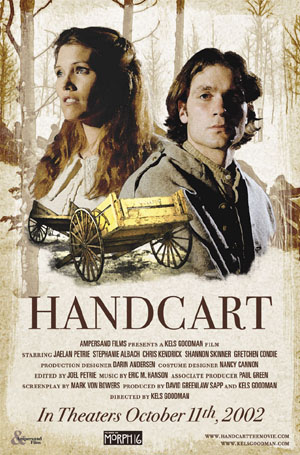 PRESS RELEASE for AMPERSAND FILMS:
"Handcart" film makes its way to theaters.
FOR IMMEDIATE RELEASE - May 10, 2001

SALT LAKE CITY, UT -- Ampersand Films LC. announces the production of "Handcart", a feature film that chronicles the courage and faith of a young family as they endure the hardships that befell the Martin Handcart Company and its rescue. The film will be released to theaters July 24, 2002.

Ampersand Films is a new company formed for the production and marketing of motion pictures. The principles of the company are director Kels Goodman, and producer Arthur Reid. Mr. Goodman has produced and directed commercials, music videos and promotional programs for 10 years. Mr. Reid has had 20 years of experience producing and directing award winning entertainment and dramatic programming, as well as commercials, sales promotion programs and documentaries.

Two years ago, Goodman directed his first feature "Yankee 2 Kilo", a comedy on the Y2K paranoia, which had a video release just before the year 2000 and re-edited for a theatrical premiere earlier this year.

Comparing "Handcart" to his previous projects Goodman sees this picture as being much more serious. "I have family that crossed the plains on foot with the Martin Handcart company and died at Devils Gate". The famous rescue of the disastrous trek is the high point of the film. Unknown to Brigham Young, the company left Iowa City too late in the year to beat an early Wyoming winter. Once he got word, Young interrupted the fall general conference of the church to prepare people for a rescue of the weary saints. "This makes for dramatic filmmaking," says Goodman.

The idea for "Handcart" came 4 years ago when Goodman worked for producer Kevin Mitchell documenting the 1997 Mormon Trail Wagon Train. The TV show "Legacy West" was made up of 13 episodes, covering the reenactment week by week, following the trek all the way from Winter Quarters to Salt Lake City.

Goodman's job was to direct dramatic vignettes that were edited and released each week for broadcast. The dramatic spots were usually taken from journals written 150 years ago that documented events experienced by the original wagon train or handcart company.

"It was an incredible experience. As we produced one program after the other, we got more elaborate. People from the wagon train got involved, and we became friends for life," Goodman says.

Goodman has planned to use many of the people that were involved in the 1997 reenactment of the wagon train to use as "authentics" in "Handcart" when they begin shooting this summer.

[Editor's Note: After the official Handcart website was down pending upgrades, it resurfaced with this press release, dated 19 June 2001. The press release is identical to the press release from the company issued 10 May 2001.]

** Call for Extras **


Interested in appearing in a film? A large number of extras are needed to appear in Kels Goodman's latest film, Handcart, an epic film about the Martin pioneer company.

Extras will be needed in Spring 2002. Filming will take place at Deseret Village in Salt Lake City. Food will be provided. Period costumes preferred, but some will be provided.

For more information or to sign up as an extra, contact the film's extras coordinator, Courtney, at extra.extra@att.net





---
Media too close for some travelers. Drive for stories sometimes interferes
By: Candy Moulton
Source: Casper Star-Tribune
Date: 1 June 1997
URL: http://www.mormontrail.net/TRAIL97/WESTNEB/01jun1cm.html

KEYSTONE, Neb. --- The movement of the Mormon Trail Wagon Train is attracting a lot of media attention, drawing coverage from British and German film crews, CBS news, KSL Television in Salt Lake City, writers from Austria and Japan, as well as other regional and local media. That coverage at times involves just a few journalists; at other times, a large number of media representatives are with the train.

Some wagon train participants have expressed concern with some of the media. A particular example arose on May 21, when the train traveled through a prairie section of the Nebraska Sand Hills. Wagon train participants --- from horseback riders to teamsters to handcart company walkers --- all said that was the best day on the trail so far, in part because of the landscape. The walkers, horseback riders and people on the wagons took photos that day as the train moved over the hills, personally documenting their journey. "Russ Leger says when you folks were out there four or five (wagons) abreast" people wanted to take photos. "The media wanted to make sure they got their shots, but they didn't seem to give any consideration to the wagon train experience," said Sandy VanLeeuwen, public information officer for the wagon train.

That day some members of the media had vehicles they drove alongside the train in order to take photos, which often meant people on the wagons couldn't take a photo without a media vehicle in the picture, VanLeeuwen said. The previous day, wagon train officials had cooperated fully with the media, in part due to the presence of CBS-TV news, which filmed the train at a gravesite dedication and during the crossing of the historic Sand Hills ruts just north of Sutherland, Neb. For that day all wagon train participants were instructed to wear period clothing or to remain out of the view of any TV cameras. Handcart company walker Jonathan Dew said he had been one of those selected to participate in the historic rut crossing. Dew wears a Scottish kilt, in representation of his ancestors. When train officials told him he could not wear his kilt and tartan, he declined to participate.

"I am not going to lower the colors of my ancestors to strut in front of a camera," Dew said.

'Media frenzy'

The train becomes a "media frenzy" at times, said Brody Pack and Courtney Bridgers, a camera operator and production assistant, respectively, for Mitchell Productions, which is doing a documentary of the train for the Odyssey Channel. Mitchell crew members are on the train every day and say they have had good cooperation from wagon train officials and participants. "I'm sure they get mad at us at times," Bridgers said. Prior to crossing the Sutherland ruts, some media were briefed "to try to keep the media working together," Bridgers said. But Mitchell Productions camera operator Kels Goodman said there have been some concerns.

"I'm here for the whole trail. I'm doing reenactments, that's my job. We don't want them to do any special terms for us," Goodman said. "I do the reenactments, which means I direct the drama spots in camp," he said. "When the train is moving, we don't mess with it," Goodman said. "(Wagon officials) have been really good to us. The shots that we're doing are more the spirit of the matter. If something negative were to happen on the trip, we probably wouldn't (film it)." "I was not impressed by it personally," Goodman said of the organized crossing of the Sutherland ruts. "I don't see why we had to make a press day out of it. ... The spirit of the matter was lost." CBS-TV and other news crews that day "got an orchestrated event going over that hill," Goodman said. "This is news," he said indicating the camp in Keystone. "To say only authentic people" could be on the train that day also affected the spirit of the camp. "The news was after they got (to camp) when they were tired," he said.

Rough ride

Not all of the wagons, walkers, horseback riders and handcarts had the opportunity to cross the ruts. "I think they should have been able to go. Those sand ruts were tough and they should have been able to experience it," Goodman said. "People here are going through their own challenges. They don't need to deal with (media frenzy)," Goodman said. "I felt after that media blitz, it's almost like I was one of them, even though I wasn't," Goodman said. "I felt like am I coming across like them, (asking myself) am I in their face?" he said.

Tom and Sandy VanLeeuwen said their role on the train is to assist media. They ask that local media wanting to cover the train check in at the media trailer when they enter the camp. The train issues a scarf to each media representative, which helps them gain access to ride in various wagons, or to conduct some interviews. In Wyoming, wagonmaster Ben Kern said the train will not stop nor stage events for media coverage. "We're going to go down the road. They're going to have to set up their shots according."

"I'm not going to let (media) go running up and down the road by the wagons," Kern said, noting safety concerns. Although he isn't anticipating any problems, Kern said if media representatives are driving near the train in a way that could create problems he will contact the Wyoming Highway Patrol or county sheriff's departments to assist with traffic control.

"Some of (the media) have shown respect. But there's some of them that haven't. They've run up and down the roads. They've tried to tell people what to do and I don't think that ought to happen," Kern said.

Nebraska wagonmaster Joe Vogel was unavailable for comment.
---
Screenwriter Mark Von Bowers
Mark Bowers, the screenwriter of Handcart, does not yet have any writing credits listed in the Internet Movie Database. But he has apparently been writing for film for some time, as indicated by this excerpt from a September 1997 newsletter:

Noted Author to Highlight Arizona Night Writers' Fifth Annual Writers Workshop October 25, 1997 - Arizona Night Writers Association will sponsor its Fifth Annual Writers Workshop, "Write the Things of Your Soul," from 8 a.m. to 5 p.m. on Saturday, October 25 at the Mesa East Stake building of the Church of Jesus Christ of Latter-day Saints, 2228 E. Brown Rd., Mesa, Arizona. Sarah Hinze, acclaimed author of the pre-birth studies classic _Coming From the Light_, will be the keynote speaker at the workshop, which this year features eight class sessions. Faculty members and their topics include Mark Bowers, screenwriting; Charles Davis, short stories...
In 1997 Bowers also co-wrote (with director/producer Martin L. Anderson) a 26 minute corporate video titled "Treasure Chest" for Nu Skin, an international manufacturer and distributor of personal care products.
---
Mormon Movies on Tap
Source: Salt Lake Tribune
Date: 27 May 2001
URL: http://www.sltrib.com/05272001/arts/100538.htm

Two production companies are launching LDS-themed movie projects.

A group of Hollywood pros, all of them members of the Church of Jesus Christ of Latter-day Saints, have announced a plan to develop large-screen format movies based on stories from The Book of Mormon.

The first movie is "Safe Passage," which portrays the exodus of Lehi's family from Jerusalem in 600 B.C., across the Arabian desert and an ocean to the Americas. A release date of mid-2002 has been targeted.

The filmmakers are led by Steven DeVore, founder of SyberVision Systems. They include: Scott Swofford, whose Vineyard Productions made "Testaments," the movie now playing at the Joseph Smith Memorial Building; Warner Bros. executive Quinn Coleman; director Peter Johnson and cinematographer Reed Smoot.

Meanwhile, Salt Lake City-based Ampersand Films plans to make "Handcart," a drama based on the real-life struggles of Mormon pioneers crossing the West to join Brigham Young's Utah settlers.

Kels Goodman, whose comedy "Yankee 2 Kilo" was released on video in 1999, will direct. Arthur Reid is the producer. A release date of July 24, 2002, is planned.
---
Additional Producer Mentioned
9 July 2001 - The official Handcart website has been updated, and a reference to the film's latest production meeting mentions Darin Andersen. Previous announcements had only mentioned director Kels Goodman, producer Art Reid, and screenwriter Mark Bowers.
---
More News about 'Handcart' Crew
16 August 2001 - Director Kels Goodman has provided additional information about the crew of "Handcart."

The art director is Darin Andersen. Anderson was credited as the associate producer of Goodman's previous feature film Y2K, as well as one of the screenwriters. He also acted as the art director on that film. His other credits include work on short films and videos such as "Goin' Home"; "The Statue"; "The Fourth Trimester" and "Fields of Gold."

Because "Handcart" is a historical epic, one of the biggest and most important jobs on the production is that of the costume designer, a job that will be fulfilled by Nancy Cannon. Cannon's previous credits include assisting in costuming on Richard Dutcher's "Brigham City" (2001).

Goodman has also confirmed that the screenwriter on "Handcart" is Mark Bowers, who worked from the story treatment that Goodman wrote. The producer is Arthur ("Art") Reid.
---
Change in Filming Schedule
Date: 2 October 2001

Message posted by Kels Goodman on the official "Handcart" website news section:
Making films can be an interesting business. Where we stand now, for those interested, is we are changing our shooting schedule to film around the 2nd week in January. At that time we will film the winter scenes first.

Then, all of the warm scenes we will film in April. This should allow us enough time to still release the film July 24 of 2002.

Actually, my costume designers and art director are greatful for the extra time. We have some props and costumes already finished.

We have noticed now that this delay is actually a blessing in disguise. I would rather wait and make it right rather then rush and do a shoddy job.

Thanks for your patience and remember that this delay in filming is only that, a delay.


CHANGE IN SCHEDULE

Due to some recent events, the filming of Handcart is POSTPONED. We will resume in January and April. This will still allow us time to bring the film to release for Pioneer Day 2002.

We are very greatful for all of the incredible support and apologize for this delay, especially for those of you who have desired to be extras. Your time will come soon.

We also give our condolences to those involved in the recent tragedy. It has certainly made us think differently about our lives, as well as help us retarget the tragedy of the handcart pioneers we are about to film.
---
Shinebox Posts New "Handcart" Pic
24 October 2001 - Kels Goodman last updated the official "Handcart" web site at the beginning of this month, on 2 October 2001. At that time he explained that filming was being postponed until January and April of 2002. Shinebox Motion Pictures recently posted a new "Handcart" picture, which appears to be a promotional photo featuring the film's leads. I've stolen it from Shinebox's homepage for your viewing pleasure: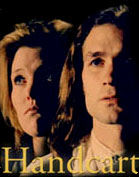 >From the image, it appears that "Handcart" will be about Mulder and Scully crossing the plains. (Just kidding.)
Here, by the way, is the ORIGINAL poster for "Handcart" that was posted on the official website: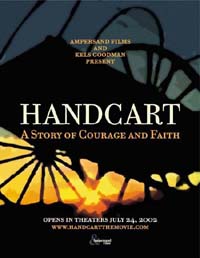 So what is "Shinebox Motion Pictures", you ask?
Shinebox is an independent film production company based in Utah County. It's principle founders and co-conspirators are Utah County natives Bryan Young, Paul Green and Elias Pate. Their Shinebox website has long referred to Kels Goodman and his "Handcart" film, and currently lists "Handcart" as one of Shinebox's "current productions."
The first Shinebox feature film was the science fiction film "Missy" (soon available on DVD). "Missy" was written and directed by Bryan Young and Elias Pate, and produced by Kels Goodman.
The other "Shinebox personality" local film buffs might be familiar with is Rocco DeVilliers, who was the writer/producer/director of "Pure Race", and the director of "Only Once" from Bristone Films.
DeVilliers and Goodman aren't Shinebox employees, per se (if Shinebox can be said to have employees). I think they all just know each other and sometimes use the same equipment.
None of this would really matter except for this point: The filmmakers associated with Shinebox may be young, but they are all very, very serious (passionate, even) about making top quality, entertaining movies.
Yes, "Handcart" is a historical film about pioneers. But don't expect a seminary video. Kels Goodman and his associates are more comparable to younger versions of Lucas, Spielberg, Capra, and John Ford.
---
New "Handcart" Poster, with cast and credit information, is online
18 December 2001 - The new poster for "Handcart" has been posted on the official site of the film's director: KelsGoodman.com.

Some of the key crew members have been previously announced on the official "Handcart" website, but this poster brings the first announcement of some of the film's other crew members, as well as the names of the three lead actors.

The poster depicts closeups of a female and male handcart pioneer, with the spokes of two wheels of handcarts shown in shadow in the background, and an entire handcart shown in the foreground.

The text of the movie poster reads as follows:





HANDCART



Ampersand Films presents a Kels Goodman Film
Starring Jaelan Petrie Stephanie Albach Chris Kendrick
Art Director Darin Andersen Costumes by Nancy Cannon Story by Mark Bowers
And Kels Goodman Screenplay by Mark Bowers Produced by Art Reid
Directed by Kels Goodman


PIONEER DAY 2002


Ampersand Films www.handcartthemovie.com




---
Lead "Handcart" Actors Revealed
18 December 2001 - The film scene was buzzing with talk about the newly revealed principle cast members in Kels Goodman's upcoming historical epic "Handcart."

In the lead roles are Jaelan Petrie and Stephanie Albach, with Christopher E. Kendrick cast in the key supporting role.


Christopher E. Kendrick
Of the three, Provo resident Chris Kendrick may be the actor audiences are already the most familiar with. Kendrick played "Mike Sommers" in Richard Dutcher's acclaimed thriller Brigham City. Kendrick's character in that film was the father with five children who epitomized the "Everyman" in the town of Brigham -- a man long accustomed to living in a friendly and safe community, now fearful after a rash of murders.

Interestingly enough, Kendrick also worked as the Transportation Coordinator on "Brigham City."

Kendrick has also performed in local theater. For example, he played "Master Frank Ford" in Christopher Clark's critically praised production of Shakespeare's The Merry Wives of Windsor (2000) at Castle Theatre.

Kendrick played the part of "Chapuys" in Robert Bolt's A Man for All Seasons, which opened in January 1999 at BYU's Margetts Theatre. The cast also included many names that audiences will recognize from local theater as well as from the cast of "Brigham City": Daniel Hess, Scott Christopher, Chris Clark, Tayva Patch, Ryan Rauzon, Jennine Hollingshaws, Richard Clifford, Emmelyn Thayer, Paul DeWitt, H.K. Baird, James Claflin, Dustin Condren and Jeff Hanson.

Kendrick's other stage roles have included "Claudius" in both Shakespeare's Hamlet as well as Tom Stoppard's Rosencrantz & Guildenstern are Dead (Castle Theatre, 1998), and "Stanley" in Richard III (BYU, 2001).


Jaelan Petrie


Jaelan Petrie has been cast in the lead role as the fictional reluctant pioneer "Samual Hunter." Samual "joins the church only for his love for the faithful Abigail." Petrie's part may be the film's most challenging role, as much of the story surrounds his character's internal journey of faith, juxtaposed against the intense physical trial of crossing a dangerous wilderness.
Petrie is no stranger to feature film work. He previously had a lead role in the Bryan Young/Elias Pate science fiction film "Missy" (2000), which was produced by "Handcart" director Kels Goodman. ("Missy" will soon be available on DVD.) Petrie also starred in the short family drama "Domestic Dispute" (2001), which was produced by Pate and another Shinebox principle, Paul Green, from the screenplay by Ryan Williams. Playing the oldest son, Petrie performed alongside Bob Manning, Robin Ballard, and Steven Jones. "Handcart", "Missy", and "Domestic Dispute" are all affiliated with the Utah County-based film studio Shinebox Motion Pictures.
On the local stage, Jaelan Petrie has exhibited tremendous range in such varied roles as the servile "Sancho Panza" in Dale Wasserman's Man of La Mancha (SCERA Shell Outdoor Theatre, 2000), the lead role "Pirate King" in D. Terry Petrie's hilarious sci-fi production of The Pirates of Penzance (UVSC, 2000), and his Tony-caliber turn as "Cosmo Brown" in Singin' in the Rain (1998).


Stephanie Albach


The beautiful and talented actress Stephanie Albach has been cast as the film's female lead, Abigail, a devout Latter-day Saint pioneer and the love of Samual Hunter's life.
"Handcart" is Albach's first major role in a feature film.
---
KelsGoodman.com website updated to include a wealth of information about "Handcart"
18 February 2002 - Extended cast and crew information is available on the KelsGoodman.com website. On the Handcart Cast page (http://www.kelsgoodman.com/cast.html) the following cast members are listed and pictured:

Jaelan Petrie, as:
"Sam"

Stephanie Albach, as:
"Abigail

Chris Kendrick, as:
"Moose"

Shannon Skinner, as:
"Patricia

Gretchen Condie:
"Sarah"

Joel Bishop as:
"Edward Martin"

Lincoln Hoppe as:
"Tanner Hunter"

Scott Christopher as:
"Quincy"

D'art Wells as:
"George Grant"

-- The Rescue Boys --
Russ Curtis
Brent Bensen
Mitch Curtis
Nate Day




On the Handcart Crew page (http://www.kelsgoodman.com/crew.html) the following cast members are listed and pictured:

Producer/Director:
Kels Goodman

Production Designer/Art Director:
Darin Andersen

1st A.C:
Mikel Lookinland

Asc. Producer:
Paul Green

Costume Designer/Wardrobe:
Nancy Cannon

Extras Costumes/wagons:
Cindy Wells

Hair and makeup:
Kathy Varga

1st A.D:
Dave Skousen

2nd A.D:
Elias Pate

2nd A.D:
Bryan Young

Gaffer:
Howard Little

Gaffer:
Carl Gundestrup


Additional Crew Below, not pictured :

Writer:
Mark Bowers

Extras Coordinator:
Courtney White

Sound:
Bobby Fisk

Boom Operator:
Russ Lasson

Craft Service:
Tyler Winegar

Grip:
Dave Christensen
Jason Young



Also, there are many production stills (photos of the production) available at http://www.kelsgoodman.com/photo.htm

The photos and costume look fantastic. By all appearances, "Handcart" will be a beautiful, epic film.
---
Recent NEWS updates posted on the official "Handcart" website
The following text was copied from the NEWS section of the "Handcart" site. This page on the official site is updated periodically. Not every update posted there is included on this archive webpage.

FINISHED SHOOTING WINTER UNIT - FEB 8 
Well, here we are, I am tired, my voice is horse, my face is red from the sun and snow.
                     People will think I have been skiing.

 We have been far from skiing. I wish to thank all who have participated in the first half
          of Handcart shooting (which is actually the 2nd half of the story).

    We filmed handcarts pushing, people dying, getting buried...what a wonderful
         experience. Now we will edit and get the other half ready for April.

         If you want to see pictures, there are some on kelsgoodman.com. 

                        SHOOTING BEGINS - FEB 3 
Well a week of shooting has come by. For independent productions, the actual "filming"
part is the shortest, yet most difficult part of the process. We have suffered through 1 to
          3 feet of snow, being outside all day long in an low as 15 below. 

 But I am not complaining! What is most important is the final product. The talent have
                     been super and the shots are pretty.

 In the sceme of filmmaking we are simply friends getting together to make something
  special. We have another week to go and look forward to shooting the rest in April.

        Thanks to all who have sacrificed much to see this project through. 

              December 15, 2001 - NEW WEBSITE/NEW SCHEDULE 
  We are making the shooting schedule to land within the two or three weeks between
 Sundance Film Festival and The Winter Olympics. Around Jan 28 through Feb 7. You
            can still contact Courtney for those who want to be extras.

  Also, a new website is available on the director Kels Goodman. This focuses on not
 only Handcart but other projects. This fun website is being managed by Paul Green of
         Shinebox Motion Pictures. Visit the site and thank him for his work

                        Source: KelsGoodman.com 

                     November 9, 2001 - STORYBOARDS 
 Don't think things are not happening with Handcart. We have just been too busy getting
  things done to get on the internet. I am currently in the process of storyboarding the
scenes. What this means is that I draw a picture of every shot so that when we go out to
 shoot, we will know exactly what to shoot. Usually, a feature film will have anywhere
  from 500 to 2000 shots. So you can imagine drawing everyone of them takes time.

This also mostly happens when there are films with a lot of special effects. Star Wars is
  famous for all of their storyboards. There are no special effects in Handcart, but for
            future films where I could have some, it is a good practice. 

For now we are sticking with January 14 for our winter shooting. Extras would be great,
 if you want to brave the cold. Possibly you could get carried across the sweetwater by
  a handsome young man. If you want to sign up to be an extra, contact Courtney, our
           extras coordinator at her e-mail address: extra.extra@att.net. 

---
Film industry hard hit by recession
By: Brittany Brough
Date: 6 March 2002
Source: Daily Universe / BYU NewsNet
URL: http://newsnet.byu.edu/story/37349

Analysts said the economy is perking up, making this recession one of the mildest ever. But even though the economy is on the mend, Latter-day Saint filmmakers struggle to get and keep investors.

Alan Greenspan, the Federal Reserve chairman, said, in a testimony before Congress last week, the economy seems to be emerging from the recession which started last March.

However, he warned the rebound would be moderate compared to past economic cycles.

MSNBC reported steady consumer spending has provided the bedrock for the economy. The economy was badly shaken after Sept. 11, but has recovered far faster than most economists anticipated.

"Despite the disruptions engendered by the terrorist attacks of Sept. 11, the typical dynamics of the business cycle have reemerged and are prompting a firming in economic activity," Greenspan said.

However, even with economic rebound, the recession and Sept. 11 have negatively affected the film industry's investors.

Lance Williams, the producer of "Charly," said one of the film's investors pulled out three days after Sept. 11 because of concern for the stock market and the overall economy.

"It was a huge blow to the production because each investor represented a sizeable part of the budget," Williams said.

However, Williams was able to rebuild the budget with new investors.

"Production went ahead as scheduled and we established some new financial relationships," he said.

Some investors never abandoned film because they understood how well it does in a depressed economy, Williams said.

Steve Lee, a freelance unit production manager, said the film industry's economy goes where the general economy goes, based on the World War II era.

"A lot of the Hollywood companies disappeared. Companies that, at the time, were very well known we don't even hear of anymore because they couldn't handle that. Hollywood had to pull back and be very conservative in what it put out after that time," Lee said.

Film is a luxury not a necessity, Lee said.

Though people want to be entertained, investors may be looking for something more solid than film, he said. Investors are coming back slowly now, but are more apprehensive than before the recession and Sept. 11.

"Everybody is still a little nervous about where the economy is and wanting to see before they jump in too far," Lee said.

Kels Goodman, producer and director for "Handcart," said investors pulled out of his film because of a slump in their businesses.

His investors relied on the success of South Padre Island, Texas.

The only bridge to the rest of the state was destroyed when a barge crashed into the middle section of the bridge, Goodman said. After that, his investors called and said they could not help his film.

However, a benefit concert by Garth Brooks helped boost the island's economy. Investors returned to Goodman a few months later.

Goodman said investors are coming back to film, based on his own experience.

Some filmmakers reassured investors that after all the terror, the public would turn to feel-good movies.

"More than ever, people would need good, high-quality entertainment to help lift their spirits and help get them through what would surely be troubled times ahead," Williams said.

There seems to be a general trend with moviegoers now to embrace the 'feel-good' films.

"It isn't so much a trend with the Latter-day Saint demographic as it is a sensibility that tends to remain fairly consistent," Williams said.

Goodman agreed. "PG films still rule in the box office."

With most Latter-day Saint films being rated PG, it would be expected that audiences embrace the films. However, the quality of those films and the cost of production compared to profits at the box office cause some concern.

"LDS film is doing well now," Goodman said, "but I think it could be washed out through time unless LDS filmmakers start producing product that is near Hollywood levels."

Unless the product starts to match that of Hollywood's material, it will be as exciting as something produced by Deseret Book, Goodman said.

The possibility to mix good quality stories and values in a Hollywood level production is high, Goodman said.

Filmmakers can make a movie for half a million dollars and make a good return, he said. But once budgets increase to $2 million or more, the films may lose at the box office. This makes it harder for other filmmakers to raise money for future films.

Goodman said investors are concerned about investing in film, especially when filmmakers do not have sensible plans.

"As I have met with investors, one of their major complaints is that most filmmakers, especially LDS, don't think about how they are going to make their money back, only that 'it's going to be good,'" Goodman said.

Williams said film is a risky business at any level, and investing in an emerging genre does not help.

"Five years from now, if we are all still making and releasing LDS feature films, it might be more of a sure bet," he said.

Other than investors, Williams said the Latter-day Saint genre's survival is dependent on two things. First, films have to be quality works and second, they have to continue to be made.
---
Idahoans find thrills as extras in movies filmed in Utah
By: Associated Press
Date: 18 March 2002
Source: Ogden Standard Examiner
URL: http://www.standard.net/standard/news/news_story.html?sid=00020317221005729680+cat=news+template=news1.html

REXBURG, Idaho -- Imagine a film without extras -- those people who walk in a crowd, fill a cantina, or walk past on the street.

Indiana Jones would look pretty foolish fleeing the Temple of Doom without that horde of thuggees screaming behind him. Charlton Heston's chariot race victory in "Ben-Hur" would be an empty one without the crowds leaping onto the track to congratulate him.

"We can't do it without extras," said Courtney White, extras coordinator for the independent film "Handcart," currently being filmed in Utah.

The film has attracted more than 100 extra actors from throughout the West, including about a dozen from Idaho.

"For 46 years, this is something I've wanted to do," said Sherry Roseberry, 56, a writer from Idaho Falls. "I've had a dream once and a while where I finally have the contact, finally get a break into the business, but then I wake up."

But now it's happened.

Roseberry and husband James, along with other family members, and Shauntell Kohler of Firth spent the last week of January and the first week of February in Utah, freezing in the snow, changing costumes in tents and generally slipping around as they filmed scenes or waited for their call to scenes in the film, directed by Kels Goodman.

The movie tells the story of the ill-fated Martin Handcart Company, trapped in a Wyoming blizzard while en route from Winter Quarters, Neb., to Salt Lake City in the late 1840s.

The group will gather with other extras in mid-March to complete its work on the film, which is set for an initially limited release in Utah and Idaho theaters July 24, Pioneer Day.

For Kohler, 19, a secretary at Steel Systems in Idaho Falls, the most fascinating part of her work on the film is the behind-the-scenes look she got at filmmaking.

"Now, when I watch a movie, I don't see it in the same way," she said. "I look at a scene and think, that had to take a lot of time to set up. "Handcart" is just a little movie, but it still takes so much time to do this and that. I can't imagine how they get the big Hollywood films done."

Cast and crew filmed at a former Boy Scouts of America campground near Springville, along the Provo River and on land near the Jordan River Water Treatment Plant near Provo.

"We couldn't wear our winter coats, of course, because the Saints at that time didn't have anything like them," Roseberry said. They, like the pioneers, wrapped rags around their hands to keep warm and to pull the handcarts.

"They certainly won't have to add fogged breath in the scenes we filmed."

Temperatures dropped to well below zero at night and often struggled to rise into the teens during filming.

"The weather really made us appreciate what the pioneers really went through," she said. "We could go into tents to get warm. We could go home to get warm. They just couldn't."

For Roseberry, the most memorable day of filming came when she played the role of a woman who had to be carried across a river by rescuers bringing members of the handcart company to the Salt Lake Valley.

She thought she'd just be able to stand on the bank, watch and wait as others were carried across, thinking the director wouldn't want to film all four couples on the move. But as filming went on, she was motioned to walk down to the bank of the Provo River and prepare for a crossing.

"I whispered to myself, 'you've got to be kidding. I'm so embarrassed,' " she said.

Embarrassment led to bruised pride when, at the bank, she slid on a patch of ice, then had to try twice to clamber onto her rescuer's back, all while cameras were rolling.

"Only after my rescuer was walking into the water did the director yell 'Cut!' "

For James Roseberry -- who was added to one scene at a funeral to hide a fencepost the director didn't want in the film -- the thrill was more to watch his wife enjoying herself.

"I just went down to be an extra," he said.
---
News Update on Handcart movie website
Date: 4 April 2002
Source: HandcartTheMovie.com
URL: http://www.handcartthemovie.com/news.html

MARCH 11, 2002 - SHOOT AGAIN
We are excited, yet busy, to expand into the world of Brigham Young and a few other names of Mormon history. As for the story of Handcart, the lead characters are fiction, surrounded by factual events. I planned this so as not to be responsible for taking on historical accuracy of a certain individual. I am sure like any film, there will be critics who will say this is not period or that is not right. But the main focus is the story of the individuals. It has been a fun, yet challenging experience.


APRIL 4, 2002
In a few days we will go into production again. It has been a wild ride getting things done on time and on budget. But the images and support to get those images have been super.

Special thanks to people like Dave Sapp, Darin Andersen, Nancy Cannon, Courtney White, Paul Green, Jalean Petrie and Stephanie Albach. There are many more, but it was unfair to just name these alone. What has been nice is that these are people who actually WANT to work on this film, not feel like they have to. I think that is what gives it a good spirit about it.

Hopefully all films can keep this same spirit.


Check out kelsgoodman.com for more updated information
---
New Trailers and Poster Available Online
14 May 2002 - On the "Kels Goodman's personal screening room" page ( http://www.kelsgoodman.com/video.html ) of the official Kels Goodman site there are now two new trailers for "Handcart." Unlike previous "teaser" trailers, these actually contain footage from the film, which is currently being edited.

One of the trailers -- Trailer "B", which is 2 minutes, 30 second long -- will be shown before each screening of "Star Wars: Attack of the Clones" when that mega-movie is shown at the Scera Theater in Orem. Goodman has said that "Handcart" will probably have its debut at the Scera. This is where Kels Goodman's previous feature, "Y2K: A Comedy" premiered. (Actually, it is the only theater that showed "Y2K.")

The Poster
There is also a stunning new poster for "Handcart." This version once again features large images of Jaelan Petrie and Stephanie Albach, as well as a picture of a handcart. Instead of the previous poster's black background, this one features a winter scene, with a few barren trees rising from a snow-covered frontier, and a line of handcart pioneers making their way along a trail. This poster is a real work of art -- done using style and colors reminiscent of the Old West. The poster even features edges which are subtly weathered. But the poster isn't simply like a tattered "Wanted" poster one would associate with an old-style Western. This poster appears aged, but with great style and class.

The credits on the poster read as follows:

AMPERSAND FILMS PRESENTS A KELS GOODMAN FILM
STARRING JAELAN PETRIE STEPHANIE ALBACH CHRIS KENDRICK SHANNON SKINNER GRETCHEN CONDIE
ART DIRECTED BY DARIN ANDERSEN COSTUMES BY NANCY CANNON
ASSOCIATE PRODUCED BY PAUL GREEN STORY BY MARK BOWERS AND KELS GOODMAN
SCREENPLAY BY MARK BOWERS PRODUCED BY KELS GOODMAN AND DAVID GREENSLAW SAPP
DIRECTED BY KELS GOODMAN

In Theaters Pioneer Day 2002
---
Go to "Handcart" page 2