Will Swenson Connie Young
Daryn Tufts * * Kirby Heyborne * * Michael J. Birkeland * * Bob-O Swenson * * Lincoln Hoppe
Julie Stoffer * * Steve Young * * Danny Ainge * * Gordon Jump * * Richard Dutcher
Wally Joyner * * LaVelle Edwards * * Shawn Bradley * * Johnny Biscuit
Thurl Bailey * * Jimmy Chunga * * Kerry Jackson * * Ron McBride
Tarance Edwards * * Michelle Ainge * * Gretchen Whalley * * Sedra Santos
A contemporary Latter-day comedy:
The Singles Ward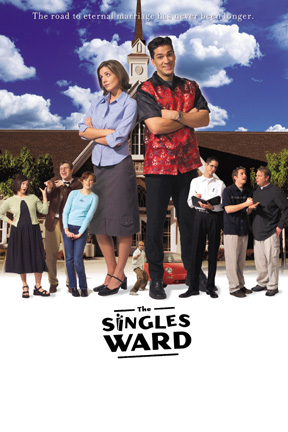 Related Links



Opening in theaters in January 2002, "The Singles Ward" is a contemporary comedy about a congregation of young, college-age Latter-day Saints. The film mines an obviously rich vein of humor inherent in a typical singles ward, an institution sometimes thought of as a "marriage mill," in which young adults from one of the world's most alternative cultures seek out love and marriage, hopefully by the time they graduate!

"The Singles Ward" stars BYU graduate Will Swenson as a newly divorced young man who struggles to adjust to his new life amidst the mostly younger, never-married singles who attend the same singles ward. This is the 27-year-old Swenson's first leading film role, but he has previously starred on stage as "Chris" in the touring production of "Miss Saigon", and as "Gaston" in Disney's "Beauty and the Beast."

While the other talented leads (Connie Young, Daryn Tufts, Michael J. Birkeland, etc.) may not be household names (yet), "The Singles Ward" features an awe-inspiring array of cameo appearances by some of the culture's most recognizable celebrities. These include football legend Steve Young, basketball stars Danny Ainge, Thurl Bailey, and Shawn Bradley, television star Gordon Jump, and auteur film director Richard Dutcher. The most buzz, however, has surrounded the cameo by Julie Stoffer, the star of MTV's "Real World: New Orleans."

"The Singles Ward" was written by John E. Moyer and Kurt Hale. Moyer is a stand-up comedian. Hale, who also directed "The Singles Ward," is the grandson of the famed actor/playwrights Ruth Hale and James Nathan Hale, who founded the Hale Center Theaters in California and Utah.

"The Singles Ward" was shot in 2001, with principal photography in Salt Lake City and Provo. The budget was $500,000.

The soundtrack will have a Dolby 5.1 mix, featuring original songs as well as new versions of Primary classics performed by some of today's top bands, including rock, punk, and a nine-piece ska band. A soundtrack CD will be available, and the word on the street is that this soundtrack is so hot it will melt your stereo.

(Metaphorically, that is. I mean, the CD is not defective or anything. It won't damage your stereo. It's just "hot", as in "hip" or "cool" or "bad" or whatever words young people use today. I grew up with "Wham", "ZZ Top" and Olivia Newton-John. What do I know?)

Cool cameos and unforgettable music aside, this film is just plain funny. Not just "Water Boy" funny, but Some Like It Hot/Duck Soup/It Happened One Night/Annie Hall/Raising Arizona-funny. Or so I've heard.

Contact Person for "The Singles Ward":
President of Halestone Distribution: michaelb@theapex.co
---
Film to feature life in LDS singles ward
By: Sally Atkinson
Source: The Daily Universe / NewsNet@BYU
Date: 13 August 2001
URL: http://newsnet.byu.edu/?story=32330

A new feature-length movie showcases the peculiarities of life in a typical singles ward and puts the adventures of dating under a humorous microscope.

"We want 'The Singles Ward' to be a classic film that every single adult wants to have in their film library," screenwriter John Moyer said.

Director Kurt Hale said there will be a few recognizable faces in the movie.

"There will definitely be prominent LDS celebrities making cameo appearances," he said.

Both Moyer and Hale are graduates of BYU's film department, and this romantic comedy is their first feature film.

"We're approaching our religion with the utmost reverence, but we're also shining a pretty hot light on our culture," said Moyer, who has been working as a stand-up comic for the last seven years.

Moyer said he was finishing the script while the buzz about the movie "Brigham City" was just starting.

With "God's Army" and "Brigham City," film director Richard Dutcher has established a market for mainstream movies about members of The Church of Jesus Christ of Latter-day Saints.

Hale and Moyer want to add a comedy to the mix and hope it will become as popular as Dutcher's films.

"There is a proven market here for LDS films and I think the market's just about right for this little Mormon niche to explode," Moyer said.

He said the comedy in the movie is fairly universal, but a lot of the jokes will go over the heads of people who haven't spent any time in Utah.

"This is definitely a Mormon film for Mormons made by Mormons," he said.

The film's soundtrack features Primary songs and hymns including "Come, Come Ye Saints" performed by rock band Slender and a remake of "Book of Mormon Stories" by a nine-piece ska band.

The storyline centers around the main character's return to single life after a marriage gone bad. He has to readjust to life in a singles ward.

The movie's budget is $500,000 and Hale said the financing came quickly after people read the script and realized it was the first of its kind.

"We can't compete with Disney at this point, so we want to make films that will kind of brand ourselves as Mormon filmmakers," Hale said.

Moyer and Hale said they would like to make enough money to start a perpetual entertainment fund so other members of The Church of Jesus Christ who want to make movies can draw upon it for resources.

Julia Simmons, 22, a junior majoring in home economics education, auditioned for a role in the film.

"I was surprised when they called me back because I actually thought my audition didn't go very well. I'm excited, though, to have my first movie experience in a film that relates to my real life," she said.

"The Singles Ward" is set to be released by Halestorm Entertainment Jan. 4, 2002.

---
Original LDSFilm.com Announcement
[Piecing together a few rumors, inside tips, and some remarkably accurate outright guesses, as well as a few notions that were just plain wrong, LDSFilm.com's initial "Singles Ward" page consisted of the following four paragraphs:]
April 6, 2001 - by LDSFilm.com

"The Singles Ward" is an upcoming film about a congregation of young, college-age Latter-day Saints. "The Singles Ward" is a romantic comedy. The filmmakers are mining an obviously rich vein of humor inherent in a typical singles ward, an institution sometimes thought of as a "marriage mill," in which young adults from one of the world's most alternative cultures seek out love and marriage, hopefully by the time they graduate!

"The Singles Ward" is written and produced by a stand-up comic, a protogé of the famous Provo comedian and nightclub owner Johnny B.

John E. Moyer is one of the producers. The film is currently in the casting and pre-production stages. Production begins in June of 2001, with filming in Salt Lake City and Provo.

The ensemble cast will be talented, but comprised of relative newcomers. The budget is expected to be under $500,000. The producers are currently planning a Fall 2001 release.
[We were incorrect about John E. Moyer being a producer. He has a story credit, and is the co-writer of the screenplay, along with director Kurt Hale. The sole producer is David Hunter.

Also, not unexpectedly, the release date was pushed back, but not by much, to January 2002. Hey, this means it doesn't have to compete head-to-head with "Brigham City" and "The Other Side of Heaven" for the "Best Picture" Academy Award (or, more realistically, the "Best Film" AML Award).]
---
"Singles Ward" internet site domain registered
Five months after rumblings about Moyer's "Singles Ward" first found their way onto the internet (at least at LDSFilm.com), the production company has finally registered a domain for an official website of their own.

WHOIS reports show that Hale Storm Entertainment registered the domain "SinglesWardTheMovie.com" on 14 August 2001. This was one day after the company's first official press reports hit newspapers.

Registrant:
HaleStorm Entertainment (SINGLESWARDTHEMOVIE-DOM)
   580 S State St.
   Orem, UT 84058
   US

   Domain Name: SINGLESWARDTHEMOVIE.COM

   Administrative Contact, Billing Contact:
      HaleStorm Entertainment  (T25792-OR)  dhunter1@uswest.net
      HaleStorm Entertainment
      580 S State St.
      Orem, UT 84058
      US
      801434...

   Record last updated on 14-Aug-2001.
   Record expires on 14-Aug-2002.
   Record created on 14-Aug-2001.
   Database last updated on 4-Sep-2001 00:22:00 EDT.

---
"Singles Ward" producer "David Hunter" is not the same person as webmaster "PREST0N David Hunter
So that there is no confusion on this matter: "David Hunter", the producer of "The Singles Ward" has no connection to PREST0N DAVID HUNTER, the webmaster of the LDSFilm.com website.

Because my family and former neighbors are in Orem (the base of operations for the "Singles Ward" production), and because they knew me as "David Hunter" while I lived there, some people reading newspaper articles about this upcoming film might think that I am producing the film. I am not. I have nothing to do with it other than being a fan who looks forward to seeing it. Because I found the name "David Hunter" so annoyingly common, I have been going by my other name, "Preston," since around 1989. (But does my family in Orem change what they call me? No, of course not.)

Note to "Singles Ward" producer David Hunter: Do yourself a favor, at least use a middle initial.
---
MTV star is back for an encore
Source: Newsnet @ BYU
URL: http://newsnet.byu.edu/index.cfm?story=32482
Date: 6 September 2001
Date: Annie Gardner

Julie Stoffer is back in Provo, and she's headed for the big screen.

The former BYU student, widely known for her role on MTV's "The Real World," is making a cameo appearance in "Singles Ward," a comedy about dating and single life in The Church of Jesus Christ of Latter-day Saints.

The film's producer, David Hunter, said they chose Stoffer because "she was a person who stuck out in Mormons' minds."

"I think people will be interested because it's her first time back in Utah, and she got kicked out of BYU and we just thought, you know, it'll be interesting to have her on board, see what she does," Hunter said.

Stoffer plays a temptress in the film, trying to seduce the film's leading single man.

Since "The Real World," Stoffer has been living in Huntington Beach, Calif. She said she doesn't think she's a celebrity but does get the occasional "there goes the Mormon Chick."

"I tried not to make my religion a real critical part of the show. But how could it not be? I'm Mormon, it's a big part of my life," she said.

Stoffer said she has no awkward feelings about being back in Utah. "I love being here. I was on camera when all the controversy was going on. I found out about being kicked out of school from a reporter," she said.

Still, Stoffer said she has no regrets.

"I would do it all over again, ten fold. I had such a fun experience. I don't love the way the show was edited, but I have no control over that," she said.

However, some BYU students said they think it's in poor taste for Stoffer to receive more acclaim.

"I don't really see there being a need to reward her. I think she behaved very poorly. I'm absolutely embarrassed," said senior Sarah Stratford from Trumbull, Conn., majoring in recreational youth management.

For now, Stoffer said she's focusing on her film work, and her fellow cast and crew-mates are supportive of her.

"I can't say anything because I don't want to be hypocritical," said producer David Hunter.

Other famous members of The Church of Jesus Christ of Latter-day Saints making face in the film include former NBA great, Danny Ainge, TV/Film star Gordon Jump from "WKRP In Cincinatti," and baseball star, Wally Joyner.

The film is due out in January 2002 and will be released regionally and then nationally on video.


---


Webmaster's note: When I heard that "Singles Ward" would feature some cameo appearances, I thought this was a brilliant and potentially very entertaining idea. The film is, after all, a comedy, and cameos are very appropriate.

A few names came to mind of people I would love to see in "Singles Ward": Olympic gold medalists Natalie Williams (basketball) and Rulon Gardner (wrestling). "Star Trek" actors Kevin Rahm or Mark Deakins (they would draw a significant cross-over crowd). Utah actor and Saturday's Warrior dad Marvin Payne. Senator Orrin Hatch ("Singles Ward" will have a much milder rating than "Traffic").

But more than anything, one name stood out. One person who I thought would be the wildest, most appropriate, most daring addition to the cast: Julie. I didn't have any way of letting Moyer and company know of my suggestion. I'm just glad they read my mind.

See more about Julie Stoffer
---
Audition Notice for "The Singles Ward"
Source: SLCStage.com

[NOTE: This film has ALREADY BEEN CAST. The audition notice is here for archival purposes only.]

HALESTORM ENTERTAINMENT
"The Singles Ward"
Halestorm Entertainment is currently looking for actors and actresses for
it's up coming feature length romantic comedy The Singles Ward to be
filmed along the Wasatch Front. Please submit head shot and resume
to Casting: Halestorm Entertainment, 580 South State Street Orem Utah 84058

-- Jonathan (late 20's) - A stand up comedian. Endearing, witty, and charming, but with a sarcastic chip on his shoulder.
-- Cammie (early to mid 20's) - Go getting and in control.
-- Dalen (19) - The loveable, youthfully innocent, prospective missionary.
-- Eldon (21) - The slightly nerdy return missionary who doesn't do anything that's not scheduled in his Franklin Planner.
-- Hyrum (21) - The return missionary who's adjusted well to being home. Doesn't over do it, but is strong and active.
-- Troy (21) - African-American. The friend to everybody and everybody wants to be his friend.
-- Zak (20) - Totally Urban. Extreme sports dude who is all play, no work, and no responsibility.
-- Laura (21) - Girl next store in the singles ward.
-- Stacie (23) - Burly, and over compensates for that with her self assuredness. 
-- DeVerl (30) - This guy has been in the single's ward way too long.
-- Allyson (late 20's) - Never been to church a day in her life. The siren.


---
Former MTV star returns to Provo
By: Amy K. Stewart
Source: The Daily Herald
Date: 10 September 2001
URL: http://www.harktheherald.com/article.php?sid=24303&mode=thread&order=0

PROVO -- She's back.

The BYU-coed-turned-MTV-star, who was suspended from the private LDS university last year, was in Provo recently.

Julie Stoffer was on the set of the movie "The Singles Ward" which is being filmed in Orem.

Controversy surrounded Stoffer last summer when BYU officials were deciding whether to give her the boot.

BYU Honor Code officials contend Stoffer violated the cohabitation section of the school's code during her filming of "The Real World."

She lived under the same roof with six strangers, four of whom were men, for the voyeuristic-style TV show that filmed the cast members' lives.

Julie, however, said she didn't do anything immoral with anyone in the house.

In the end, Stoffer was suspended from the Y for one year.

Will she ever go back?

"Only time will tell," Stoffer said.

Both her younger brothers, Allen and Jon, are enrolled.

Stoffer said she doesn't regret losing her BYU student status after her MTV debut.

"It was such an adventure and it was so much fun," Stoffer said.

After the Real World filming, Stoffer moved to Huntington Beach, Calif., where she still keeps an apartment while making appearances.

She did a stint on MTV's "Road Rules" where she and her teammates completed challenges while traversing across the country.

She's hosted a show on the Discovery Channel.

She plays the drums in a band.

She has a Web site, www.planetjulie.com

"Life is just interesting," Stoffer said. "I love it."

But most of the time Stoffer does lectures at universities.

She took an intensive public speaking course. She has five topics to choose from: abstinence, diversity, violence, AIDS and STD's and conflict resolution.

Stoffer has spoken at about 100 universities so far.

"People come to see the MTV person but they hear the message," Stoffer said. "I want to help kids make good life-choices."

Stoffer said her philosophy right now is to just have fun and enjoy life.

"I'm not hell-bent on getting married yet," she said. "But everybody wants to find their nice Mormon prince."

Appearing in "The Singles Ward" has been "the bomb," she said, adding she can of course relate to the flick because she's young, single and Mormon.

Stoffer attends the Huntington Beach LDS singles ward when she's there.

"It's huge," she said. "It's, like, one of the biggest singles wards in California."

It's very different from a BYU student singles ward, Stoffer added.

"First of all, there are more guys, which is fun. I have a good time with that," she said.

"And the people are a lot less uptight," Stoffer said. "I felt really accepted. Everyone was really cool. I love California."

Further, a date in Huntington Beach is more than just walking over to the BYU Creamery for a cone.

"There's the town, the beach, the mountains, going down to San Diego surfing," Stoffer said.

"The dates are a little more spicy in Huntington Beach," she said. "Here, there isn't that much to do."

This story appeared in The Daily Herald on page A1.
---
Ex-MTV Cast Member Nearly Took Flight
Only days after news stories announced that Julie was cast in "The Singles Ward" she was in the news again:
She was almost on the United Airlines flight 11 that crashed into the World Trade Center

Source: Associated Press
Date: 17 September 2001
URL: http://www.washingtonpost.com/wp-srv/aponline/20010917/aponline023640_000.htm
URL: http://deseretnews.com/dn/view/0,1249,315007535,00.html

DELAFIELD, Wis. –– A former cast member of MTV's "The Real World" canceled plans to visit her on-again, off-again boyfriend, and the decision saved her life.

Julie Stoffer had planned to take United Airlines Flight 11 from Boston to Los Angeles on Tuesday but changed her mind early that morning – just hours before the plane was hijacked and crashed into the World Trade Center in New York.

A couple of hours passed before Stoffer's parents found out their daughter was safe.

"I was just so, so glad to hear she was fine," Stoffer's mother, Jan Stoffer, said Wednesday. "How do you describe that kind of an emotion?"

Julie Stoffer, 21, had an argument with her boyfriend Monday night and considered canceling her trip, Jan Stoffer said. But she woke up at 6 the next morning and called a friend to take her to the airport.

The friend persuaded her not to go, saying the boyfriend wasn't treating her well, Jan Stoffer said. Julie went back to sleep, awakening later to discover the flight's fate.

Jan Stoffer found out about the attacks at about 9 a.m., but didn't know whether her daughter had taken the flight until her husband got a call from Julie two hours later.

Julie Stoffer was a particularly well-known "Real World" cast member, in part because she was a practicing Mormon, a faith that is arguably at odds with the racy program. She was on the show when it was in New Orleans.
---
Local movie to show life as an LDS single
By: Amy K. Stewart
Source: The Daily Herald
Date: 10 September 2001
URL: http://www.harktheherald.com/article.php?sid=24336&mode=thread&order=0

PROVO -- Anyone who's ever been LDS and single in Utah County will likely relate to a movie being filmed in Orem this week.

It's called "The Singles Ward" and is produced by David Hunter, of Orem.

"It's a laugh-out-loud comedy about the idiosyncrasies of being LDS and single," Hunter said.

Hunter is a BYU film school graduate who works as a developer in Utah County.

The main character of "The Singles Ward" is Jonathan, 27, played by BYU grad Will Swenson, of Salt Lake City.

After his wife leaves him, Will finds himself thrust back into the singles scene with all its rollercoaster-style romantic adventures.

Cammie, 24, played by Connie Young, of Salt Lake City, is Will's love interest.

The cast involves a variety of stereotypical characters found in LDS singles wards.

There's the nerd, Eldon, played by Daryn Tufts, of Provo.

Eldon is the anal-retentive "Peter Priesthood" guy in his mid-20s who, in his own mind, has never really left his LDS mission.

Tufts said he isn't a nerd in real life but the casting director told him he looks just like one.

"They said my hair was perfect and I hadn't done my hair nerdy-style," Tufts said. "That's just how I wear it every day."

He was told to bring glasses and a day planner to the set to enhance his character's image.

And then there's the conservative "Molly Mormon" girl, Sarah, played by Kim Wares, of Provo.

Sarah is hot after Will and asks him to the Sadie Hawkins dance.

"This is just so funny," Wares said, as she stood waiting for her cue. She was decked out in a formal green gown and gold medallion, and her fluffy hair was topped with a big bow.

And there are some cameo appearances by local celebs such as Julie Stoffer, the BYU-coed-turned-MTV-star.

Stoffer was suspended from BYU after her MTV stint because she lived under the same roof with six strangers -- four of whom were men -- therefore breaking the school's honor code.

"It's just a fun movie," Stoffer said. "Anyone who has been in a singles ward will appreciate it."

Its writer/director is Kurt Hale, of Sandy. The creators are hoping for a national audience but the flick will most likely be popular with the LDS crowds in Utah, Idaho and California. About 90 percent of the cast is from Utah.

"People who understand the LDS culture will like this," said production manager Dave Neyman, of Orem.

There will be a soundtrack with LDS Church hymns and primary songs covered by Utah bands with ska, punk and rock flavors.

"The Singles Ward" is a low-budget film of about half a million dollars compared to a Hollywood movie which averages $30 million. It is due out in theaters mid-January.

The first day of filming was Thursday at Remington Apartments in Orem.

"My wife and I manage the complex," said location director Adam Abel, a business management major at BYU.

Just one small scene took several hours of retake after retake under hot lights, with the cast crammed into the stuffy little college-apartment living room.

Filming, which is expected to wrap up this month, will continue in Orem through next week and then the crew will be shooting in Johnny B's Comedy Club in Provo, the Salt Lake City airport, and a church house in Wallsburg.

This story appeared in The Daily Herald on page A1.
---

Will Swenson
Will Swenson stars as "Jonathan" in The Singles Ward.

Short biographical sketch from "Miss Saigon" website and "Miss Saigon" London cast webpage:
Chris (2nd USA National Tour, 2000)
Will has dreamed of playing the role of Chris in "Miss Saigon" since he saw the original cast eight years ago on Broadway. Within the past eight years, he has played the roles of Nick in the European tour of "Fame the Musical", Gaston in Disney's "Beauty and The Beast", Smudge in the 10th Anniversary Cast of "Forever Plaid" at DCT, Weasel in "Crow and Weasel" at Sundance and Dickon in "The Secret Garden" at the Hale Centre Theatre. [He is a] graduate of BYU in Music, Dance and Theatre...
---


Kim Wares
Kim Wares plays "Sarah" in The Singles Ward. Her character is a very conservative Latter-day Saint with a crush on the main character, Jonathan. A resident of Provo, Wares has had starring roles on stage.

Wares played the part of "Lenore Adrian Meredith" in the Hale Center Theater production of "M is for the Million." Excerpt from theater review by Eric D. Snider:
Hale Center Theater's production of "M is for the Million" is eminently enjoyable and boldly silly, thanks mostly to an earnest cast that knows the best way to be funny in a farce is by not trying too hard...

The action takes place on a cruise ship in 1935, where Bradley (Brinton Wilkins) and Meg (Cindy Winkel) are about to be married and embark on their honeymoon. Complications arise when Meg's snooty mother, Lenore (Kim Wares), arrives onboard, and when it's revealed that Meg is not Meg at all, but Edith Baxter, the famed advice columnist who is also engaged to Hamilton Cabot III (Peter Biggs), who is the ship's captain...

As mentioned, it's the energetic cast that makes the show work... Kim Wares and Nathan Wright prove that dedication to one's character, no matter how outlandish, will always pay off. As Meg's debutante mom and her slick paramour, respectively, they earn many laughs simply by being who they are. Many actors would back down at having to go so over-the-top with these roles, but Wares and Wright stay with it all the way through.

Wares also starred as "Fairy May" in Hale Center's "The Curious Savage." Excerpt from Snider's review:
Sharing space at the nut house is the typical lot of lovable crazies. There's Florence..., ostensibly the most normal but with an air of sadness about her that Brian plays with perfect dignified tragedy; Hannibal..., a violinist who can't play the violin; Fairy May (Kim Wares), a wacky, plain-looking gal...

Wares is a bit over-the-top as Fairy May, an unceasingly ball of loopy energy with no varying degrees of loopiness. It's like arbitrarily choosing the speed of 50 mph for your car and then always driving that speed: Sometimes it's too much; other times, it's exactly right.
Photos stolen from: BYU Dept. of Chemistry faculty page; Players Anonymous
---
Singles Ward - The Movie
By: Kent Larsen
Source: Mormon-News
Date: 9 September 2001
URL: http://mormonnews.com/010907/A4SinglesWard01.shtml

OREM, UTAH -- On September 4, 2001, the Linger Longer Company in Orem, Utah began filming its first full-length feature film "Singles Ward."

Singles Ward is an insightful and clever comedy focusing on the unique cultural experiences of a Mormon Singles Ward. This blast from most Saints' past is hilarious and almost embarrassingly accurate. The film features a host of funny cameos of famous Latter-day Saints -- from Danny Ainge to Gordon Jump. The movie, "Singles Ward" is on its 1st week of a 62-day shoot. Linger Longer Pictures plans to release this comedy film Spring 2002.

An accompanying soundtrack is also in the works.
---
Spotlight is still shining on former BYU co-ed
By: Jeffrey P. Haney
Source: Deseret News
Date: 17 September 2001
URL: http://deseretnews.com/dn/view/0,1249,315007533,00.html?

OREM -- It doesn't appear that Julie Stoffer wants to fade back into obscurity soon.


The wide-eyed former Brigham Young University student has a manager, a splashy Web site (www.planetjulie.com), will host a show on Discovery Channel and accepted a small role in a horror flick.


She has about a dozen appearances scheduled in the next eight weeks. In fact, her life is so hectic that she gave away her tickets to the MTV Music Video Awards.


Stoffer, 22, was suddenly thrust into the Cult of Celebrity when she appeared on MTV's reality shows, "The Real World" and "Road Rules."


She showed Limp Bizkit and Blink 182 fans what life is like for an average, run-of-the-mill college student from Utah.


"Everybody thinks they know me," says Stoffer, who was in Utah recently to film scenes of "Singles Ward," a comedy about Latter-day Saint culture in which she has a cameo role. Such other LDS favorites as Steve Young, Danny Ainge and Gordon Jump will appear in the $500,000 independent film.


Dave Hunter, a producer of "Singles Ward," said Stoffer was difficult to book for filming.


"She's one of the top people we sought because of what she brings," Hunter said. "She's single, and everybody knows her because of MTV."


Stoffer was issued a one-year suspension from BYU for living with members of the opposite sex while filming the unscripted shows but is pondering a return for a business degree ("My suspension is over, so maybe.") and learning real-life lessons in marketing a hot commodity: herself.


She promotes herself with the ease and moxie of a polished publicist -- yet with genuine wide-eyed earnestness.


Call it: I'm Just Julie, Inc.


"You find you are a valuable product, the idea that you can earn money with your face," Stoffer says about fame.


Stoffer demurely declines to reveal how much money she's earned being, well, Julie. She simply says she wants to earn enough capital to invest in real estate.


Topics of her paid lectures are extensions of her personal beliefs. She advocates abstinence -- from sexual relationships before marriage and from drugs and alcohol.


"I feel fulfilled with what I'm doing," Stoffer said.


"If I wanted to I could go to L.A. and try to do commercials, just give myself to Los Angeles and try to make a wad of money," she said. "I try to make a difference."
---
Single, young Mormon
Date: Tuesday, August 14, 2001
Source: Campus Insider
URL: http://www.usc.edu/student-affairs/dt/V144/N01/section-c.shtml or http://www.usc.edu/student-affairs/dt/V144/N01/07-campus.01c.html

Brigham Young University alumni are making a movie about what it's like to be in a singles ward, where young members of the Church of Jesus Christ of Latter Day Saints gather to worship and socialize.

The comedic look at life as a single religious person is designed to be a classic film that every adult on the market would want in his or her library, screenwriter John Moyer said.

Mormon film director Richard Dutcher made waves and friends in both the industry and church with "God's Army" and "Brigham City."

Following Dutcher's lead, Moyer wants to mix the sacred and the profane in his "The Single's Ward." But unless you've spent time in Utah or in an LDS community, watch out, the filmmaker said. "This is definitely a Mormon film for Mormons made by Mormons," Moyer said. The film's soundtrack features holy songs and hymns. With the attention of the Olympic Winter Games, it's bound to get more attention.

The profits from the movie, which was produced with a $500,000 budget, will be used to start a perpetual entertainment fund so other members of the Church of Jesus Christ of Latter Day Saintscan use it for their own shots at mass entertainment. More may be coming soon to a theater near you.
---
LDSEvents.com Article
By: Matthew Kennedy
Date: 26 September 2001
Source: LDSParagon.com - LDS Christian Singles Portal
URL: http://www.ldsparagon.com/news.html

Reported In the LDS Events and News, ldsevents.com
By: Matthew Kennedy Sep 26, 11:12 AM ET - (LN) PROVO, UTAH -- Filming for the new Mormon Comedy movie "The Singles Ward" is wrapping up this week in Wallsburg, Utah just outside of Provo. LaVelle Edwards and Steve Young have teamed up again to lend their talent to this hilarious focus on Mormon single life. The Singles Ward, a full-length motion picture will be released in theaters this winter.

Written and directed by Kurt Hale, grandson of the famous playhouse Hales, this film has the all makings of a comedy blockbuster. Many times cameo lists are limited to two or three people. The Singles Ward cameo list is amazing: LaVell Edwards, Steve Young, Gordon Jump, Danny Ainge, Julie Stoffer, Richard Dutcher, Shawn Bradley, Wally Joyner, Thurl Bailey, Marie Osmond, and Jason Buck. There is also another list of Local Utah TV and radio talent.

"The support for the film has been really amazing" says Kurt Hale, the film's writer and director... "we have had such a good response, and they all love how funny it is."

The Singles Ward sets are tight under wraps as filming comes to an end. The Deseret News and other local newspapers have featured the Singles Ward movie on their front pages. Several radio stations have dedicated whole hours of time to talking about the originality and humor that is exclusive to the Mormon single experience.

"One problem we have on the set," says Dave Hunter, executive co-producer "is that we often are forced to call 'cut' just to stop the film crew from laughing."

"There is no experience quite like the life of a Mormon single person."

Theaters in largely Mormon communities have recently learned that full feature films just for Latter-day Saints can mean big business. One theater operator says, "There are a lot of members of the Church who enjoy going to a movie and finding something unique to their demographic."

Mormons have become such an important part of many communities that catering to their standards need not be considered a risk. As membership in the Church of Jesus Christ of Latter-day Saints continues to grow so does the need for communities to offer something special. There are few demographics that hold their standards strong enough that full feature films will be made to meet those standards.

"Movie making is expensive, but we are breaking new ground in Mormon films," says Dave Hunter. "The more support we get from the Mormon community, the more we will have films made that match their standards and likes."

Other films, such as God's Army could reasonably have a larger appeal to a national crowd. The Singles Ward is far more directed at Latter-day Saints and no other group may see the humor in being a single Mormon. Kind support from big names like LaVell Edwards and Steve Young can only help this growing industry designed to make films to a higher standard.
---
"Singles Ward" cast announced on newly posted website
20 December 2001 - the URL for the official "Singles Ward" website ( http://www.singleswardthemovie.com ) has simply had a "Coming Soon" message posted since the domain was registered. About a week ago a great-looking graphic was posted -- a Flash file with a few clickable spots that don't yet do anything. The graphic shows standalone chapel set on a green lawn surrounded by a few planted trees. A new, red Volkswagen bug sits in front of the building. The sky is a cloudless blue.

A cast list is now posted on the site, viewable by clicking on the chapel door. The list reads as as follows:
| | |
| --- | --- |
| Will Swenson | Johnathan |
| Connie Young | Cammie |
| Michael J. Birkeland | Hyrum |
| Daryn Tufts | Eldon |
| Kirby Heyborne | Dalyn |
| Michelle Ainge | Allyson |
| Gretchen Whalley | Stacey |
| Sedra Santos | Laura |
| Robert "Bob-O" Swenson | Zac |
| Lincoln Hoppe | DeVeryl |
| Tarance Edwards | Troy |
| and introducing Wally Joyner | Brother Angel |
Some observations: Will Swenson, Connie Young and Daryn Tufts had previously announced as principle cast members. Also, baseball player Wally Joyner's participation had previously been reported, although it appears from this cast list that he may have more than a brief cameo role, and that he will not be playing himself. The other names were previously not reported.
Michelle Ainge, cast as "Allyson," is the wife of basketball legend Danny Ainge, who has previously been announced as a cameo player.
Lincoln Hoppe is an award-winning actor and veteran of many Utah County and Salt Lake film and theatrical productions. He has appeared in small roles in "Return to the Secret Garden" (2000), and the television miniseries "Perfect Murder, Perfect Town." Most of his work has been as a lead actor in student films, however, such as Ryan Little's acclaimed "The Last Good War" (1999). "The Singles Ward" will be Hoppe's first featured role in a feature film.
Gretchen Whalley has appeared on stage in "Freedomland" (Salt Lake Acting Company, 2001) and as the fourth-billed star of an ultra-low budget horror movie thing called "Damian's Demons."
Kirby Heyborne sings and plays the harmonica and acoustic guitar in the Utah-based band "Bentleigh."
Tarance Edwards has appeared as a guest actor on "Touched by an Angel," in an episode titled "The Perfect Game" (6 Oct. 2001).
Michael J. Birkeland, Robert Swenson, and Sedra Santos will probably be new faces to most movie-goers.
---
Updated Cameo List
31 December 2001 - The official "Singles Ward" website has a page focusing on the film's cameos: http://www.singleswardthemovie.com/cameos.html

The following names are listed, each accompanied by a photograph, in this order:
Steve Young
Danny Ainge
Wally Joyner
Shawn Bradley
Gordon Jump
Jimmy Chunga
Kerry Jackson
LaVell Edwards
Ron McBride
Johnny Biscuit
Thurl Bailey
Julie Stoffer
All but four of these people have previously been reported as individuals making cameo appearances in "The Singles Ward." The previously un-reported individuals are Salt Lake City radio personalities Jimmy Chunga and Kerry Jackson, stand-up comedian Johnny Biscuit, and University of Utah football coach Ron McBride.
A few of the photographs appear to be production stills. Radio D.J.s Jimmy Chunga and Kerry Jackson are wearing matching police uniforms, a sure sign that they are playing police officers in the movie.
Later in the day the cameo list had been updated. One of the additional names added to the official website's cameo list is Richard Dutcher, who had previously been rumored to be in the movie. Other new names to the list have not been mentioned before in articles relating to the movie.
The updated list, with new names and a new ordering, reads as follows:
Wally Joyner as Brother Angel
Danny Ainge as a Sunbeam Teacher
Richard Dutcher as Wes the Neighbor
Shawn Bradley as a Mechanic
Gordon Jump as an Airline Passenger
Jimmy Chunga as the Phat Cop
Kerry Jackson as the Skinny Cop
LaVell Edwards as a Golfer
Ron McBride as Brother Giles
Steve Young as Brother Niner
Ruth Hale as Blanche
Super Dell as the Star Trek Guy
Johnny Biscuit as a TV Salesman
Thurl Bailey as a Traveler
Mitch English as the Star Wars Guy
Julie Stoffer as a Real Actress
At the bottom of the main cameos page there is a link that reads "And many many more..." This link leads to a second cameos page which lists the following names:
Producer Casey
Scott Christopher
Ty Mattingly
Jason Buck
Mr. West
Kiersten Graff
Salt Lake Freeze
Note that Wally Joyner is now listed first. This placement, as well as the fact that he was included in the original cast list displayed in a preliminary version of the official website, indicates that he may be the "cameo player" with the most substantial part.
The name of the character that Richard Dutcher briefly plays is "Wes," which is interesting because this is the name of Dutcher's lead character in "Brigham City" (2001).
Scott Christopher is the KJZZ Movie Guy -- the host of a movie show on television. He has had featured or starring roles in many Utah-made films, including "The Penny Promise" (2001), Kels Goodman's "Y2K, a Comedy" (2000), "Angels in the Attic" (1998), "Truth or Consequences, N.M." (1997), "Same River Twice" (1996), "Rockwell" (1994), and "At Gunpoint" (1990).
Mitch English is the "wacky weatherman" of Salt Lake television news. "Super Dell" is a computer store owner who has become a local celebrity through his offbeat advertisements on cable television. Kiersten Graff is on the radio. The Salt Lake Freeze is (are?) an indoor soccer team.
It is notable that Ruth Hale is listed not as a cast member, but as a cameo. She may not be well known outside Utah/Latter-day Saint circles. But if any woman can claim to be the matriarch of the Latter-day Saint stage, it would be her. It is gratifying to see that she has a part to play in this film. Of course, the fact that she is the grandmother of the movie's director makes her inclusion not entirely surprising.
There is no mention of one of the previously reported cameos: Marie Osmond. It is possibe that the source reporting her name was in error.
[This article was updated on 4 January 2001.]
---
"Singles Ward" cast from IMDB.com
This data was not shown in the IMDb database prior to 4 February 2002.

Listed alphabetically.
| Actor | Part |
| --- | --- |
| Danny Ainge | Sunbeam Teacher |
| Michelle Ainge | Allyson |
| Thurl Bailey | The Traveler |
| Michael Birkeland | Hyrum |
| Johnny Biscuit | The Salesman |
| Shawn Bradley | The Mechanic |
| Scott Christopher | Chicken Guy |
| Jimmy Chunga | Phat Cop |
| Richard Dutcher | The Neighbor |
| LaVelle Edwards | The Golfer |
| Tarance Edwards | Troy |
| Mitch English | Star Wars Guy |
| Kirby Heyborne | Dallen |
| Lincoln Hoppe | DeVerl |
| Kerry Jackson | Skinny Cop |
| Wally Joyner | The Bishop |
| Gordon Jump | Airline Passenger |
| Ron McBride | Brother Giles |
| Sedra Santos | Laura |
| Julie Stoffer | The Actress |
| Robert Swenson | Zak |
| Will Swenson | Jonathan Jordan |
| Daryn Tufts | Eldon |
| Kim Wares | Sarah |
| Gretchen Whalley | Stacie |
| Connie Young | Cammie Giles |
| Steve Young | The Bishop's Counselor |
---
Go to "The Singles Ward" page 2