Nathan Smith Jones * * Jennifer Hoskins * * Kirby Heyborne * * Richard Dutcher
Eric Artell * * Dave Boud * * Dan Merkley * * Christopher Miller * * Cragun Foulger * * Lincolne Hoppe * * Mitch English
A mockumentary by Nathan Smith Jones:
The Work and the Story
In Theaters August 29, 2003!

Premise:

Richard Dutcher,
the founder of LDS Cinema
is missing and presumed DEAD...

And the race to take his place has begun.

Related Links




March 2002 - As odd as this sounds... we're not making this up. Richard Dutcher is collaborating with a young filmmaker named Nathan Smith Jones to create a mockumentary (a fictional documentary-style film) about... "Mormon Cinema." The title is "The Work and the Story," and the filmmakers are planning for a

Nathan Jones has provided background information and actually appears to be working on this project. So although the film is intended to look like a fact-based film, yet isn't, this report is not a hoax.

At the very least, Nathan Smith knows what names to drop, and he has gone to the trouble and expense of registering a website: theworkandthestory.com

There's nothing there at the official website yet, but it is registered and shows up in WHOIS queries. Nathan Jones has written to this website to provide some details about the film, which he is producing through his fledgling company "Do It Now Productions." Jones is a native of Utah and lives in Salt Lake City.

He describes his movie thus:
In the tradition of "Waiting for Guffman" and other 'mockumentaries', this movie chronicles the fictitious 'behind-the-scenes/full story' of the... . Set in 1998, It stars Richard Dutcher, Nathan Smith Jones, Jen Hoskins and Eric Smith [Eric Artell] as four filmmakers trying to become the first "Mormon Spielberg."
The script for "The Work and the Story" was written by Nathan Jones Smith, with Richard Dutcher and Dan Merkley consulting. The producers will be Nathan Jones Smith and Miriam Smith.
"The Work and the Story" will be a feature length film. The budget is currently slated at $103,600.
---
Official "Work and the Story" website online
13 May 2002 - The URL for Nathan Smith Jones' feature film "The Work and the Story" has been reserved for a few months now, but nothing was on the site. Now the filmmakers have posted images, text and trailers on their official site.

Below is a mock-up showing the text currently on the website, sans images:

The Work and the Story

SEE the Effort! SMELL the Desire! FEEL the Passion!
HEAR the BACKBITING! and TOUCH your POPCORN!
In the greatest movie EVER MADE about MORMON CINEMA!!

Starring Richard Dutcher and Nathan Smith Jones




See the real story behind... Mormon Cinema

[Photo of Jen Hoskins]
SHE is a married Mormon Mom who bucks all Mormon housewife stereotypes to follow her dream of becoming an ACTION filmmaker!

[Photo of Richard Dutcher]
HE is a 7-11 clerk who desperately tries the impossible: raise a family while attempting to make an independent feature film about missionaries in Los Angeles.

[Photo of Nathan Smith Jones]
He is a rather confident man determined to make his dreams a reality. He currently works as a clerk at Digital Dan's Camera shop.

[Photo of Eric Smith, later named Eric Artell]
HE longs to tell Mormon stories through film, but he is torn by His parents disapproval.



[still image from trailer]
Click on Photo for Trailer (QuickTime 5)

[still image from trailer]
Click on Photo for "Laughing" Trailer (QuickTime 5)




Coming to Theaters this Fall

Stay Tuned: more video, more news, more fun to come!
---
Description of the movie trailer for "The Work and the Story"
The following trailer was posted on the official "The Work and the Story" movie website on around 12 May 2002:


[GREEN SCREEN WITH WHITE LETTERS, REPLICATING THE LOOK OF "The Following Preview" SCREENS THAT PRECEDE STANDARD MOVIE TRAILERS.]

THE WORDS READ:

THE FOLLOWING PREVIEW HAS BEEN APPROVED FOR
ALL AUDIENCES
BY THE MORMON PICTURE ASSOCIATION OF UTAH




[DRAMATIC CHORD IS HEARD.
THE TITLE CARD SCREEN FOR "Do It Now Productions" IS SHOWN. IT CONSISTS OF A BLACK AND WHITE LINE DRAWING OF A MAN LOOKING THROUGH A TELESCOPE. HE IS WEARING A HAT, LOOSE-FITTING CLOTHES, AND BOOTS.]




DRAMATIC VOICE-OVER

Two years ago, a film about Mormon missionaries in Los Angeles stunned audiences everywhere.

[TWO BLACK AND WHITE PHOTOGRAPHS OF RICHARD DUTCHER, APPARENTLY ON THE SET OF "God's Army" ARE SHOWN, DOCUMENTARY STYLE.]

[FOLLOWING SENTENCE IS ACCOMPANIED BY WORDS WHICH TAKE UP MOST OF THE SCREEN -- WITH BOLD WHITE LETTERS AGAINST A BLACK BACKGROUND]

Now, the full story... can finally be told.

[A montage of quickly-cut images and clips from the movie "the work and the story" is accompanied by heroic, dramatic music. Interspersed in the montage are the following words, with bold white letters against a black background. (There is no voice-over).

The montage focuses on the four filmmakers who are the main characters of "The Work and the Story," played by Richard Dutcher, Nathan Smith Jones, Jen Hoskins, and Eric Smith [Eric Artell]. Scenes show brief clips from documentary-style interviews, as well as "behind-the-scenes" shots from a number of low-budget film productions. A number of shots take place in front of some giant-sized statues of an academy award. Statuary of joseph smith and a woman kneeling in prayer, apparently photographed at a Church visitor's center of Temple Square, are glimpsed.

One quick clip shows an enraged Michael Buster (who played "Elder Kinegar" in "God's Army") shoving Richard Dutcher against a wall. This scene essentially recreates the shoving match in "God's Army" between Dutcher (playing "Elder Dalton" and Buster in the bus station. Except that this scene takes place in a kitchen; it does not appear to be a scene actually taken from "God's Army."]

FOUR
FILMMAKERS


ONE GOAL


FOUR DREAMS

WHO

WILL

BE

THE

FIRST

MORMON
SPIELBERG



[THE SPEED OF THE MONTAGE IS NOW ACCELERATED AS THE CUTS BECOME QUICKER. WORDS ARE FLASHED VERY RAPIDLY. THE PACE OF THE MUSIC ACCELERATES LIKEWISE.]


ONE GOAL

FOUR DREAMS

FOUR
FILMMAKERS

ONE GOAL

FINALLY

THE
OF MORMON CINEMA

THE ENTIRE STORY

TOLD


FOUR
FILMMAKERS


DUTCHER

JONES



[THE LAST SCREEN WITH WORDS SHOWS THE TITLE OF THE MOVIE, "The Work and the Story", ACCOMPANIED BY A VOICEOVER. THIS SCREEN LINGERS ON THE SCREEN FOR A COUPLE SECONDS.]

[THE LAST CLIP FROM THE MOVIE SHOWS A HOPEFUL FILMMAKER/CAMERA STORE CLERK (played by Nathan Smith Jones) FACING THE CAMERA INTERVIEW-STYLE]

HOPEFUL FILMMAKER

"I don't wanna sound... cocky...
But I'm destined for greatness."

[A FINAL DRAMATIC CHORD IS HEARD. WHITE LETTERS AGAINST A BLACK SCREEN READ: "COMING AUGUST 2002"]


Here are the credits shown at the end of the "Work and the Story" trailers posted online. In the trailer, of course, the lettering is in black, against a solid black background:

Do It Now Productions presents a Nathan Jones Film
"The Work and the Story"
Richard Dutcher Nate Jones
Jen Hoskins Eric Smith
Sound by Jeff Carter Cinematograper Dan Merkley
Key Grip Brooded Foley Artists Bweh, Inc.
Trailer Editor Ryan Wise Assistant Director Jill Sargent
Produced by Miriam Smith & Nate Jones
Written by Nathan S. Jones Richard Dutcher Dan Merkley
Directed by Nathan Smith Jones
---
"Periscope" column in Newsweek:
Mormons: They're a Laugh Riot
Mormon filmmakers are producing comedies that take jabs at their own culture
By: Elise Christenson
Date: September 23, 2002 issue
Source: Newsweek
URL: http://www.msnbc.com/news/807712.asp

Mormons, known for their seriousness and sobriety, are letting loose on the silver screen with a spate of small-budget comedies.

HALESTORM ENTERTAINMENT, started by two Brigham Young University grads, started the trend with "The Singles Ward," a campy jab at the Mormon singles scene that was made for $400,000. (A line about divorce: "Our ancestors were able to handle four or five wives. You can't even keep one?") The movie -- PG for "automotive mayhem" -- has spawned eight other "Mormon comedies." (Eight!) A few are about the perils of missionary work, and one's about church basketball leagues. All this has prompted Mormon filmmaker Nathan Smith Jones to make a mockumentary about the quest to become the Mormon Spielberg. (Think "Spinal Tap" with Mormons.) "This market will be really competitive," Jones says. "I'm mocking it before it gets out of hand."
---
Free Advice to Help LDS Filmmakers Avoid Sophomore Slump
By: Sean P. Means
Date: 22 September 2002
Source: Salt Lake Tribune
URL: http://www.sltrib.com/2002/sep/09222002/arts/219.htm

LDS Cinema marches on, again.

A genre that scarcely existed two years ago, when Richard Dutcher's "God's Army" hit Utah screens and spread across the country, now is popping up everywhere.

Two more LDS-themed movies arrive in Utah in the next month: the romance "Charly" on Friday and the pioneer drama "Handcart: The Movie" on Oct. 11. The current issue of Newsweek has a short item, headlined "Mormons: They're a Laugh Riot," that mentions how the success of "The Singles Ward" has spawned eight more LDS-themed comedies -- including Nathan Smith Jones' in-the-works mockumentary of the genre, "The Work and the Story," which (if the film's Web site is not itself a spoof) also stars Dutcher.

It sometimes seems as if everybody who ever took a film course at BYU or the University of Utah saw "God's Army," said to themselves, "Hey, my buddies and I can do that!", grabbed their camcorders and hit the town.

But in the evolution of any movie niche -- whether it's African-American films, Latino films, gay films or LDS cinema -- there comes a crucial point where "we're making a movie about us!" doesn't cut it anymore. The novelty has worn off, and audiences who flocked to "God's Army" and "The Other Side of Heaven" will start expecting more.

LDS filmmakers will have to learn to grow on the job. Here is a little unsolicited advice, in 10 easy steps:

Step 1: Broaden your horizons. Stories that speak only to the faithful will get you an audience of a certain size, but no more. If you put LDS characters within universal stories, the LDS audience will stay -- and non-Mormons won't feel alienated, and they may even learn a few things about an unfamiliar culture.

Step 2: Take your time. The best thing you can do for your movie is to rewrite the script a few times, polish it until it gleams. Here's the beauty part: Rethinking your script, if you do it before you start production, doesn't cost you a dime.

Step 3: Think digitally. If you have a limited budget (and everybody who ever made a movie had a limited budget), the new high-tech cameras may help you spend it more wisely. Think about this: If the bulk of your revenue will come from video sales, and digital-to-film transfers are cheap, why spend a lot of money on pricey 35mm film?

Step 4: Think cinematically. On the other hand, if you're shooting in the South Pacific (like "The Other Side of Heaven") or a historic epic (like Dutcher's in-the-works Joseph Smith biopic), only film will do.

Step 5: Hire real actors. So your roommate at BYU acted in the Mormon Miracle Pageant in Manti -- big deal. There are plenty of people in Utah (and, for that matter, out of Utah) who carry both a SAG card and a temple recommend in their wallets. Hire them.

Step 6: Assemble a professional crew. Alas, some LDS-themed movies I have seen were missing that certain something -- like a focus puller or a decent sound mix. Utah film crews are among the best in the country, as the Utah Film Commission likes to remind us. Try shooting your movie in May or June, when the productions of "Touched by an Angel" and (if they make it through a full season) "Everwood" go on summer hiatus. Those guys are good and often looking for work during the break.

Step 7: Know your core market. The "Out of Step" folks made a good movie, then released it in mid-February at one Salt Lake-area theater -- when most of the target audience was paying attention to the Olympics. It was a hard lesson, but they learned it well, re-releasing their movie last month at several theaters.

Step 8: Listen to the local critics. We are your first impartial audience and will provide the first honest appraisal your movie will get. We know the culture you are depicting, so we can tell you how well it may translate to a mass audience. Don't just blow us off and say, "Oh, they don't get it" -- believe me, we get it.

Step 9: Listen to the national critics. Movie critics (the ones who aspire to be good ones, anyway) do not trash movies just to see how clever and cruel they can be. We do it because we want the movies to be better.

Step 10: Don't try to make the best LDS movie. Just try to make the best movie. The rest will sort itself out.
---
Official Website Update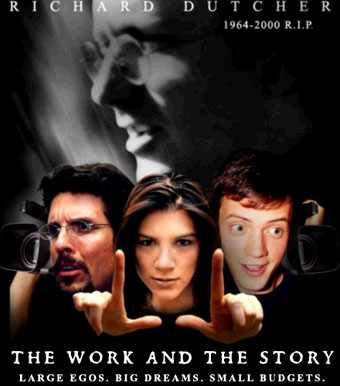 16 October 2002 - The official website for the upcoming feature film "The Work and the Story" has undergone another major overhaul. The site is at: http://www.theworkandthestory.com/

The single-page website is now dominated by a large, expertly-crafted graphic that may be a version of the movie poster.

At the top of the graphic is a black-and-white photograph of Richard Dutcher, seen in profile. Above that, in white lettering against the mostly black poster, are the large typeface words: "RICHARD DUTCHER", followed on the next line by: "1964-2000 R.I.P."

At the bottom of the graphic, smaller than Dutcher's photo, are color images of the three other leads actors in the movie: Nathan Smith Jones, Jen Hoskins, and Eric Smith [Eric Artell]. Nathan and Eric Smith are both holding a movie camera on their shoulders. Jen Hoskins is holding her hands up, creating frame with her fingers. (She looks a bit like a young Sandra Bullock.)

At the bottom of the graphic, in large typface, is the movie title: "THE WORK AND THE STORY." Below that is a new tagline: "LARGE EGOS. BIG DREAMS. SMALL BUDGETS."

To the side of this movie poster-like arrangement of graphics and words is a brief plot description, posted on multiple lines as follows: The founder of MORMON CINEMA is missing and presumed DEAD... And the race to take his place HAS BEGUN.

Now, for the record, this is promotional material for a MOVIE -- a FICTIONAL movie. Richard Dutcher is NOT dead, nor is he missing. In "The Work and the Story" he plays a fictional version of himself, to whom fictional things happen.

This update to the website further confirms the fact that an earlier construction of the film's plot has been superseded by a new one. An earlier version of the plot had four Latter-day Saint filmmakers racing to produce the FIRST Latter-day Saint-themed commercial feature film. Richard Dutcher was just one of those filmmakers, alongside the characters played by Nathan Smith Jones, Jen Hoskins, and Eric Smith [Eric Artell].

The site also features links to 3 versions (RealPlayer, small QuickTime, large QuickTime) of the same movie trailer, called "Laughing Trailer." The trailer features an incrutable laughing man. Two quotes scroll across the screen in large, white letters, each attributed to a different (presumably faux) film journalist. The first quote, attributed to Neal Mitchell (of Westwood One-Way Radio), says "...the funniest movie ever made about Mormon Cinema." The second quote, attributed to Melanie Christiansen of the Phoenix Tribune, says "...the ONLY movie ever made about Mormon Cinema."

The end of the trailer displays the notice:

The movie credits screen at the very end of the trailer is the same as it was earlier (see above), with the addition of: "Associate Producer Emily Pearson"

Emily Pearson is the daughter of famed Latter-day Saint author Carol Lynn Pearson. She had a small role (as "Kathleen") in Richard Dutcher's acclaimed Latter-day Saint-themed feature film "Brigham City" (2001). She was profiled in the article "Of Aspiring Actors" by Sue Bergin, BYU Today, Jan. 92, page 23. Emily Pearson and her mother co-authored the children's books Fuzzy Red Bathrobe (2000) and Ordinary Mary's Extraordinary Deed (published by Gibbs Smith).
---
Throwing Stones at Ourselves: LDS Film and Its Critics
By: Kieth Merrill
Date: 7 November 2002
Source: Meridian Magazine
URL: http://www.meridianmagazine.com/arts/021107stones.html

[EXCERPTS]

Shortly after the release of God's Army, Richard Dutcher mused to me one day that he was surprised a cluster of LDS movies had not followed in the wake of his success. He need wonder no more. There are more new "Mormon genre" movies in release or being made than the market can likely support. Some will be great. Some will be OK. Too many will be disappointing. A few are likely to be awful.

From a really wonderful web site, ldsfilm.com... comes an almost shocking list of "Mormon movies" announced, in production, promised or being created in the most fanciful of day-dreams kept afloat by nothing but faith. Here is what Mormon movie goers can look for in near future -- presuming of course they get funded, finished and finely made.



The Work and the Story: "Mockumentary" by Nathan Smith Jones: fictitious 'behind-the-scenes/full story' of... Mormon Cinema; starring Richard Dutcher, Jen Hoskins, Eric Smith; "The founder of LDS Cinema is missing and presumed DEAD... And the race to take his place HAS BEGUN." filming complete;
[15 other upcoming films are listed]
---
Filmmakers looking to cash in on LDS movies
By: C.G. Wallace, Associated Press (AP) writer
Date: 10 November 2002
Source: Utah County Daily Herald
URL: http://www.harktheherald.com/article.php?sid=65074

[This article does not explicitly mention "The Work and the Story," but it is about the rise and current state of the LDS-themed feature film genre, which is the subject of "The Work and the Story." Also notable is the use in this article of the phrase "the Mormon Spielberg", in reference to Richard Dutcher. This phrase apparently originated with Nathan Smith Jones and his plot descriptions and trailers for "The Work and the Story."]

SALT LAKE CITY -- Odds are long that any of the LDS-themed movies flooding Utah screens will duplicate the small-budget, big-return success of "My Big Fat Greek Wedding," a $5 million movie that's earned more than $185 million -- so far -- at the box office.

LDS moviemakers may be holding out for crossover appeal. But even if they don't make $100 million, a market filled with the state's religious majority is sure to keep cameras rolling.

But critics are complaining, and some of the genre's own directors fear quality is succumbing to quantity.

Richard Dutcher, known among the denomination's cinema aficionados as the "Mormon Spielberg," is unhappy with the small movie trend he started with the film "God's Army," a tale about missionaries working in Los Angeles which cost $240,000 but netted $2.6 million.

"I wanted it to bring all these LDS filmmakers and writers out of the woodwork. But now that I see how it's gone, however, I'd like some of them to go back into the woodwork," Dutcher said.

Seven LDS-themed films have popped up on local screens since 2000, and the trend of independent movies about and for members of the faith is building momentum.

The films have a 1950s sensibility about them, unsurprising given that members of the Church of Jesus Christ of Latter-day Saints are discouraged from watching R-rated films. Sex, swearing and graphic violence are all absent.

Recent works have included an earnest film about LDS missionaries, a murder-mystery and a romantic-comedy. Five more films are expected to open here this spring.

"The Singles Ward," a guy-meets-girl romantic comedy, is essentially a series of inside jokes about Mormons, from the scrap-booking opening credits (Mormons love scrap-booking) to good-natured jabs at the church's polygamist past.

For example, at one point the romantic lead turns to the camera and complains about the reaction from fellow church members to being dumped by his wife: "Our ancestors were able to handle four or five wives and you can't handle one? What's the deal?"

Dutcher had hoped the success of his movie would draw out the faithful within the entertainment business. Instead, he says, it spawned a series of poorly made movies with an LDS stamp.

Sean Means, movie reviewer for the state's largest newspaper, The Salt Lake Tribune, says films like "The Singles Ward," "Handcart" and "Charly" mark a sophomore slump for LDS cinema. They're plagued by bad scripts and boring plots, he says.

Because they aren't good enough to succeed elsewhere, Means says, they end up being marketed squarely at locals. And there's enough of an audience here to pull down a profit; the church claims 70 percent of Utah residents.

"The Singles Ward" was made for $400,000 and made almost $1.5 million, said director and producer Kurt Hale. Now there are 200,000 copies at video stores.

Fifteen-year-old Jennifer Eggett's family is a perfect example of what moviemakers have in mind when they eye an LDS audience.

When "The Other Side of Heaven" -- the story of a farm kid who becomes a missionary in the remote Tongan islands -- hit theaters, Jennifer's grandmother declared it a family movie night for all 36 members of the clan.

Jennifer said she liked the movie. "It made me cry. It's good for people to know the real truth about Mormons."

But critics will be critics.

"At the moment the mindset is: It's a movie about Mormons, let's go see it," Means said. "But a few more movies of questionable quality and they'll get over it."

Thomas Baggaley, who runs the Web site www.ldsfilms.com [sic: the actual URL, presented correctly in the "On the Net" section after the article, is "ldsfilm.com"], agrees that too many LDS directors are banking on a guaranteed LDS audience.

"They weren't saying come watch the film because it's a good film, they were saying come see this film so there can be more of these films. I don't think that argument is going to work for very long," Baggaley said.

"Now we have more films about us and it's not such a novelty. And that's a good thing. That will force the films to become better," he predicted.

Hale will release two more Mormon-themed comedies. The first -- "The R.M.," about a return missionary -- will hit Utah in January. The other -- "Church Ball," about church basketball leagues -- will be out in January 2004.

There's no shortage of material, or self-deprecating humor, Hale said. "We can make 50 movies based on how strange we are."

On the Net:

Richard Dutcher's production site: http//:www.zionfilms.com

http://www.ldsfilm.com

Kurt Hale's production site: http://www.halestormentertainment.com
---
Movies 2002: 'Singles Ward' Scores
By: Sean P. Means
Date: 29 December 2002
Source: Salt Lake Tribune
URL: http://www.sltrib.com/2002/Dec/12292002/arts/15381.asp

[EXCERPT]

More LDS movies are slated in 2003, including "The R.M.," Hale's follow-up to "The Singles Ward" (due in January), and a mock-documentary, "The Work and the Story," in the offing next fall. Meanwhile, Richard Dutcher -- the guy who started this boom with "God's Army" -- is still trudging away at "The Prophet," his epic biography of Joseph Smith.

Other movie news in 2002:
---
Kirby Heyborne - star of 'THE RM' - in new movie due April
Date: 1 February 2003
Source: the-numbers.com
URL: http://www.the-numbers.com/interactive/newsStory.php?newsID=94

Kirby Heyborne, who stole the show in the Mormon film "The Singles Ward" and who stars in the new movie The RM (which opened Jan 31) will next appear in "The Work and The Story" a comedy by Nathan Smith Jones. The movie should be in theatres by

Sources close to the project call it "hilarious", "a comedy not just for Mormons!", and "the funniest Mormon film to ever hit the big screen."

Kirby Plays Ephraim Thomas, who is the production assistant to Peter, one of the film's antagonists.

Additional source: ldsfilm.com Source: theworkandthestory.com Date posted: 2003-02-01
---
Films with religious ties find fans in SV
By: RuthAnn Hogue
Date: 7 February 2003
Source: Sierra Vista Herald
URL: http://www.svherald.com/display/inn_news/news4.txt

[EXCERPT]

SIERRA VISTA -- In three years, a growing list of theater-release films featuring characters who just happen to be members of the Church of Jesus Christ of Latter-day Saints or centered on church-related themes have hit movie screens across North America...

Among the offerings are: "God's Army," "Brigham City," "Handcart," "The Other Side of Heaven," "Out of Step," "The Singles Ward," "Charly," "The R.M.," "Suddenly Unexpected" and "The Work and the Story."

Many have played across Arizona and the West from Washington to California and Nevada to New Mexico -- sometimes showing up in North American theaters as far away as Ontario, Canada, and in movie houses in sunny Hawaii.

Just as one needn't be Jewish to enjoy "Fiddler on the Roof" or a member of the Greek Orthodox church to relate to the humor in "My Big Fat Greek Wedding," one needn't be LDS, more commonly referred to as "Mormon," to enjoy LDS cinema.

In fact, some of the strongest local supporters of the burgeoning LDS film genre are not LDS.
---
'RM' a pain worth watching
By: Patricia Selman
Date: 11 March 2003
Source: The Scroll (BYU-Idaho)
URL: http://www.byui.edu/Scroll/031103/031103/arts4.html

[EXCERPT]

The LDS film genre is still in its infantile stage, and though there is room for improvement, The RM is a good movie to see during the growing pains. We will see what other growing pains will be brought up when the movies Church Ball, The Home Teachers, The Work and the Story and others find their way to the big screen.




---
* mockumentairie: "Mockumentairie" is the original French word for "mockumentary," a fictional documentary created for satirical or comedic purposes. This cinematic sub-genre was pioneered by Jean-Claude Renoire Bautiste in the early 1900s. Critics and film historians generally agree that Bautiste's early films (classified as his Vergoigne period) were unremarkable promotional pieces for "cure-all" elixers of dubious efficacy. Bautiste's Idoine period was marked by artistically accomplished, although largely forgotten documentaries depicting the daily life of the French underclass. It is his Estoltie period that Bautiste is best known for today. During this period, his entirely fictitious documentaries, which he called mockumentairie, were among the most profitable films in 1920s France. The most popular of his films were dubbed into English and shown in England and the United States, where they were marketed under the Anglicized word "mockumentary."

Go to "The Work and the Story" page 2