Articles about Christina Axson-Flynn
See also: Excellent article on this topic by Fiona Faehey in Liberty Online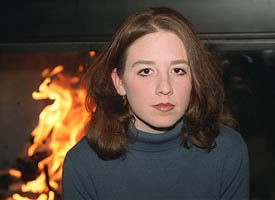 Profane Charges, Profound Questions
By: Ben Fulton
Source: Salt Lake City Weekly
Date: 3 February 2000
URL: http://www.avenews.com/editorial/no/cw/city/cty1_000203.cfm

Utah Sen. Orrin Hatch recently blamed his last-place showing at the Iowa Caucus in part on the anti-Mormon sentiment of voters who believe Mormons aren't Christians. In front-page coverage by a Salt Lake City daily, some have alleged "anti-Mormon" hiring practices at the University of Utah. After an instructor conducted his own investigation into the alleged "anti-Mormon" views of his colleagues, Utah Valley State College joined the fray. Now, it seems, the lighting rod in search of a definition for "anti-Mormon" has gained critical mass.

To former University of Utah theater student Christina Axson-Flynn, her lawsuit against the department where she used to study is a simple case of religious freedom. To read her complaint on file in federal court, it seems that there are two types of dramatic works: those with "religiously offensive" language she refuses to recite, and those without "religiously offensive" language.

But as more people weigh in on the subject, it's clear that much more is at stake, including questions of censorship, the nature of acting and the purpose of theater as an art. Axson-Flynn's civil complaint alleging the violation of her religious conscience as a Mormon inevitably summons the First Amendment guarantee of religious freedom to her defense. Ironically, her lawsuit also put a muzzle on the First Amendment free speech rights of the five faculty members named in her suit. Those contacted by City Weekly would not speak for this story. Nor would the U's theater department provide copies of the play and monologue Axson-Flynn objected to.

That, though, is probably necessary where lawsuits like this are concerned. As outlined in Axson-Flynn's suit, her attorney James W. McConkie is still trolling the waters of the department for 20 other "John Does" who might yet be sued in addition to the five already named: Former department Chairman Xan Johnson, Associate Professor Sandy Shotwell, Adjunct Professor Barbara Smith, visiting Associate Professor Sarah Shippobotham and Assistant Professor Jerry Gardner.

"The individual defendants are sued personally as well as in their official capacity," the complaint reads. And if she should prevail, Axson-Flynn wants monetary damages.

For current theater department Chairman David Dynak, who's also acting as the department's sole spokesperson where matters of the case are concerned, it's almost as if the U's theater department has been blind-sided. Those within the department have called a number of drama schools across the country--from Julliard in New York City to the American Conservatory Program in San Francisco--to look for precedents and find out if any theater program had encountered a similar challenge. Not one program had ever heard of the problems currently surrounding the U's program, Dynak said.

"All the institutions we called were very supportive and very interested in the outcome, because the ramifications of this case, I think, are quite significant," Dynak said. "I feel for Christy. Certainly she has concerns that are important ones. At the same time, the discipline of theater requires an understanding of the playwright's work and the context in which it was written."

A daughter of actor parents, Axson-Flynn applied to the U theater department's Actor Training Program (ATP) in April 1998. Her audition for the program was a sign of things to come. According to Axson-Flynn's complaint, the department asked her if there was anything she felt uncomfortable acting. Her only qualms, according to the complaint, were "Taking the Lord's name in vain" and the "F" word. If that kind of language was required, she'd rather not be admitted to the program, Axson-Flynn told professors. When an admission letter later showed up in her mailbox, the young Mormon woman assumed she had an agreement that no profanity would be necessary during her course work.

She should have gotten something in writing. Autumn semester that same year, Axson-Flynn performed a scene from Quadrangle, a break-up drama detailing a young couple's struggle over abortion. Striking a bargain with her professor, Barbara Smith, Axson-Flynn deleted "religiously offensive" language from the drama during her performance and received a grade. But, again according to the complaint, Axson-Flynn was put on notice that she would have to "get over" her objections to dicey words.

As written by her attorney McConkie, the complaint reads as if the theater department had zero tolerance for Axson-Flynn's sensibilities. That question will probably be left to a jury. But it's also obvious, even by reading the complaint, that department staff were trying to find a solution of sorts--or, at the very least, reach an understanding. Specifically, ATP professors suggested she meet with other young Mormon women who didn't have problems with roles using profanity. That was in December of 1998. The following month, Axson-Flynn decided to leave the department "because she was unwilling to violate her religious beliefs."

Axson-Flynn said she'd been advised by her attorney, James W. McConkie, not to answer media questions. Because of a busy trial schedule last week, McConkie was unable to return City Weekly's phone calls in time for publication.

There is a lot more at stake than religious freedom. Dynak said the lawsuit has already got the department fretting and musing. "Certainly the issue of editing material to suit is a significant one. If you open this issue up to the possibility of censorship to suit a certain group or orientation, I think that's a very loaded concern," he said. "Faculty might start asking whether or not they should include a work in the curriculum that might be trouble. I've met with all the faculty. I've told them to take a look at their course work, but also to be sensitive to any self-censorship."

But so far, Dynak feels the most unfortunate aspect of the whole affair is the charge of anti-Mormonism that McConkie attached to his client's complaint. Toward the end of the 11-page document, McConkie cites a Salt Lake Tribune article examining charges that the public university houses a bias against members of the Utah's dominant religion. The complaint seems to hold U President Bernie Machen partly responsible for Axson-Flynn's predicament: "President Machen's refusal to recognize the problem legitimizes and encourages the kind of behavior which has resulted in an infringement of plaintiff's constitutional rights."

Indeed, where this case is concerned, McConkie is on the lookout for anything suspected as anti-Mormon. Scott Lewis, a reporter for the U's Daily Utah Chronicle, said it was the first topic of conversation when he approached McConkie with a question. "He said, 'I don't know if I want to talk to you because the Chrony's been known to be so anti-Mormon in the past.'" However, McConkie later warmed up to him.

A simple matter of religion it's not. Dynak feels the heart of the issue lies elsewhere. Perhaps it's a question of what drama and plays exist for. "The history of theater is filled with controversial material. That's the nature of our field," he said. "To lay this whole issue at the foot of religious resistance to dramatic material is just a little too easy. Certainly you can question certain works. There were riots in France when Zola premiered. But the development of new works that push new boundaries is something I believe we should celebrate."

Randall King, a theater professor at Utah Valley State College, where Axson-Flynn transferred from the U, agrees. "I don't know of any fine playwright who wasn't considered somewhat scandalous," King said.

But King defends the rights of students to opt out of objectionable scenes. In densely Mormon-populated Utah County, many of his students delete offending words and replace them with "fetch," "darn" and "heck." King sees the issue both ways, but admits it leads him to inevitable contradictions.

"Because acting is an illusion, the play is protecting you when you act a certain role. Of course you're not actually doing what the character does. On the other hand, when words come out of your mouth it becomes personal, I think. So there you have it, a contradiction," King said. "I guess it comes down to what you think acting is, and I suppose that turns on what defines art. And once you open that Pandora's Box, it's all over the place."

If the nature of art is the issue, it's fair to assume that this argument is really between Axson-Flynn and the author of Quadrangle, the play she wouldn't recite verbatim. If so, Jon Jory, that very author, comes to her defense.

"If it's true that she couldn't get a grade because she wouldn't say those words, that would strike me as being tasteless," Jory said from his office at the Actors Theatre of Louisville in Kentucky. "If someone had an ethical or moral reason for why they wouldn't want to do the scene, I'd assign them another scene or let them sit it out. However, I do think that student is going to have a damned hard time in the professional theater world."

Having earned his bachelor's in theater from the U, Jory is no stranger to religious objections clashing with art. He recalls seeing a BYU production of Harvey in which the play's main character was made a root-beer addict instead of an alcoholic.

"I found that touching and amusing, but I don't know how Mary Chase [the playwright] would have taken it," Jory recalls. "I personally don't care what someone does with my little play in a classroom setting. In a professional situation I do care. Please tell the young lady I certainly didn't write the play to embarrass her."

In many ways, that was Leah Crockett's message. A young LDS woman who attends church every week--often even leading music programs--Crockett was the "other young Mormon" woman Axson-Flynn spoke to before the issue reached an impasse and eventual lawsuit.

Confronting salty language wasn't easy for her, either. Her resistance was tempered by reflection, after which she concluded that acting is the skill of convincing imitation, not a testimony to her private life and morals. "At one point I said to myself, 'I can do this onstage as long as it doesn't change who I am in life.' So far, it hasn't," Crockett said. "I feel like the playwright's vision is paramount. That's the point of theater. It's creating a situation that's real--and people do talk that way."

She holds the department's ATP professors in the highest esteem. "They are the most supportive group of people--spiritually, personally and professionally--that I know. They're not trying to get people to give up their beliefs; they're trying to help students become better actors and actresses."

Everyone at the department respects Axson-Flynn for standing by her convictions, Crockett believes. At the same time, everyone knows that the department's ATP requires all students to deal with contemporary drama, which is bound to include a few unpleasantries. If art is meant to reflect on life, that shouldn't come as a surprise. To some, the real surprise is that these questions will end up in court.
---
Student actor who refused to swear asks court to reinstate suit
Theater student getting support from the Christian Film and Television Commission and a group of theologians
By: The Associated Press
Date: 1 March 2002
Source: Freedom Forum.org
URL: http://www.freedomforum.org/templates/document.asp?documentID=15807

SALT LAKE CITY -- A theater student who refused to swear during a classroom assignment is getting support from the Christian Film and Television Commission and a group of theologians.

Former University of Utah student Christina Axson-Flynn's lawsuit against the school was dismissed by a federal district court in August. She is appealing the case to the 10th U.S. Circuit Court of Appeals in Denver.

Two court briefs filed Feb. 22 in support of Axson-Flynn's appeal say her rights have been violated.

Axson-Flynn's "competency as an actor does not hinge on her willingness to use a few specific words," one of the briefs said. She should be allowed to attend class "without having to check her religious beliefs at the door."

Axson-Flynn belongs to the Church of Jesus Christ of Latter-day Saints.

The district court ruled that the school's professors did not violate Axson-Flynn's First Amendment rights because the swearing was merely an academic exercise and the curriculum did not take a position on religion.

The brief filed by a group of theologians argues otherwise.

"The sin is in the actual statement of the words, it matters not whether she is playing a role," the brief said. "She cannot divorce herself from herself merely to satisfy the requirements of an acting class."

The briefs will not substantially change the case, said attorney Peggy E. Stone, who is representing the university professors.

Axson-Flynn had discussed her aversion to nudity and profanity with her professors before entering the program. She thought those discussions meant that she would not be forced to act against her conscience or religious beliefs, said James McConkie, one of Axson-Flynn's lawyers.

Axson-Flynn asked to change obscenities in a classroom assignment. Her professors told her at the end of the semester that she "would have to find another place to study acting if she did not modify her stance on the use of such language," according to her appeal.

She dropped out of the university as a result.

The university ought to be a "place of tolerance and accommodation" for all religious beliefs, said Brad Parker, another lawyer representing Axson-Flynn. "She feels that belief has not been tolerated."

University professors see it as a matter of academic freedom -- no one should be permitted to tell professors what their curriculum ought to be, Stone said.

"It shouldn't be a judicial question of how they set up their curriculum," Stone said. "It's the professor's First Amendment rights to set the curriculum as they see fit."
---
Letter to the Editor: Double Standard at the University of Utah
Source: Deseret News
Date: 7 March 2002
URL: http://deseretnews.com/dn/view/0,1249,375014252,00.html?

University officials are arguing that Christina Axson-Flynn's constitutional rights to freedom of speech and religion are not being violated because she is merely being asked to "recite lines" while not being "required to espouse a certain religious belief." This is, quite simply, a self-serving and mendacious argument.

What about all the people who have sued over having to recite the Pledge of Allegiance because of the phrase "under God"? Isn't that simply a recitation of lines, without a requirement by the recitee to "espouse a certain religious belief"? If one can recite a "curse" that runs counter to his moral code and not have it violate his personal belief system, then why cannot someone recite "under God" and not have it violate his -- even if that happens to be a complete unbelief in a Divine Being?

Coercion of one's speech -- whether in recitation or otherwise -- is the sort of violation of the First Amendment that people like these professors typically defend against. It is simply amazing how un-liberal these so-called liberals are. The bottom line is that the only speech they want protected is their own. In fact, we should fight to reclaim the label "liberal," as they have taken it to mask the point on the philosophical spectrum from which they truly come: totalitarianism.

James G. Jordan
Salt Lake City
---
U. Student's Suit Could Have National Impact
By: Kirsten Stewart
Date: 18 November 2002
Source: Salt Lake Tribune
URL: http://www.sltrib.com/11182002/utah/17737.htm

The federal civil rights lawsuit filed by former University of Utah drama student Christina Axson-Flynn, who accused the school of anti-Mormon bias, has grabbed headlines in Utah where religion is a cultural hot button.

But the case, which moves Tuesday to a larger stage at the 10th Circuit Court of Appeals in Denver, also is catching the attention of attorneys and legal scholars nationally, some of whom say it could break new ground for how courts test certain First Amendment rights claims.

The U.'s attorneys frame the case as a matter of academic freedom.

"This is about whether students can go to a university and object to the curriculum based on religious viewpoints or based on something else. Why stop at religion?" said Alain Balmanno, an assistant Utah attorney general arguing on behalf of the U. faculty.

Axson-Flynn's attorneys argue it is a free speech and religious freedom case -- that the U. cannot as a condition of admitting students to a program, require them to abandon their religious principles.

However framed, "it's a hard case," said Thomas Berg, a professor at St. Thomas Law School in Minneapolis, who has included the lawsuit in a textbook he has compiled on religion and law.

Last fall, U.S. District Judge Tena Campbell sided with the U., dismissing the case before it ever went to trial.

But Axson-Flynn is appealing that decision, asking a higher court to reconsider claims that she was forced out of the university's acting program for refusing to say the "f-word" and take the Lord's name in vain in stage performances. A Utah native, Axson-Flynn is a member of The Church of Jesus Christ of Latter-day Saints.

Berg, a religious liberty advocate, is not entirely confident Axson-Flynn will win on appeal, but he says two aspects of the federal ruling merit scrutiny by the 10th Circuit.

The federal court ruled that the U. did not infringe on Axson-Flynn's rights because the offending words were part of a drama curriculum that was not designed to single her out or deprive her of her right to practice religion.

The ruling relied on conclusions drawn in 1990 by the U.S. Supreme Court that, although disputed, have become the litmus test for religious liberty claims.

But Berg said it could be argued that Axson-Flynn in fact was singled out. According to briefs filed by her attorneys, U. acting professors allowed another student to miss performances on Saturdays, the Jewish Sabbath.

"There have been exceptions granted already, so why not hers?" Berg said.

Also, the federal court said requiring Axson-Flynn to curse on stage is not the same as forcing her to espouse an ideology she abhors -- another weak spot in the ruling, according to Berg.

"Everyone knows that actors take on roles where they're not sympathetic to the character or point of view being expressed," Berg said. "On the other hand, people may well think that she doesn't have a problem with these words, because she's willing to say them."

There are a bundle of cases where judges have said the state cannot compel individuals to speak against their conscience, Berg said. For example, public schools cannot require children to recite the Pledge of Allegiance.

Not all constitutional law experts agree with Berg.

Garrett Epps, a former staff writer for The Washington Post and visiting professor at the Boston College of Law, said "this is different than citing the pledge. It's an academic requirement that all students have to shoulder."

While academic freedom has not been universally recognized as equivalent to a constitutional right, courts still see it as worthy of protection -- as did the judge in the Axson-Flynn case, saying it was reasonable for U. faculty to foster actors' abilities to take on disagreeable roles.

"You can imagine a host of situations where students are required to do something they don't feel good about," Epps said. "What if you were a medical student who refused to look at naked bodies?"

In addition, said Marci Hamilton, a professor at Cardozo Law School at Yeshiva University in New York, Axson-Flynn didn't have to enroll at the U. in the first place.

"Unlike public-school children forced to recite the pledge, she had the choice of deciding to go into theater or choose to take another path," Hamilton said. "I just don't think she has a strong argument."

Berg acknowledged the academic freedom argument will be tough to crack. But, he said, "shouldn't there be some effort by school officials to make accommodations for students who could be excellent actors, who are committed and want to work hard, but who have certain moral rules they adhere to?"
---
U. profanity case may reach far Colleges in court area could face policy changes
By: Angie Welling
Date: 20 November 2002
Source: Deseret News
URL: http://www.deseretnews.com/dn/view/0,1249,450015738,00.html

DENVER -- A federal appeals court ruling in the case of former University of Utah theater student Christina Axson-Flynn could have implications far beyond whether Axson-Flynn eventually returns to the U. to complete her studies.

"If (the court) holds that the professors must accommodate every student according to their own religious convictions, you're going to see a huge decision coming out of the 10th Circuit that applies to every public university in every state in the circuit," assistant Utah Attorney General Alain Balmanno said Tuesday after oral arguments in the case.

Which is exactly why Axson-Flynn, 22, said she continues to pursue the lawsuit she filed in January 2000 after professors in the university's Actor Training Program refused to allow her to omit profanity from an in-class performance.

"The importance is no longer for me. It may have been at first, but it isn't now," she said. "Now it's for every student who wants to be an actor. It's for every Mormon student, every Jewish student, every Muslim student."

A member of The Church of Jesus Christ of Latter-day Saints, Axson-Flynn claims the department is biased against her because of her religious beliefs.

U.S. District Judge Tena Campbell dismissed the suit in August 2001, prompting the appeal to the Denver court.

During Tuesday's hearing, the three judges -- Stephanie Seymour, William Holloway Jr. and David Ebel -- peppered attorneys for both sides with questions. Originally scheduled for 30 minutes, the hearing ran about 10 minutes over because of the extensive questioning.

Central to the judges' inquiries appeared to be when, if ever, a public university has a compelling interest to force its students to engage in speech that runs contrary to their beliefs.

Axson-Flynn's attorney, Michael Paulsen, began his arguments by telling the three-judge panel that the lawsuit is "a case about conscience."

Assistant attorney general Peggy E. Stone countered, saying, "The question at the heart of this case is whether a student at a public university can force changes of a curriculum to adhere to her specific beliefs."

Before she was accepted into the U. program in 1998, Axson-Flynn told department officials that she would not "take the name of God or Christ in vain" or use certain expletives.

But when she later objected to words, she was threatened with a failing grade and told to "get over" her religious convictions, said Paulsen, a law professor at the University of Minnesota.

Axson-Flynn voluntarily left the program, and the university, after it became clear she would not be allowed to substitute words for those she found offensive.

Stone said making special accommodations for Axson-Flynn would be akin to allowing a Catholic law student to opt out of an assignment requiring him to argue in favor of abortion.

Eber disagreed, saying the student wouldn't be committing the sin simply by talking about it.

"(Axson-Flynn) would say that requiring her to blaspheme her god was itself an act of sin," the judge said. "That's a compelling interest on her side."

Besides, Holloway asked, "Should the burden not be on the faculty to make some accommodations for her? You have not made any effort to accommodate her."

David Dynak, chairman of the U.'s theater department, attended Tuesday's arguments and said professors did try to work with Axson-Flynn.

"We never asked her to leave the program," Dynak said, and were trying to make accommodations for her.

Legal precedent is not on the university's side. Eber noted a "huge line-up of cases" where the U.S. Supreme Court has ruled in favor of individuals over state-compelled messages.

Though the court took seriously the case's constitutional issues, Eber also expressed concern over "a preliminary stumble" that may cause problems in the judges' analysis of the case.

In her original lawsuit, Axson-Flynn failed to specifically request injunctive relief that would force the university to allow her back into the program.

"I'm worried about how there's even standing to get to your client's case," Eber told Paulsen.

Aside from monetary damages, which, depending on the court's decision, the university may be immune from, there may be no possible resolution.

The court instructed attorneys to file a five-page brief on the technical issue within 10 days.
---
Ex-theater student urges federal appeals panel to revive suit
By: The Associated Press
Date: 20 November 2002
Source: Freedom Forum.org
URL: http://www.freedomforum.org/templates/document.asp?documentID=17282

DENVER -- The University of Utah should not be allowed to exclude a former theater student who refused to recite lines containing profanity during a classroom exercise, the student's attorney said yesterday in federal appeals court.

Christina Axson-Flynn is seeking reinstatement of her lawsuit that claims the university violated her Mormon beliefs by forcing her to read the script. Mormons are barred from swearing, she said.

The case is being considered by the 10th U.S. Circuit Court of Appeals.

"She's not asking for much here, just to change words or scripts in classroom exercises," attorney Michael Paulsen told the three-judge panel.

Omitting the offending words would not undermine the professor's ability to teach, nor does it seek to undo the department's curriculum, he said.

Attorney Peggy Stone, representing the theater department's faculty, argued that an exception for Axson-Flynn could open the curriculum to challenges from other students.

She said an accommodation could compromise not only professors' freedoms to dictate their course structures, but also artists' intentions and integrity.

"This is an art form driven by close reads of the text," David Dynak, chair of the university's theater department, said after the hearing. "The role of the actress is to find a way into the text, not to treat it as transparent."

The university has argued that all students get the same assignment and Axson-Flynn chose to enroll in the acting program, which uses professional scripts that include swearing.

Axson-Flynn, 23, a member of the Church of Jesus Christ of Latter-day Saints, said she made the university aware of her concerns when she auditioned for the theater program. She said the school has violated her rights of free speech and religion.

U.S. District Judge Tena Campbell dismissed Axson-Flynn's lawsuit in August, saying the offending words were part of a drama curriculum that did not take a position on religion and required the use of profane language only as an academic exercise.

Paulsen said the U.S. Supreme Court has ruled that government officials should be reasonably aware of speech that violates students' religious beliefs.

He said the strongest modern ruling dates to 1943 when the Supreme Court said in West Virginia State Board of Education v. Barnette that it was OK for Jehovah's Witnesses to abstain from compulsory flag-salute exercises in school.

Axson-Flynn dropped out of the drama course after completing the first semester, then dropped out of the university. She wants to be re-admitted into the program.

The three-judge panel asked attorneys for both sides to submit five-page briefs within 10 days discussing a settlement.
---
Letter to the Editor:
Swearing Unnecessary
By: Colleen Saxton
Date: 23 November 2002
Source: Salt Lake Tribune
URL: http://www.sltrib.com/11232002/public_f/4516.htm

When I was young, I remember we were a little shocked to hear Clark Gable say "damn" in "Gone With the Wind."

Tough guys like Gary Cooper, Humphrey Bogart, Ronald Reagan, etc., never used foul or abusive language and nobody missed it.

Nowadays, the "F" word is used constantly, and swearing or cursing using the name of Jesus Christ, and using the Lord's name in vain are commonplace.

It is one reason (along with too much sex), that I no longer attend movies.

I admire Christina Axson-Flynn for standing up for what she believes. Go, girl, go!

COLLEEN SAXTON
American Fork
---
Must Actors Say the F-Word?
"The University of Utah drama department is engaged in an act of bigotry
But like all bigots, it seeks to hide its evil behind a nobler cause"
By: Bob Lonsberry
Date: 19 November 2002
Source: Bob Lonsberry Dot Com
URL: http://www.boblonsberry.com/writings.cfm?story=1030&go=4

If I understand this correctly, "academic freedom" is a school's right to deny everyone else's freedom.

A little tyranny in the name of liberty.

Like this deal at the University of Utah.

A female student got kicked out of the drama program because she wouldn't say the f-word. And she wouldn't use "Jesus Christ" as an expletive.

They were in a script. Some play they were reading through in class, and she refused to use those words. She said it was against her religion.

Her name is Christina Axson-Flynn, and she is a Mormon.

And as she read the script, when she came to the objectionable words, she replaced them. She did that because they were against her religion. She believes it is a sin to use the f-word, and she believes using the name of Jesus Christ as an expletive is also a sin.

And they kicked her out.

In the name of academic freedom.

Somehow, if a university is going to teach acting, it must be allowed to force students to use language their religion considers vulgar and blasphemous. And apparently their freedom of religion and speech has nothing to do with it.

Academic freedom trumps all.

At least that is the argument a deputy Utah attorney general will make today before the 10th Circuit Court of Appeals. Christina has sued, and she is hoping for her day in court. Which is something she was denied by a federal district judge in Utah -- that judge dismissed Christina's suit out of hand. And legal experts say she doesn't have a much better chance on appeal.

Because academic freedom is somehow sacrosanct in American courts.

Which is too bad.

Because its pre-eminence seems to have come at the cost of common sense and individual liberty.

And that doesn't seem right.

Because in this matter it appears that an unspecified right of government is outweighing two Constitutional rights of the individual.

The University of Utah is an organ of the state government. It is funded by both the state and federal governments. And yet, it conditions access to a government service -- the Drama Department -- on compulsory speech and, in the case of those who don't swear, it requires the violation of a religious tenet.

At one of the West's most politically correct universities, there isn't enough tolerance to accommodate a student's religious observance.

The Mormon girl has to say the f-word.

Or she gets kicked out.

Which raises questions about the applicability of this requirement. Would analogous conflicts with the faith of others similarly disqualify them?

Say, for example, a script called for a male actor to be bareheaded, would an observant Jewish man be required to remove his yarmulke? If a script said that a female actor should be in a bikini, would a Muslim woman be required to dress that way? If an actor was asked to drink a beer for a scene, would a Seventh Day Adventist be expelled for failing to do so?

What if the script called for two actors, a man and a woman, to be in bed together, apparently disrobed, would a Southern Baptist actor be required to play that scene? Would an African-American actor be expelled for refusing to use racist language in a play?

Is an actor, or an acting student, allowed no right of conscience?

Must the valid interests and freedoms of the student be sublimated to the interests and control of the school? Does academic freedom apply only to the academy, does it no also apply to the scholar? Is there no freedom for the student?

Is there no freedom for the student's mind or conscience?

Of course there is. In fact, that is what academic freedom truly is.

Some students will not want to say the f-word, and some students will not want to say anything else. Some students will be very religious, and some students won't be religious at all.

But the university must be large enough -- and free enough -- to accommodate them all. It must not exclude anyone. It must not enforce an orthodoxy that kicks any student out of class.

This is ridiculous on philosophical grounds.

And on practical grounds. Because most of the greats of screen and stage have never used the f-word or the expletive "Jesus Christ" in their work. It is not a requirement of the dramatic trade, or of a dramatic education.

Rather, it is likely the University of Utah drama department is engaged in an act of bigotry. But like all bigots, it seeks to hide its evil behind a nobler cause or title.

Like "academic freedom."

Hopefully the 10th Circuit Court of Appeals won't fall for it.

And the First Amendment will be returned to the college classroom.

By Bob Lonsberry © 2002