Carmen Rasmusen, from "American Idol" finalist to movie star

Carmen Rasmusen rose to fame as a 16-year-old competitor on the 2nd top-rated season of the FOX network reality TV show singing commpetition "American Idol." From the beginning of her involvement on the show, Carmen was open and enthusiastic about membership in the Church of Jesus Christ of Latter-day Saints. Her modest attire and bright personality made her stand out among many of the other competitors on the show.
Since placing 6th place on one of the most watched TV shows in American history, Carmen has gone on to attend college at Brigham Young University, and has also continued her music career. From the beginning of her time in the spotlight, she has expressed a desire to act.
Carmen made her film debut in an extended cameo role (which earned her 12th billing on the official movie poster) in "Pride and Prejudice" (2003), the Latter-day Saint-themed contemporary retelling of Jane Austen's classic book. The movie was released not long after Carmen's starring role on "American Idol" and her subsequent national tour with the "American Idol" finalists. Although the film's lead roles were cast with fine actors from the United States and United Kingdom, Carmen Rasmusen was actually the best known cast member, despite the fact that she was completely new to film acting.
In "Pride and Prejudice," Carmen played the part of "Charlotte Lucas," one of lead character Elizabeth Bennet's best friends. Carmen's character visits a bookstore in which Elizabeth works, and buys a dating advice book while there. More importantly, Carmen is the singer featured at a ritzy party with a live band and singing performance. Carmen's role in the film was used by the filmmakers to attract the scores of extras to work long hours for no pay to create the party scene.
In "Pride and Prejudice" Carmen Rasmusen co-starred with Kam Heskin, Orlando Seale, Ben Gourley, Lucila Sola, Henry Maguire, Kelly Stables, Nicole Hamilton, Rainy Kerwin, Kara Holden, Hubbel Palmer, Honor Bliss and Jared Hess. With the subsequent release of the hit comedy "Napoleon Dynamite," its director Jared Hess would gain name recognition perhaps rivalling that of Carmen Rasmusen. But at the time "Pride and Prejudice" was released, she was by far more famous and more recognizable than Hess. The movie was directed by Scottish Latter-day Saint filmmaker Andrew Black.
Carmen Rasmusen's next film role was in the family comedy "Down and Derby" (2005), directed by Eric Hendershot. Carmen had a smaller role, as "Marilyn." She co-starred with a number of veteran Hollywood actors plus some Utah actors. The cast included Greg Germann, Lauren Holly, Pat Morita, Hunter Tylo, Robert Costanzo, Perry Anzilotti, Deborah Ashton, Ross Brockley, Marc Raymond, Adam Hicks, Carmen Rasmusen, Tammy Lier, Sandy Hackett, Joey Miyashima and Scott Christopher.
It is interesting to note that Carmen Rasmusen did not appear in the feature film "A Cinderella Story" (2004). This movie, which starred popular Disney Channel teen star and actress Hilary Duff in the title role, was announced at about the same time that Carmen Rasmusen was at the height of her fame during her season on "American Idol." Somehow Carmen Rasmusen became rumored to be in the film's cast, even in the lead role. It may be that an overly-enthusiastic Carmen Rasmusen fan simply entered submitted her name as a cast member for this film when its database entry was still in the formative stages on the immensely important website IMDb.com. It's entirely possible that there was never any real plans for Carmen to be in this movie. But a number of entertainment websites picked up the story of Carmen's possible involvement. A book published by the national educational/children's market publisher Scholastic even published a glossy Hilary Duff scrapbook which stated that Carmen Rasmusen would be starring with Hilary in the movie.
The following is an excerpt from: Hangin' With Hilary Duff, written by Jo Hurley, design by Louise Bova. First printing: October 2003. Published by Scholastic, Inc., New York City, page 23:
a cinderella story
someday my prince will come . . .
So, will Hil's prince every really come? THIS may be the movie. Set in Southern California's San Fernando Valley, this is the story of how one nerd turns into the total babe. As everyone knows -- that isn't easy. But if anyone can tackle the task, it's Hilary Duff!

A Cinderella Story costars Shane West (from A Walk to Remember), Rupert Grint (Ron from the Harry Potter movies), and Carmen Rasmussen, a former contestant on 2003's American Idol show.
[Note that Carmen's surname is misspelled in this passage, as it often has been, with three S's, instead of two.]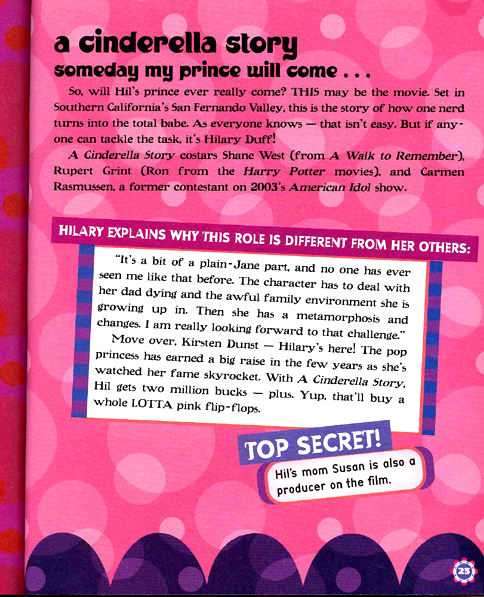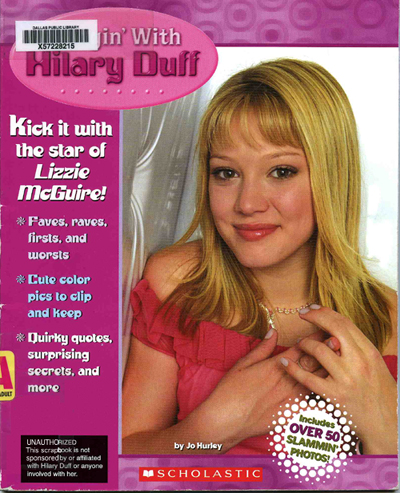 ---
Webpage created 16 April 2005. Last modified 16 April 2005.