A romantic comedy marking
the feature directorial debut of
Tucker T. Dansie

Love Logs On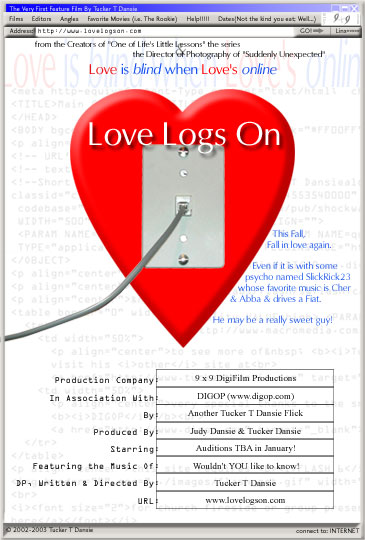 Related Links
PRESS RELEASE:
Dansie Announces "Love Logs On"
31 December 2002 - Tucker T. Dansie announced he will soon begin work on his first feature film as a director, a romantic comedy titled "Love Logs On." The Salt Lake City-based Latter-day Saint film director previously made the documentary "Colors: Up Close & Personal" (1999, available on video at Desert Book stores), as well as many short films, and was the Director of Photography for the upcoming missionary comedy "Suddenly Unexpected."

Dansie's press release follows:
FOR IMMEDIATE RELEASE:

CONTACT: TUCKER T DANSIE
http://www.lovelogson.com

LOVE LOGS ON - Dansie's 1st Feature Length Film

Murray, UT, December 31, 2002 - On the Eve of the New Year, acclaimed short filmmaker Tucker T Dansie reveals his long awaited new project. His eagerly anticipated 1st stab at a feature length film. With a brand new script that he has been working on for over 3 months, and a filmmaking style that he's been developing for a lifetime, "Love Logs On" is sure to bring something new and exciting to the table of the local film scene in Utah.

Though not necessarily a "LDS-film" Dansie says "Love Logs On is about 'local' things and local culture and so there is a lot of humor that is about LDS things and LDS culture. Even the characters, although we never come out and say it, are most likely LDS. I just don't find it necessary to sit and talk about religion."

Not only is it Dansie's 1st feature, it is also another 1st for him. The 1st time he's ever had a FEMALE lead character. Most of his shorts had a male lead, but this time he opted for someone more "interesting". "I found a female character to be more emotionally interesting, she could be all over the board. And ultimately the female characters are much more intelligent then the males... sorry guys. Plus, I'm very excited to work with the female talent we have in the state." Says Dansie, who got to audition many of that talent for his short film "Two Dimes & a Nickel" Auditions, not yet announced, will be held sometime in January, stay tuned.

Dansie, who recently finished a gig as Director of Photography on the film "Suddenly Unexpected", where he shot digitally and will transfer to 35mm, will also be his own Director of Photography on "Love Logs On" as well as the Writer, Director and Producer. He will team up with Judy Dansie again who will co-produce this massive project. She was producer on "Two Dimes & A Nickel" (and his mom!).

Those interested in camera, digital sound, continuity/script supervising, non-linear edit assisting or other crew positions please visit the website for information on helping out. All positions are non-pay/non-union and we WILL work around YOUR schedule.

The website is http://www.lovelogson.com this is the official site where updates will be posted constantly as the project progresses.

Also, please join the mailing list (at the website) to keep up on the up-to-the-minute details.
The official "Love Logs On" webpage links to a page on Dansie's website (http://www.tuckertdansie.com/lovelogson/story.htm) featuring the following plot synopsis:
Love Logs On

Jen is a simple girl, a simple girl in love with her boyfriend Jake, or I guess I better get it right "Jakie-Wakie". And this is going to be the perfect night, this may be the night that he asks her to marry him. He takes her to the most perfect place (right outside the temple) and then...gives her the ol' heave hoe...Jen's heart is broken. And for what? Ol' Jakie Wakie has found someone else...over the internet. That's right, he's been cheating on her, on-line.

Well, Jen is heartbroken and can't quite get out of bed and forget about him for a good 9 months or so. And then she gets word that Jake has broken up with his girlfriend. Well, to Jen this is a sign that it's about time she joins in on the on-line fun and gets her boy back. But it isn't quite as easy as she thought it would be. And Jen ends up finding many others, everyone EXCEPT Jake!!! And one of those guys she finds, is worth "Logging On" for.
The official "Love Logs On" website
31 December 2002 - The mock-up movie poster that dominates the homepage of the official website is made to look like a computer screen browsing a website. The title bar of the "window" reads "The Very First Feature Film By Tucker T. Dansie."

Like any typical computer window, the poster features a menu bar with the following "options":
Films
Editors
Angles
Favorite Movies (i.e., the Rookie)
Help!!!!!
Dates (Not the kind you eat. Well...)
Below the menu bar is a web address bar set to the following URL: "http://www.lovelogson.com", which is, of course, the website's actual URL.
Then there is the content of the "web page" being looked at in the faux browser. At the top of the page are the words:
from the Creators of "One of Life's Little Lessons" the series
the Director of Photography of "Suddenly Unexpected"

Love is blind when Love's online

Love Logs On

This Fall
Fall in love again.

Even if it is with some
psycho named SlickRick23
whose favorite music is Cher
& Abba & drives a Fiat.

He may be a really sweet guy!



| | |
| --- | --- |
| Production Company: | 9 x 9 DigiFilm Productions |
| In Association With: | DIGOP (www.digop.com) |
| By: | Another Tucker T Dansie Flick |
| Produced By: | Judy Dansie & Tucker Dansie |
| Starring: | Auditions TBA in January! |
| Featuring the Music Of: | Wouldn't YOU like to know! |
| DP, Written & Directed By: | Tucker T Dansie |
| URL: | www.lovelogson.com |
The movie's title "Love Logs On" appears in white lettering above a clever graphic of a red Valentine's heart with a phone jack on top of it, and a telephone cable connected to the jack. The jack signifies an online connection of a computer connected via modem to the Internet.
This mock-up movie poster is the only thing on the home page for the website other than the following links and notes:
click here to read the story of "Love Logs On"

up-to-the-minute updates: join our mailing list...
click here

Think you wanna be on the crew?
My crew will run on a totally different philosophy then most films, write me and we will discuss. tucker@digop.com