- Page 5 -
Latter-day Saint (Mormon/LDS)
Characters and References
on TV Series
This page lists Latter-day Saint characters (Mormon characters) and references to Latter-day Saints that have appeared in ongoing TV series (regular television series, or "serials").

Made-for-TV movies and miniseries with Latter-day Saint characters and references are listed on other pages.

The focus of this page is on fictional TV series. Identifying the countless references to Latter-day Saints from news programs is outside the scope of this page, but significant LDS-related references and stories from "news magazine" programs such as "60 Minutes" may be included here.

This is very incomplete list. The databases with Latter-day Saint characters in film is fairly advanced, but work cataloguing TV references was only recently begun. Entries below are listed alphabetically, by name of the television series.
---
Beavis and Butt-head
Butt-head: "It's Mormons, . Those are those dudes who come up to your house on their bicycles."
---
Big Love
HBO series about fundamentalist polygamist characters living in Salt Lake City, Utah. The pilot episode (2005) shows teenaged members of the mainstream Church of Jesus Christ of Latter-day Saints discussing Church with the daughter of the series' main character - a polygamist Salt Lake business owner. Although the polygamist's daughter is not part of the mainstream Church, she is very familar with Church culture and lingo, and has obviously attended LDS Church meetings in the past.
---
The Big Valley
3/10/1969. "A Passage of Saints"
Jarrod rents a farm to a Mormon man and his two wives, who have wandered the West since being expelled from Utah when polygamy was outlawed.
---
Cheers
Episode: "Call Me Irresponsible"
"Oh, why can't more men send flowers?"
"I didn't know Mormons couldn't send flowers."
"I said more men, not Mormons."
"I know they can't dance."
"No, Sammy, that's the-- that's the Amish."
"Why can't Mormons send flowers?
"They can."
"Then what's the problem?"
"I wish someone would send me some Roses."
"Why does it have to be a Mormon?"
"Some people you just can't discuss religion with."
---
The Drew Carey Show
Mimi Bobeck: I protect home plate, like a Mormon girl on prom night.
Drew Carey: If Mormon girls looked like you, they wouldn't need protection.
---
Frasier
Frasier decides to get rid of his unscrupulous agent, and he hires another agent. He later learns this new agent is unbelievably ethical and nice. The agent is a Latter-day Saint. But the new agents' unending goodness drives nuts, so Frasier fires him and re-hires his old agent.
---
Friends
Rachel is pregnant, but doesn't want her date to know. She considers what excuse to use for when she refuses to drink alcohol. "I'm a recovering alcoholic or I'm a Mormon." She chooses to claim she's a Mormon.
---
Here Comes the Brides
Actor Peter Jason guest-starred as a Mormon named "Adam Wilson" in a Mormon-themed episode of the comedy Western series "Here Comes the Brides." He starred in episode 19, titled "One To a Customer," which first aired 19 February 1969. Among the more than 80 films Peter Jason has appeared in are: Kicking & Screaming (2005); Adaptation (2002); Seabiscuit (2003); The Karate Kid (1984); Dante's Peak (1997); Mortal Kombat (1995); 48 Hrs. (1982); Arachnophobia (1990); Congo (1995); Escape from L.A. (1996); Ghosts of Mars (2001); Red Heat (1988); Brewster's Millions (1985).
The TV series "Here Comes the Brides" aired on ABC for 2 seasons from 1968 to 1970. There were a total of 52 hour-long episodes. The series centered on the Bolt brothers, who, in order to avoid losing their logging crew, bring 100 prospective brides from Massachusetts to Seattle. Directors for the series were Bob Claver, Irving J. Moore and E.W. Swackhamer. Writers include Larry Brody, Jo Heims, N. Richard Nash, John O'Dea, Jay Simms and Skip Webster. The series starred Robert Brown, Bobby Sherman, David Soul, Bridget Hanley, Mark Lenard, Bo Svenson, Susan Tolsky, Henry Beckman, Mitzi Hoag, Hoke Howell, Joan Blondell, Eric Chase and Patti Cohoon. Perry Como sang the series' theme song "Seattle."
Episode 19, "One To A Customer," was written by John McGreevey and directed by Jerry Bernstein. John McGreevey later wrote the NBC TV movie "Sergeant Matlovich Vs. the U.S. Air Force" (1978), about Latter-day Saint Air Force sergeant Leonard Matlovich, and the TV movie "Unabomber: The True Story" (1996), a movie filmed in and set in Utah, where many of serial bomber Theodore Kaczynski's victims (including Latter-day Saints) lived. McGreevey also wrote for the TV sitcom "Hazel" (1961-1966), which starred Latter-day Saint actor Bobby Buntrock.
Description from TVTome.com (http://www.tvtome.com/tvtome/servlet/EpisodeGuideSummary/showid-1200/season-all):
Adam Wilson, a Mormon, arrives in Seattle hoping to find several women to make his brides. He informs Jason of his plan and Jason says to go ahead but that none of the brides are Mormons and he doubts that any of them would want to share a husband. He introduces himself to Candy, Biddie, Anne, and Amanda and asks them to help him get settled by cooking and cleaning for him. They agree not knowing that his ulterior motive is to woo them. They go out walking with him and one of the lumber jacks goes running back to the camp to let their boyfriends know. Jeremy is out of town and Josh can't believe Candy would cheat on him. The loggers confront their women about being squired around town by a Mormon and they tell them they didn't know that he was one. The loggers have a good laugh about the women being taken in by Adam Wilson and the women get angry at being made fun of. They decide to pretend that they are interested in Adam and actually go so far as to go to him farmhouse to help him fix it up. Once they arrive at his home they make his life miserable by arguing and complaining all the time. Things really get out of hand when Jeremy shows up to find Candy and the other girls in their night clothes in Adam's bedroom. Thanks to some quick thinking by Jason all's well that ends well in this funny episode.
Description from The Official Bobby Sherman Web Page, website of one of the lead actors from the series (http://www.bobbysherman.com/epi1420.htm):
Adam Wilson (Peter Jason), a young Mormon, has come to take five brides (including Candy and Biddie), but does not tell them the whole truth at first, as he is afraid he'll frighten them off. In a coy ploy designed to repay Adam for his deception, and to upset their distrustful men (except for Jeremy, who's out of town and is missing all this), four of them agree to go with him!! Jason is convinced that the women are merely playing a trick, and in turn convinces the men of this. In their pride, with Candy in the lead, they defy all the men, and the situation gets completely out of hand. After a long talk, Candy and Jason agree that, to put him off, Adam needs to see just how miserable he'd really be with four women under one roof! The fireworks REALLY start when Jeremy returns, only to discover his own Candy and three other brides in a strange man's bedroom and dressed in nightgowns! Jason's brilliant thinking, as usual, saves everything, in an ending that really keeps you guessing!
---
The King of Queens
Jan. 2005. Lead character "Doug Heffernan" (Kevin James) is rushing around trying to answer the demands of two perturbed women living in his home. At one point, rushing from one to the other, he mutters: "I don't know how the Mormons do it."
---
Law & Order: Special Victims Unit (a.k.a., "Law & Order: SVU", "L&O:SVU", "LO:SVU")
---
MadTV
---
Married... with Children
Gunther: "What a Mormon."
---
Navy NCIS
---
NYPD Blue
Det. Danny Sorenson (actor Rick Schroder): "Agent Frances, I'm proud to say I've got all of Donnie's albums, including Mormon Hymns To Federal Agents Who Steal Their Weekly Paychecks."
---
The Riordans
Philip O'Brien plays a "Mormon preacher" in a 1969 episode.
---
Roswell
An episode takes place in Utah. Maria: "Why can't these aliens ever get in trouble somewhere decent? Like Graceland or Tahoe or New Orleans. No, Utah. Mormons and mountains."
---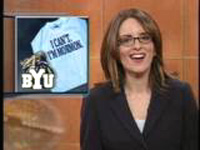 Saturday Night Live
February 2, 2002. Dan Akryoyd (guest-starring on the show after an absence of many years) and Will play two Latter-day Saint missionaries who attempt to proselytize Amerian skier Tiffany Lane (Amy), while she competes in the final round of the women's downhill.

Saturday Night Live
5 March 2005. SNL's "Weekend Update": Tina Fey: "The newest trend among students at Brigham young University are T-shirts that read 'I can't, I'm Mormon.' Which have been countered with T-shirts Reading, 'You will, I'm Kobe.' [ Audience ohs ] || "For 'Weekend Update,' I'm Amy poehler. || "I'm Tina Fey. Good night and have a Pleasant tomorrow."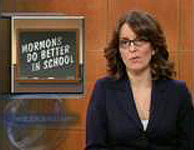 Saturday Night Live
19 March 2005. 52 minutes into the episode. SNL's "Weekend Update": Tina Fey: "According to a new study, Mormon teenagers fare better than regular teenagers when it comes to staying out of trouble and doing well in school. Although, you would too If you had eight moms yelling at you."

---
The Simpsons
When the aliens Kang and Kodos knock on the Simpson's door, Homer answers and says "Great. Mormons!" To which The aliens reply that they are "Quantum Presbyterians."

Another episode: Homer is on trail for fraud related to a company he won in a poker game. After saying something particularly ignorant, Homer's attorney says to him "You, sir, are a Moron!" Homer replys "A Mormon? But I'm from Earth!"
---
South Park
The episode in hell, in which everybody asks what the right religion was: The answer was "the Mormons."

There was an entire episode about Joseph Smith and the origins of the Church.

The was the Super Best Friends episode featured Joseph Smith as a superhero.
---
Third Watch
---
This Hour Has 22 Minutes (Canadian news spoof series)
J.B. Dixon: "Jackie Biskupski is running for a seat in the Utah Legislature, and she's attracting a lot of attention because she's a lesbian. Her Republican opponent, Dan Alderson, is a staunch Mormon, and is running a negative ad campaign calling her lifestyle abnormal and deviant. His six wives agree."
---
The West Wing
---
Who's the Boss?
Tony said he was not going to let his daughter Sam date until she was married. Mona (the grandmother) says that's what they do in Utah.
---
Webpage created 7 February 2005. Last modified 4 April 2005.