Return to Director Profiles


Alisa Anglesey
film director
Filmography: Director
Other Links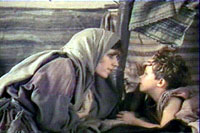 Elijah and the Widow of Zarephath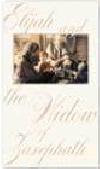 "Elijah and the Widow of Zarephath" video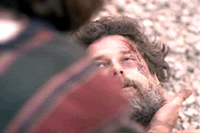 The Good Samaritan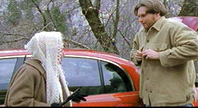 In Time of Need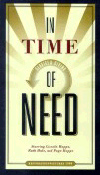 "In Time of Need" video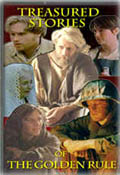 "Treasured Stories of the Golden Rule" video
contains "Elijah and the Widow of Zarephath"
and "In Time of Need"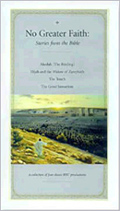 "No Greater Faith: Stories From the Bible" video
contains "Elijah and the Widow of Zarephath"
and "The Good Samaritan"


Alisa Anglesey is an award-winning writer and director of short films. Her films, which feature deeply ethical and spiritual stories, can be seen on a number of videos.

As a film student, Alisa Anglesey wrote, produced and directed "Elijah and the Widow of Zarephath" in 1996 while at Brigham Young University. The story is taken directly from 1 Kings, chapter 17 in the Old Testament, in which the prophet Elijah meets a poor widow and asks her to bring him some water and prepare him some bread. Although technically a student film, the high production values and sumptuous, authentic costuming and sets make the film seem like professional work from a major studio.

"Elijah and the Widow of Zarephath" was the first starring film role for actress Carrie Morgan, who later starred as "Peg," the female lead in Richard Dutcher's "Brigham City."

Anglesey next made "The Good Samaritan," a 12-minute adaptation of the famous New Testament parable. Funding came from a variety of sources, including Catholic Community Services and Deseret Industries. "The Good Samaritan" was screened at the 1999 Slamdance Film Festival in Park City, Utah.

In 1998 Anglesey won two CINE Awards: for "Elijah and the Widow of Zarephath" and for "The Good Samaritan." CINE recognizes the highest quality non-theatrical film and video productions throughout the country, awarding Golden Eagles to select films chosen from over one thousand entrants annually.

In 1998 Anglesey made "In Time of Need," a short contemporary film starring the famous Ruth Hale, matriarch of the Hale acting dynasty and founder of the Hale Center Theaters in California and Utah. Lincoln Hoppe ("The Last Good War", "Singles Ward") co-stars as a construction worker who loses his job, and then stops to help an old woman (Hale) change a flat tire.

At least two compilation videotapes available online, and in Latter-day Saint and general Christian bookstores, contain feature films by Alisa Anglesey. The 1999 BYU-produced video "No Greater Faith: Stories From the Bible" includes "Elijah and the Widow of Zarephath" and "The Good Samaritan", as well as two other short films by other filmmakers: Karl Bowman's "Akedah: The Binding" (about Abraham) and Adam Anderegg's "The Touch."

Two Anglesey films can also be found on "Treasured Stories of the Golden Rule", a compilation video from Candlelight Media: "Elijah and the Widow of Zarephath" and "In Time of Need." The video also contains Ryan Little's award-winning "The Last Good War."

"Elijah and the Widow of Zarephath", "In Time of Need" and "The Good Samartian" have also been available by themselves as videos.
---
ARTICLE: Film extras weigh the benefits and drawbacks
By: Brittany Brough
Date: 27 February 2002
Source: Daily Universe / BYU NewsNet
URL: http://newsnet.byu.edu/story/37167

Being in a movie intrigues almost everyone. However, people might lose their excitement after being extras in a film production.

The role of an extra is not an extravagant one. More than anything, it involves waiting.

But Alisa Anglesey, a casting specialist for the Church of Jesus Christ of Latter-day Saints, said extras are essential for making a scene believable.

"A busy city street, no matter how well it was dressed, wouldn't be believable if not for the dozens, or hundreds, of extras filling it," Anglesey said.

Filmmaker Erick Johnston, 26, said extras make a scene more real than just having the main cast on set.

"They bring the set to life," Johnston said.

As exciting a purpose as that may sound, the hours are long for extras.

Anglesey, said the work is uncomfortable, either because of extreme weather conditions, hard chairs, long days or too much waiting. However, Anglesey said extras read and study on set quite a bit.

Extras often need to arrive early in the morning, sometimes as early as 5 a.m. Once they arrive, an assistant director meets them and takes them to wardrobe and makeup. The next step is to start waiting in a specified holding area, Anglesey said.

Eventually, an assistant director or production assistant will come and gather some of the extras and place them in a scene. But after that excitement, it's back to the holding area to wait some more, she said.

The perk for these die-hard movie buffs is the food, called craft services.

Anglesey said the snacks range from semi-decent to downright insulting. Lunch comes six hours after the general call time, but with an early call time like 5 a.m., lunch may be closer to eight hours after extras arrive.

Another perk is the chance to "act," but even then, footage may be edited out later, she said.

Anglesey recounted one rare story of a woman who was an extra but got cast as a female lead.

The actress hired for one of the scenes gave a flat performance, ruining the scene. The director stepped off for a moment and started looking around.

One of the girls who came as an unpaid volunteer extra was near the set, just near enough to show she was interested in what was going on.

"The director began a conversation with her," Anglesey said. "She was studying acting at BYU and just came out to the set for a little film experience. The director auditioned her on the spot and re-shot the scene with her in it."

The actress did a fantastic job and saved the scene and shooting day, Anglesey said.

However, that was only one experience Anglesey witnessed of an extra being cast as an actress.

James Logan III, 22, a sophomore from Orem, majoring in computer science, was an extra on "Touched by an Angel" and "Promised Land."

Logan said he wouldn't do it again, but the experience was worth it.

Logan was given a new wardrobe and food once he arrived on set. After that, all he had to do was listen to instructions and do what he was told, he said.

"It wasn't too hectic. I wasn't really working," Logan said.

Logan said being an extra was dull and got old quickly. But he did get paid.

Johnston said half of the time extras are volunteers, but the other times they will get paid. The amount often depends on the number of extras and the show's budget.

Johnston recommends being an extra to become oriented with film sets.

"It doesn't make you an actor though," Johnston said. "But it gets you acquainted with how sets work."

Johnston worked as an extra once on "Touched by an Angel." He said he arrived several hours before the general crew did, and was herded with other extras to film early in the morning when the light was perfect outside.

But after that, Johnston ended up waiting most of that day. He said he ended up being on set for filming for less than 45 minutes. The working day lasted 13 hours.

Since then, Johnston has worked on a variety of film productions in several different positions, even as a producer. For those with dreams of filmmaking, work as extras may be a good introduction.

Anglesey said anyone can be an extra if they want to be. Both Johnston and Anglesey recommended those interested in working as an extra call the Utah Film Commission hotline, which lists contact information for productions taking place in Utah. The number is (801) 741-4550.
---
Web page created 27 December 2001. Last modified 28 February 2002.