Return to Director Profiles



Blair Treu
Award-Winning Feature Film Director
Feature-length Films Directed by Blair Treu:
Television Series Directed by Blair Treu:
"Chicken Soup for the Soul" (1999)
"Power Rangers Lost Galaxy" (1999)
"Power Rangers In Space" (1998)
"Power Rangers Turbo" (1997)



Links:


Blair Treu's films are characterized by a distinctive passion and charm that have earned this director critical praise and numerous awards.

Treu graduated from Brigham Young University in 1985 with a Bachelors of Fine Arts degree in theater. While at BYU, Treu won multiple Final Cut awards at the university's prestigious student film festival. According to the university's theater department alumni magazine, Audience, Treu "then went to work for the late Frank Wells, president of The Walt Disney Company. After leaving Disney, Blair directed dozens of award-winning short films." Treu's work at this time included industrial video, such as a project for Rocky Mountain Helicopters, based in Provo.

In November 2001, Treu was a featured guest at the 1st International Young LDS Film Festival in Provo. As a keynote speaker he presented an address titled "From BYU to Hollywood: Experiences of an LDS Feature Filmmaker."

Much of Treu's work has been directing the most challenging genre in Hollywood: family films and programming for young people. Treu has a knack for creating films that everyone can enjoy, without feeling that their intelligence is being insulted, their time wasted, or their sense of human decency assaulted. And they are genuinely funny, touching and entertaining films, as well.

---

Treu's feature film debut as a director was Leucadia's Just Like Dad (1995). Shot entirely in Salt Lake City, this direct-to-video film was written by Wayne Allan Rice, who also wrote Only You and Suicide Kings, and produced The Paper Brigade; Lost & Found and Dude, Where's My Car?, among other projects. Ben Diskin (Kindergarten Cop, "Hey, Arnold!") stars as "Charlie," a boy embarrased by his somewhat nebbish father. Charlie's sympathetic dad is played by Wallace Shawn ("Grand Nagus Zek" from "Star Trek: Deep Space Nine", and a character actor from dozens of films, including The Curse of the Jade Scorpion, Toy Story, All Dogs Go to Heaven 2 and The Princess Bride). Other cast members include Jarrett Lennon, Laura Innes, Frank Gerrish ("Ralph" in Brigham City), Michael Flynn, Duane Stephens, Christy Summerhays, Elisabeth Lund and Nick Murdock.

When Charlie meets Joe, a handsome, athletic and kind man without kids, he somehow convinces Joe to "stand in" for his father at a school picnic. Everything goes as planned at the picnic, but as Charlie attempts to extend this scheme, complications occur. Charlie ends up realizing there is nobody he admires more than his own plain-seeming but very admirable father.

In 1995, Treu won the coveted Crystal Heart Award at the Heartland Film Festival for Just Like Dad. Held yearly in Indianapolis, Indiana, the festival "was founded in 1991 to positively effect change in the film industry, awarding cash prizes and the Crystal Heart Award to independent filmmakers whose entries best combine production and artistic quality while meeting the Festival's statement of purpose: 'to recognize and honor filmmakers whose work explores the human journey by artistically expressing hope and respect for the positive values of life.' "

---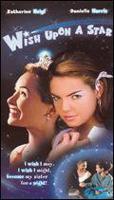 In 1996, Treu's next film was also for Leucadia: Wish Upon a Star. This film was also shot in Salt Lake (in West Valley). This is a light-hearted family comedy. The lead characters are Alexia and Hayley, two sisters who seem to have little in common and rarely get along. Alexia is a fashion-driven airhead while Hayley is into science, math, and could be considered a nerd. One night Hayley sees a comet, and on a whim she wishes she could trade places with her sister. The next morning, her wish has come true and the expected hilarity ensues. It's not an original plot device, but it's done well here, and this is an enjoyable straight-to-video film.

Wish Upon a Star was written by Los Angeles writer and screenwriter Jessica Barondes. (Barondes also wrote Lucy, a young adult novel that is part of the "Sweet 16" book series.)

Wish Upon a Star stars Katherine Heigl (from "Roswell") and Danielle Harris (from "Roseanne") as the soul-switching sisters. M. Scott Wilkinson, in one of his biggest film roles, plays their father. Other cast members include Ivey Lloyd, Charles Metten, and Jacque Gray ("Sister Fronk" from God's Army).

In 1997, Treu received his second Crystal Heart Award for Wish Upon a Star.

Wish Upon a Star has been released on DVD and includes a commentary track by Blair Treu and the screenwriter. (Because it includes a commentary track, this may be the best item to check out for people who are particularly interested in this director's work and his insights.)

---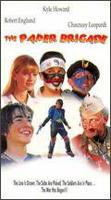 Treu directed a third feature film for Leucadia in Salt Lake City: The Paper Brigade (1996). Written by Denice K. Rice, the film stars Kyle Howard as "Gunther Wheeler," a tough 14-year-old from New York City who finds himself an unhappy "fish out of water" when his family moves to the small town of Pleasant Valley. Things start looking up when he meets and is smitten by a beautiful local girl named Allison (Kylee Cochran). In order to impress her he decides to take her to a rock concert, but in order to do that, he has to earn money for the tickets. So he takes on a temporary job as a substitute paper boy. Michael Flynn (The Testaments of One Fold and One Shepherd) and Suzanne Barnes play Gunther's parents. Other cast members include Frank Gerrish, Mikey Peterson, Ethan Glazer, and Matthew Ness.

---

For about three years between 1997 and 1999 Treu worked in Southern California as a television director. He primarily worked on episodes of "Power Rangers," the Saban Entertainment science fiction action series import from Japan. "Power Rangers Turbo" (1997), "Power Rangers In Space" (1998) and "Power Rangers Lost Galaxy" (1999) are yearly incarnations of essentially the same kids-oriented TV series. Most of the "Power Rangers" episodes that Treu directed were written by Judd Lynn.

An example of Treu's "Power Rangers" work can be found in the 90-minute video movie "Power Rangers: Lost Galaxy: The Return of the Magna Defender." This direct-to-video film was a sort of sequel to the 1999 episode "Magna Defender", which first aired on April 3, 1999 and was directed by Koichi Sakamoto.

Synopsis: "The Rangers, onboard the space colony Terra Venture, must keep the powerful Lights of Orion out of the hands of the evil Scorpious, and must contend with the former hero Magna Defender, who may be friend or foe."

Episodes of "Power Rangers" directed by Blair Treu include:
| | | |
| --- | --- | --- |
| 225 | Stitch Witchery | 12 Sep. 97 |
| 226 | The Wheel Of Fate | 15 Sep. 97 |
| 228 | The Phantom Phenomenon | 17 Sep. 97 |
| 241 | The Song Of Confusion | 07 Nov. 97 |
| 242 | The Accident | 10 Nov. 97 |
| 243 | Cassie's Best Friend | 11 Nov. 97 |
| 254 | Shell Shocked (Part 2) | 27 Feb. 98 |
| 255 | Never Stop Searching | 6 Mar. 98 |
| 256 | Satellite Search | 13 Mar. 98 |
| 298 | Homesick | 6 Mar. 99 |
| 299 | The Lights Of Orion | 13 Mar. 99 |
| 300 | Double Duty | 20 Mar. 99 |
| 301 | The Blue Crush | 27 Mar. 99 |
| 304 | Silent Sleep | 17 Apr. 99 |
In 1999 Treu directed episodes of "Chicken Soup for the Soul", a PAX television series based on the immensely popular series of books created by Jack Canfield and Mark Victor Hansen.

---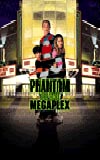 Treu's next feature length film was for the Disney Channel: Phantom of the Megaplex (2000). This film was written by screenwriter Stu Krieger, whose other credits include Disney's The Poof Point, two Don Bluth animated features -- A Troll in Central Park and The Land Before Time -- and other films. Grossbart/Barnett Productions produced the film in association with the Disney Channel.

According to a Disney press release, the plot of Phantom of the Megaplex "follows one night in the life of 16-year-old Peter Riley, a teen-ager proud of his job at the local 26-screen megaplex. Tonight, the monstrous theater will play host to its first premiere gala, and everything is perfect until a string of peculiar occurrences awakens the myth of the Phantom. Peter finds himself in the middle of the melee, eventually unmasking the marauder and returning the theater to normal."

Veteran actor Mickey Rooney is the film's best known cast member, but he is surrounded by other talented actors. Under Treu's direction, three of the movie's young cast members were nominated for Young Artist awards: Jacob Smith ("Best Performance in a TV Movie (Comedy or Drama) - Young Actor Age 10 or Under"), Taylor Handley ("Best Performance in a TV Movie (Comedy) - Leading Young Actor") and Caitlin Wachs ("Best Performance in a TV Movie (Comedy) - Supporting Young Actress").

---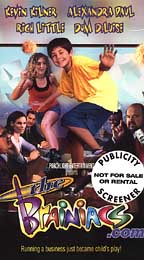 Treu made another film shown on the Disney Channel: The Brainiacs.com (2000). This one was produced by PorchLight Entertainment, which produces the "Adventures from the Book of Virtues" television series. The plot has Michael Angarano's young character using his considerable intellect and the Internet to purchase his dad's toy company. Other cast members include Kevin Kilner, Alexandra Paul, Rich Little, Dom DeLuise, and Florence Stanley.

---

In 2001 Treu won a third Crystal Heart Award for his dramatic feature film Secret Keeper. Renamed Little Secrets, this movie was subsequently released theatrically nationwide by Samuel Goldwyn Pictures/Columbia TriStar in August 2002. The screenplay for this film was written by Jessica Barondes, the writer of Treu's Wish Upon a Star.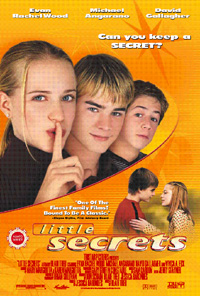 Little Secrets also marks yet another collaboration between Treu and cinematographer Brian Sullivan. Their previous pictures together include Just Like Dad, Wish Upon a Star and The Paper Brigade.
Little Secrets was produced by Leucadia's Don Schain. It stars Evan Rachel Wood (Simone), Michael Angarano ("Chance Arno" on the Utah-filmed TV series "Cover Me"), and David Gallagher ("Simon Camden" on the "7th Heaven" TV series). Other cast members include Vivica A. Fox (Two Can Play That Game), Rick Macy (Brigham City; Testaments), Paul Kiernan, Tayva Patch (Brigham City; Testaments), Caitlin Meyer, Haley McCormick (No More Baths), RuDee Lipscomb, and Erica Angarano.
Although the squeaky clean family-oriented subject matter in "Little Secrets" is often dismissed by critics, "Little Secrets" was a critical success when it opened in limited nationwide release on 23 August 2002. The New York Times and Los Angeles Times were among the many newspapers who gave it positive reviews. A number of critics felt the movie was too wholesome -- even unrealistically so. But many cited "Little Secrets" as a breath of fresh air. A number of critics found that "Little Secrets" was "escapist", rather than simply "unrealistic." The Dallas Morning News called it "more of a suburban fantasy than real-world slice-of-life." Many pointed out that child-centered subject material such as this is difficult to make into a good film, but critics almost universally pointed to the excellent performances and Treu's skillful direction as reasons why the movie was surprisingly enjoyable. Interestingly enough, "Little Secrets" star Evan Rachel Wood also had a supporting role in "Simone," a movie starring Academy Award-winner Al Pacino, which opened the same day as "Little Secrets." "Simone" is an accomplished, interesting movie. But despite the fact that "Simone" had bigger names and a much bigger budget, many major critics gave higher marks to "Little Secrets." The nation's most prominent film critic, Roger Ebert, gave 3 stars to "Little Secrets" ("because it contains absolutely nothing to object to"), and 2 to "Simone."
---
BYU filmmaker brings 'Little Secrets' out in open
By: Eric D. Snider
Date: 25 August 2002
Source: Daily Herald (Utah County)
URL: http://www.harktheherald.com/article.php?sid=57766&mode=thread&order=0

OREM -- Brigham Young University graduate and filmmaker Blair Treu recognizes that "crusade" is a strong word. But he can't think what else to call it.

"I'm kind of on a crusade. I've always felt strongly about making movies that are safe for kids," said the 42-year-old director, whose "Little Secrets" opens today in most major markets across the country. "I have four kids, and most of the films I've made are really for them."

He said his children, ages 9 to 13, served as sounding boards for "Little Secrets."

"I bounced a lot of ideas off them," he said. "And this thing scored really well with adults and grandparents, too. I tell people if you're a grandparent, and you take your grandkids to see one movie this year, it should be this one."

Promoting the film, which won rave reviews at last fall's family-friendly Heartland Film Festival, is Treu's current obsession. But he said his ultimate goal is bigger than that.

"It's more than just trying to promote this film; it's about trying to promote these kinds of films," he said, referring to G- or PG-rated movies without profanity, violence or sex. "It's not enough to stay away from the bad movies. If you want your vote to count, you have to support the good movies, too."

Treu, who lives in Orem with his wife, Cheryll, and their children, made his big-screen debut with "Wish upon a Star," released in 1996 in a handful of theaters primarily on the East Coast.

He went on to make films for the Disney Channel -- films such as "The Paper Brigade" and "Phantom of the Megaplex" that he describes as "soft."

"In the Disney Channel movies we've done, it's been really silly kids' fare, not a lot of content," he said. "With 'Little Secrets,' we're giving kids credit for having a brain to actually think and reason through a plot; there's an actual story here."

"Well," he added, "I guess audiences will be the judges of that."

The story in "Little Secrets" is of a young girl who serves as confidante to all the children in her neighborhood, while she harbors a secret herself. The film was shot in the spring of 2001 in Salt Lake City.

"This is truly a Utah film," Treu said. "It was produced and directed by a Utahn (Treu himself), the director of photography was Brian Sullivan (a long-time Treu collaborator), it was edited by Jerry Stayner who lives here in Utah County, and (music) composed by Sam Cardon." Much of the acting talent is local, too, though not the four leads.

Treu is unsure which project he'll tackle next. "Eventually, I will be doing stuff that's a little more adult-driven, although I have no plans to do something approaching a hard-R rating," he said. "If I saw a script that was 'Saving Private Ryan'-caliber, I might have to rethink that."

But working for companies such as Disney gives him freedom because there is no pressure to appeal to an older audience, Treu says. "Nobody's going to be encouraging you to put more 'edge' or more language in," he said. "Maybe that's a cop-out, but I have a lot of years ahead of me. Plenty of time to make a more 'serious' movie."
---
Filmography primary source: Internet Movie Database.
Web page created 22 August 2001. Last modified 21 September 2002.