< Return to Latter-day Saint Characters in Movies
The signifcance of Utah in the
film noir classic
The Big Clock
"The Big Clock" (1948)
Directed by John Farrow
Screenplay by Jonathan Latimer
Based on the novel by Kenneth Fearing
Starring Ray Milland, Charles Laughton, Maureen O'Sullivan, George Macready, Rita Johnson, Frances Morris

PCA (Production Code Administration) Rating: Approved (#12438)


The Big Clock (1948) is a classic suspence film, often classified as film noir. The movie was one of 400 films on the nominee list for the American Film Institute's "100 Years 100 Thrills" list of the greatest thrillers in American film history. The AFI program was televised in June of 2001. The Big Clock was directed by John Farrow from a screenplay written by Jonathan Latimer, based on the same-titled novel by Kenneth Fearing. The novel and film were the basis for a 1987 remake directed by Roger Donaldson and starring Kevin Costner, Gene Hackman and Sean Young. The 1948 version is significantly more similar to the novel.

Oscar-winner Ray Milland plays George Stroud, an ace reporter for a New York City crime magazine who decides to take some scheduled vacation time to go on a long-postponed honeymoon, rather than follow the orders of his boss (played by Oscar-winner Charles Laughton) to go to Utah to work on an important story. Stroud's decision to not go to Utah is the key turning point that hurtles Stroud into a series of events which ultimately has Stroud investigating a murder, a murder for which he soon becomes the prime suspect. The film becomes a taut cat-and-mouse tale of suspence and intrigue, as Stroud attempts to elude police and his own employer, while at the same time trying to find evidence pointing to who really committed the murder.

Stroud never is able to leave on his honeymoon trip during the course of the movie. Had he simply gone to Utah, Stroud never would have become the suspect in a murder. Arguably, the movie may have been less interesting.

One is reminded of X-Files: Fight the Future, in which FBI special agent Dana Scully ends up in all kinds of trouble that she would have avoided by quickly moving to Utah where the FBI was re-assigning her, rather than going off on an unauthorized investigation with Fox Mulder. Had she simply gone to Utah perhaps the film's plot would have been more like Jack Weyland's Charly and less like Close Encounters of the Third Kind meets North by Northwest. Ah, the road not taken...

Interestingly enough, The Big Clock director John Farrow won the Best Adapted Screenplay Academy Award for Around the World in Eighty Days (1956), which as directed by Michael Anderson. Farrow's screenplay was based on the classic Jules Verne novel in which characters not only talk about Utah, they actually go there, after spending an entire chapter talking to a Latter-day Saint missionary about Church history and doctrine. Around the World in Eighty Days is the best-known film that Farrow worked on, but The Big Clock is probably Farrow's best and most-remembered film as a director.

George Stroud, played by actor Ray Milland, is the protagonist and lead character of "The Big Clock." Milland received the Best Actor in a Leading Role Academy Award for "The Lost Weekend" (1945). He also received Golden Globe, Cannes Film Festival and other awards for that role.

The film opens by showing Stroud in a darkened office building, trying to elude men clad in business suits who are attempting to find him. Then the scene flashes back to the beginning of the events that led to this harrowing predicament: Stroud's decision to take a scheduled vacation trip with his family rather than go to Utah in pursuit of a story, as his boss wants him to do. Had he only gone to Utah, all of troubles and tragedies he encounters in the film would have been avoided.

The Utah references in "The Big Clock" feature film were apparently created by the screenwriters. The film is a fairly faithful adaptation of the novel by Kenneth Fearing, but the novel contains no mention at all of Utah or Salt Lake City. I also could find no mention of the man known in the film only as "Fleming" - the person that George Stroud was supposed to go see in Utah.

One commonality between the novel and the film is central character George Stroud's generally positive nature and humanitarian outlook, demonstrated by his dialogue in the passage from the book:
"We can suggest a new approach to the whole problem of crime," I concluded. "Crime is no more inherent in society than diphtheria, horse-cards, or black magic. We are accustomed to thinking that crime will crease in some far-off Utopia. But the conditions for abolishing i are at hand--right now."
The following dialogue begins a few minutes into the second scene, as George Stroud exits the building's elevator onto the floor occupied by the offices for Crimeways magazine, where he is the managing editor:


GRACE/WOMAN AT DESK (Frances Morris): Hold it. Mr. Stroud, Salt Lake's on the line, and your wife's trying to reach you.

[The woman, later identified as "Grace," is apparently the receptionist for the Crimeways magazine. Grace is played by actress Frances Morris, who appeared in over 150 films, including "Again... Pioneers" (1950).]

GEORGE STROUD (Ray Milland): Put Salt Lake on.

GRACE/WOMAN AT DESK: But they're on.

STROUD: All right, fine.

[Stroud has walked through the front lobby of the Crimeways magazine offices, and continues walking into his own office, followed by a man who works there.]

MAN IN OFFICE: The conference. It's almost 11:00.

STROUD: Plenty of time.

MAN IN OFFICE: But Mr. Janoth--

STROUD: [picking up phone] Hello. Yeah?... Yeah, this is Stroud... Oh, hello, Max. How are you makin' out?

MAN IN OFFICE: George--

[The Man, apparently a secretary or assistant to Stroud, is trying to urge Stroud to go to a scheduled meeting with all of the managing editors for Janoth's publishing company.]

STROUD: [still on the phone, ignoring the Man] Ya have? Oh, wonderful! Where was he? What did I tell ya? Once a seashell man, always a seashell man.

[Stroud here is talking on the phone with one of his reporters, currently in Salt Lake City, Utah. The reporter has located a fugitive that the Crimeways magazine has been running stories on. The fugitive is now in Utah. The fugitive has apparently gone to Utah to obtain rare seashells.]

MAN IN OFFICE: They're waiting.

STROUD: Will he talk?... Well, pretend you're a fellow collector or something. Ask him if he was gonna spend the dough on oysters or blondes. Ha ha!... Yeah... Look, you've got an hour and 53 minutes to get the story... Attaboy, Max.

[Stroud hangs up the phone, and grabs his assistant (Man in office) by the shoulders, exclaiming to him excitedly.]

STROUD: We've just located Fleming.

MAN IN OFFICE: They're waiting for you.

[Stroud looks out his office door, addressing the receptionist:]

STROUD: Grace, call the composing room. Tell 'em to hold everything. We're gonna replate.

GRACE/WOMAN AT DESK: Yes, Mr. S--

STROUD: And get my wife.

GRACE/WOMAN AT DESK: Yes, Mr. Stroud.

MAN IN OFFICE: George, you're the only one not there. Mr. Janoth will be furious. Time is money.

[Earl Janoth, the owner of the Janoth media company, is Stroud's boss, and the principle antagonist of the film. Janoth is played by Charles Laughton. Laughton received the Best Actor in a Leading Role Academy Award for "The Private Life of Henry VIII" (1933), and was later nominated the same award for "Mutiny on the Bounty" (1935) and "Witness for the Prosecution" (1957).]

STROUD: Fleming is in Salt Lake. Milner's gonna wire us a story. Here's the background and proofs of the story you already had set up.

[Phone buzzes. Stroud picks it up.]

STROUD: [To Man in office] Go on, Roy. Go on.

MR. STROUD: [on phone] Hello?... Oh, hello, darling... Yeah... Huh?... No bath and no oatmeal? Let me talk to him.

[Cut to inside of the Stroud family's New York City apartment. A maid is helping Stroud's son pack. Mr. Stroud's wife Georgette Stroud is one the phone with him. Georgette is played by actress Maureen O'Sullivan, who appeared in more than 70 films before passing away in Scottsdale, Arizona in 1998.]

MRS. STROUD (Maureen O'Sullivan): All right, but he doesn't believe he's going. He thinks it's just like the last trip and the time before... and all the other trips we didn't go on... I'll let you talk to him. George, Daddy wants to talk to you.

GEORGE STROUD, JR.: Hello, Daddy. But I don't believe we're going.

MR. STROUD: But this is the McCoy, an expedition. Your mother's gonna do the cooking. What? Yeah, I know it's tough but you'll do the hunting. That's why you should eat your oatmeal, build up your strength. Ya better believe me. Look under my pillow.

[Little George Stroud, Jr., a boy about 6 years old, retrieves toy gun from under his father's pillow.]

GEORGE STROUD, JR.: Oh, boy! Look, Mommy! An atomic disintegrator!

[Sound of gun clicking and popping.]

MRS. STROUD: I think you've sold him, Wonderman. I'll let you know at lunch.

MR. STROUD: A little child psychology, dear. All right, dear, 12:30 at the Van Barth, huh? Bye, darling.

[The film the cuts to a board room inside the Janoth building, where a meeting is being held about increasing circulation. An executive announces the purpose of the meeting, after which Earl Janoth (played by Charles Laughton) enters. He is a formidable presence. The meeting proceeds for a few minutes, until Mr. Stroud enters, late. An assistant editor is answering Mr. Janoth's question about how he intends to increase circulation for Crimeways, when Mr. Janoth and later Stroud interrupts:]

ASSISTANT EDITOR: Well, uh, I have one suggestion that might be of value: a new feature to be called "Solution of the Week." The most important part... or the most unique solution, highlighting the fac that crime does not pay. It's educational...

EARL JANOTH (Charles Laughton): Primigenous, stale, a hash-up of last week's news -- exactly what we don't want.

[Stroud is sitting next to the assistant editor, who is currently standing explaining his idea. Stroud quietly speaks to the assistant editor:]

STROUD: Fleming.

[Mr. Janoth overhears Stroud's aside.]

JANOTH: What was that, uh, Stroud?

STROUD: I was reminding him of Fliming.

JANOTH: The absconder?

STROUD: Yes. His story will sell a hundred thousand extra copies next week.

JANOTH: If you mean his personal story, I'd agree... but haven't you overlooked the necessity of finding him first?

STROUD: We have.

JANOTH: Have what?

STROUD: Found him.

STROUD: We have him in Salt Lake. We're replating one and two. It's too late to touch the cover now, but we'll do what we did with the Eiseman [spelling?] story. Run a three inch paper band around every copy with "Fleming Found" in block letters.

JANOTH: Make them red. Steve, advertise this in the morning papers. Use the 25 key cities. Young man, you've stumbled on something -- perhaps not exactly what I've been looking for, but nonetheless valuable. You've struck 12:00.

STROUD: Thank you.

[End of scene.]


The next scene shows Stroud in the office of the company executive who had spoken at the circulation meeting. They discuss the importance of the Fleming story, and how the company needs Stroud to follow up on the story personally. Stroud protests, explaining that he is leaving that evening on a honeymoon trip with his wife and 5-year-old son. The executive asks how he can go on a honeymoon with a 5-year-old boy. Stroud explains that when he was living in West Virginia he tried going on his first honeymoon. It was just after he had written a major news story. The story brought him to the attention of Janoth, who called him, insisting that he come to New York to work for Crimeways immediately.

The conversation between Stroud and the executive is a generally amicable one, and the two men seem at ease with each other. But ultimately Stroud does not commit to doing what the executive asks of him (which is what Janoth wants Stroud to do). The executive explains that if he doesn't go to Utah to follow up on the story personally, he will be fired from his job. Stroud says he will not change his vacation plans, no matter what, and if that means losing his job, so be it. This scene does not mention Utah or Salt Lake City by name, although the men do mention Fleming by name.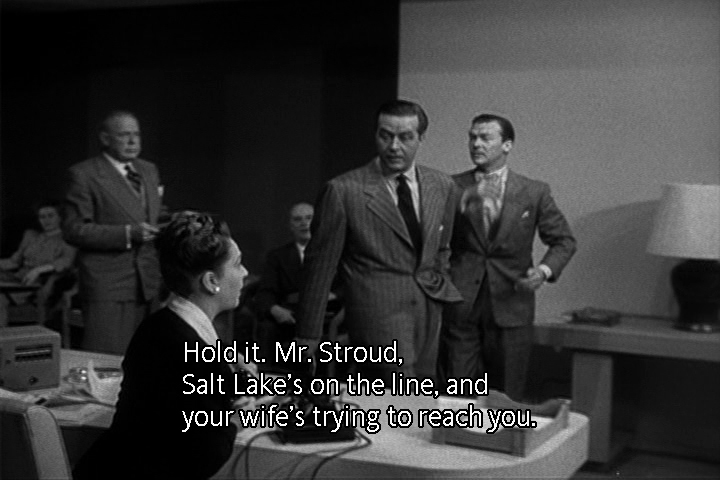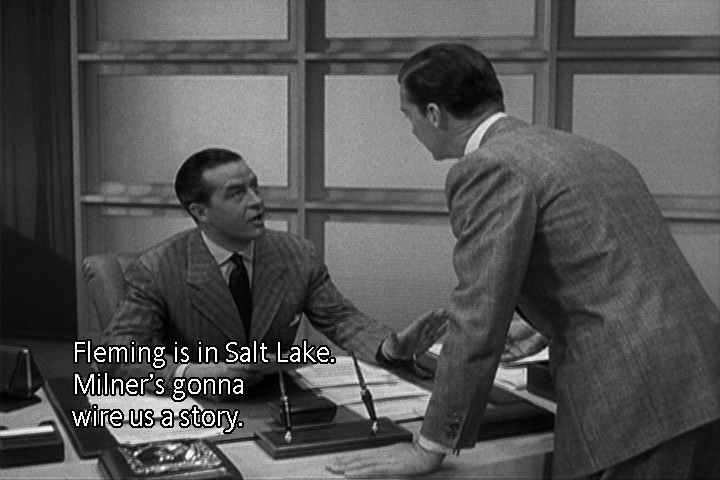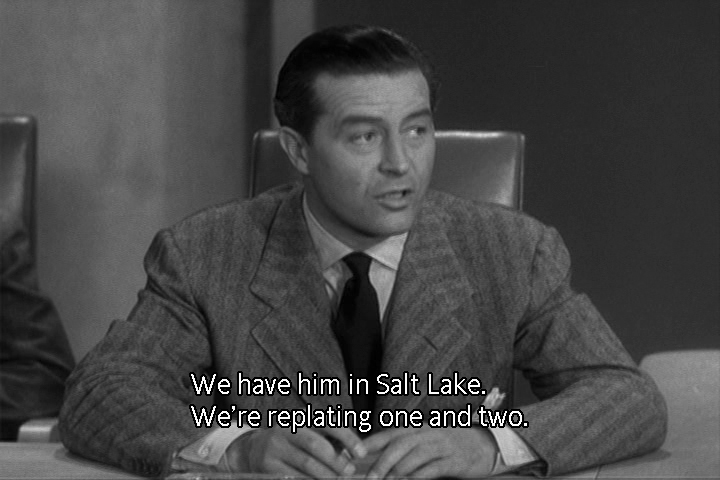 ---
More about Big Clock author Kenneth Fearing
The following brief biography of author Kenneth Fearing was published on the inside book jacket of The Big Clock (W.W. Norton & Company, Inc.: New York, 1968; first published 1946):
Kenneth Fearing was born in 1902 in Oak Park, Illinois, the son of a Chicago corporation lawyer. In 1924 he was graduated from the University of Wisconsin, where his literary career received its start after he won a fifty-dollar poetry prize.

As the author of six volumes of poetry, Mr. Fearing was regarded as a significant voice in twentieth-century American poetry, and during the thirties his talent brought him two Guggenheim fellowships. During the forties, however, Fearing was to attract a wider audience with fiction than with poetry. His novels, in the psycho-thriller genre, spoke for the metropolitan world, in a prose which Howard Haycraft has termed "lean, vernacular, and effective."

The most successful of these novels was The Big Clock (1946), which was made into a movie co-starring Ray Milland and Maureen O'Sullivan. It has since become a perennial favorite among late-late-show viewers. Mr. Fearing's other novels include The Dagger of the Mind (1941) and The Loneliest Girl in the World (1951).

Fearing, married twice, lived almost continuously in New York City until hs death in 1961.
---
Webpage created 14 August 2004. Last modified 11 April 2005.