< Return to Latter-day Saint Characters in Movies
A feature film about
Latter-day Saint characters and history:
Brigham Young: Frontiersman (1940)




"Brigham Young: Frontiersman" (1940)
Directed by Henry Hathaway
Screenplay by Louis Bromfield and Lamar Trotti
Starring Tyrone Power, Linda Darnell, Dean Jagger, Brian Donlevy, Jane Darwell, John Carradine, Mary Astor, Vincent Price, Jean Rogers, Ann E. Todd, Willard Robertson, Moroni Olsen, Marc Lawrence

U.S. Box Office: less than $2,700,000
Production budget: $2,700,000

NOTE: This movie has also been released with the shorter title, "Brigham Young."
Brother Brigham on the Silver Screen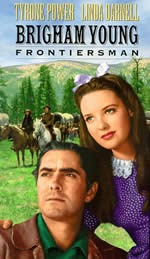 By: Davis Bitton
Date: 11 July 2002
Source: Meridian Magazine
URL: http://www.meridianmagazine.com/historybits/020711brigham.html

1940, a new movie was shown in Salt Lake City and then around the country. It was called Brigham Young, Frontiersman, and was considered one of the most important movies of the year. With few exceptions, reviewers praised it for its epic sweep and color as well as the acting and directing. I remember seeing it. I was impressed with an opening scene where the mob was burning the Mormons out of their homes. As one of the persecuted Saints was tied to a tree and beaten, he recited the words, "Blessed are ye when men shall revile you, and persecute you, and shall say all manner of evil against you falsely, for my sake."

As always, there was more to the appearance of this movie than most people were aware of. It started with a manuscript prepared by a writer named Eleanor Harris. She submitted her proposal which, at first, was turned down because of the sensitivity towards the issue of polygamy. As hard as it is for us to remember such old-fashioned concerns, the fact is that the Hays Office had a production code, and movies portraying such things as prostitution or adultery or polygamy were seldom approved.

Darryl F. Zanuck thought the idea of a movie on Brigham Young was a good one if somehow this polygamy issue could be avoided. Zanuck initiated a full book on the subject, which could then be used as the basis for the movie. The person he asked to write this book on the Mormon story was Louis Bromfield, who had recently won the Pulitzer Prize for The Rains Came. It so happened that, at this very time, Louis Bromfield was one of the three judges of the Harper Prize. One of the manuscripts he read in its entirety, and the one that came out on top in the competition, was a work entitled "Children of God" by the Idaho writer Vardis Fisher. Published as a book, Children of God had good sales in 1939, and in 1940 it even appeared in two successive issues of the Reader's Digest.

Through the grapevine, word of the Brigham Young movie project reached the Church leadership in Salt Lake City. Naturally, there was concern on the part of the brethren. Some of our people remembered the portrayal of Latter-day Saints in some earlier movies, such as "Trapped by the Mormons." It wasn't always clear whether we were knaves or fools or a combination of both, but the portrayals were obviously unflattering. Our leaders had a right to be concerned.

Now, they were specifically concerned about the influence of Vardis Fisher's Children of God on the movie. President Heber J. Grant considered Children of God "as mean as the devil." He assigned Elder John A. Widtsoe to do what he could. Elder Widtsoe invited Louis Bromfield to Utah and took him on a four-day automobile trip through the state, including a visit to Temple Square and the Tabernacle Choir. As it happened, Vardis Fisher's book exerted practically no influence on the movie, and when Elder Widtsoe and President Grant made suggestions for improvement, they were incorporated into the movie.

I was only a boy, but I remember reading Children of God in its Reader's Digest condensation. Even then, I preferred Joseph Smith's own account of his First Vision. Another person who read Children of God a few years later was a Baptist lady named Grace Fort Arrington. It aroused her interest, and when her LDS neighbors turned out to be the opposite of the evil people she had been led to expect, she joined the Church. The movie was shot over a two month period. Then came the challenging work of cutting, splicing, and editing. When the movie "Brigham Young" premiered in Salt Lake City in August 1940, audiences saw the Latter-day Saints of the 1840s presented in positive terms. Our second president came across as a man of sincerity and strength with unmistakable attributes of effective leadership.

President Grant was surprised when he started getting negative reactions from some Latter-day Saint viewers who didn't appreciate the fact that the Brigham Young they saw on screen showed signs of vacillation and even private doubt before stepping forth to lead the people in their western trek. Some complained about historical inaccuracies. I think President Grant realized how much worse it could have been. "I endorse it with all my heart," he said. "This is one of the greatest days of my life."

I wonder how many people who saw the movie "Brigham Young" realized that it was also about the Jews. By this time, the terrible persecution of Jews in Hitler's Germany was far advanced. Nazi troops had moved into the Rhineland, Austria, and Czechoslovakia. They had invaded Poland, the Netherlands, and France. France and England had declared war. Jews were being herded into camps. Some hid and some fled to safety in other countries. All of this was very much on the mind of people like Darryl Zanuck. We don't have to guess that this comparison was in his mind because he said so, and the comparison was also picked up by many reviewers. A movie about a persecuted religious minority, driven from their homes and seeking refuge elsewhere was very topical in 1940. You didn't have to be aware of this sub-text to enjoy the movie, but it was there and provided some of the motivation that brought it into being.

Tyrone Power and Linda Darnell were at the height of their career. Vincent Price provided quite a convincing cameo performance as Joseph Smith in an opening scene. Little did any of us realize that Price would go on to become famous for his sinister roles in terror movies. Also in the movie were John Carradine, Brian Donlevy, Mary Astor, and Jane Darwell. Dean Jagger, who played the title role, was not as well known, but he seemed to have the right combination of simple strength and courage. It was a happy conclusion to the whole matter a generation later in 1972 when Dean Jagger was baptized. One of the newspaper headlines read "'Brigham Young' Becomes a Mormon."

By the way, it is the musical score that holds a movie together and creates the appropriate mood. The person assigned by Zanuck to create this score was the experienced composer Alfred Newman, who won the Academy Award nine times. LDS viewers, if not other audiences, recognized that he wove into his score themes from such hymns as "Come, Come, Ye Saints" and "The Spirit of God Like a Fire Is Burning."I give great tribute to the creator of a successful movie score. It can make or break a movie. Historians like to think of themselves as much more sophisticated than film writers. In one sense, as a historian, I admit to the self-congratulatory belief that historical works at their best delineate causal relationships with greater complexity, and historians have the luxury to spend many paragraphs or even chapters on a given episode as they seek to set forth the multi-layered reality of the past.

But let's face it. Historians too have to choose what to present and, like cinematographers, they highlight certain things and de-emphasize or omit others. Who is to say that a great actor may not better succeed in portraying human complexity or powerful faith than the words of a scholar? A historian without a religious bone in her body (believe me, not an impossible combination in academia today) is unlikely to get at the heart of someone like Brigham Young.

It is not only historians who often poorly understand or misportray their subjects. Journalists who were contemporaries of Brigham Young, nine-day wonders whose subject was based on a single interview or the rumor mill, are seldom to be relied on without comparing other sources. That elementary error was made by Stanley Hirshson, whose book on President Young, happily out of print, is a gross and inaccurate caricature. Fortunately, we do not have to choose a single one of these sources. If we are not satisfied with a lesson manual or a seminary text, however right they may be for their intended purpose, we are able also to read other articles and books. BYU Studies has published excellent articles and even devoted special issue (Winter 1989) to Brigham Young. No one who reads English, I think, should miss Leonard Arrington's prize-winning biography Brigham Young: American Moses.

At the same time, if we are lucky, we can enjoy the character marvelously portrayed on stage by actor James Arrington in "Here's Brother Brigham."A truly great movie on Brigham may emerge from the current flurry of exciting films on Latter-day Saint subjects. Meanwhile, for young people and unjaded adults, the 1940 movie, available for purchase or rental, is still worth seeing. Counteracting the negative stereotypes and offensive jokes that often pass for historical understanding, it is an effective way to introduce our children as well as friends and neighbors to a great leader.

(I am indebted to film historian James D'Arc for much of the information in this essay.)

- - -

Davis Bitton is a retired University of Utah history professor. After serving a mission in France, he graduated from BYU and then received M.A. and Ph.D. degrees from Princeton University. For ten years he was assistant Church historian. His most recent books are "Images of the Prophet Joseph Smith" and "George Q. Cannon: A Biography." Davis had the good fortune and blessing to marry JoAn, a convert and former missionary in Chile. Daughter of an immigrant from Malta, JoAn edits a newsletter for Maltese Latter-day Saints and missionaries. Davis and JoAn served as guides on Temple Square for five years. They live on the lower avenues in Salt Lake City.
---
BYU exhibit features movie artifacts
Date: 12 July 2002
Source: Daily Herald (Utah County)
URL: http://www.harktheherald.com/article.php?sid=53603

PROVO -- Now through August, the L. Tom Perry Special Collections section of the Harold B. Lee Library at Brigham Young University presents an exhibit of materials connected with the historic 20th Century Fox motion picture "Brigham Young," the film that dramatized for a worldwide audience the epic trek of members of The Church of Jesus Christ of Latter-day Saints from Nauvoo, Ill., to Salt Lake Valley.

The exhibit, "The Fox and the Lion: Darryl F. Zanuck's Brigham Young," focuses on Zanuck, vice president in charge of production at the Fox studio, and on Brigham Young, the second president of the LDS Church, often called the "Lion of the Lord."

The exhibit, in the Lee Library's Auditorium Gallery, is open Monday-Saturday during the library's normal operating hours, 8 a.m.-10 p.m. Admission is free.

"Brigham Young" was the first feature-length motion picture dealing with the history of The Church of Jesus Christ of Latter-day Saints that received full cooperation from leaders of the church. "It was a landmark film primarily because it indicated a reversal of more than three decades of negative portrayals of Latter-day Saints in American popular culture," said James D'Arc, curator of the Special Collections Motion Picture Archives and curator of the exhibit. "Church President Heber J. Grant worked closely with producer and studio chief Darryl F. Zanuck at 20th Century Fox for nearly two years while the film was in various stages of production."

President Grant announced to the press following a preview screening in August 1940 that the film would be a "friendmaker. I would not change a line."

"Brigham Young" features a stellar cast that includes leading Fox star Tyrone Power, and Linda Darnell as the romantic interest. Vincent Price, in one of his early film roles, appears as Joseph Smith. In the title role is Dean Jagger who, on the strength of his performance in "Brigham Young," was signed to a long-term contract with the studio. Jagger later received an Academy Award in 1949 as best supporting actor in the World War II drama "Twelve O'clock High."

The exhibit features original presentation scripts interleaved with still photographs signed by the principal cast members that were given to J. Reuben Clark Jr., a counselor to Heber J. Grant in the church's First Presidency. Also included is correspondence from novelist Vardis Fisher, whose book "Children of God" was the basis for the screenplay. Pages from Jagger's personal scrapbook and other items from the library's extensive holdings documenting this film round out the two-month-long exhibit.

A screening of "Brigham Young" will take place in the auditorium at 7 p.m. July 25. The public is invited to attend this event. Admission is free. For more information, call Special Collections at 422-3514.
---
Webpage created 15 August 2002. Webpage last modified 1 April 2005.