< Return to Latter-day Saint Characters in Movies
Latter-day Saint (Mormon) main character
in the feature film
Catwoman (2004)?
Is the movie set in Salt Lake City?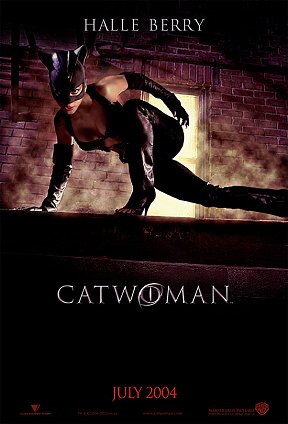 "Catwoman" (2004)
Directed by Pitof
Screenplay by John Brancato, Michael Ferris and John Rogers
Story treatment by Theresa Rebeck, John Brancato, and Michael Ferris
Based loosely on comic book characters created by Bob Kane

Starring: Halle Berry, Benjamin Bratt, Sharon Stone, Lambert Wilson, Frances Conroy, Alex Borstein, Michael Massee, Byron Mann, Kim Smith, Christopher Heyerdahl, Peter Wingfield

MPAA Rating: PG-13
U.S. Box Office: $40,198,710
Production budget: $85,000,000

This setting of this big-budget comic book movie was Salt Lake City, Utah, according to countless reports in the entertainment press prior to the movie's release. Apparently pre-release information provided by the production studio specified Salt Lake City as the setting, although overt references to Salt Lake City were not in the final version of the film that was released in theaters.

It is not entirely clear why Salt Lake City (the world headquarters of the Church of Jesus Christ of Latter-day Saints) was specified as the setting for the story, as none of the characters are overtly Latter-day Saints and nothing in the film seems Utah-related or LDS-related. The original "Catwoman" character from the "Batman" comic books was a resident of the fictional city of Gotham. (Since the introduction of the "Batman" character, his city of Gotham has been said to be modeled on various real-world cities, most frequently Chicago and New York City. There is apparently not a clear consensus on this, and the comic book city of Gotham clearly has its own unique characteristics.)

Deseret News
Jeff Vice, movie critic for Salt Lake City-based Deseret News (now renamed the Deseret Morning News) noted numerous media publications were touting Salt Lake as the setting of "Catwoman" in an article published 20 June 2004 ("Lots of potential 'Supermen': Also, is the new 'Catwoman' set in Salt Lake?"; URL: http://deseretnews.com/dn/view/0,1249,595071264,00.html):
SHE'D BE LAUGHED OUT OF TOWN. There's an intriguing Internet rumor making the rounds that the upcoming "Catwoman" movie is set, not in Gotham City, but in Salt Lake City!

In fact, stories on the MSNBC, E Online and New York Newsday online sites about the movie report it as fact.

Sources at Warner Bros. have been unable to confirm whether the rumor is true, but I can tell you that the novelization, which I thumbed through, makes no reference to any specific setting...

...Again, no one at the studio has either confirmed or denied the rumor, so I guess we'll see when the movie opens in late July.
This newspaper article was accompanied by a photo still of actors Halle Berry (as "Patience Phillips") and Benjamin Bratt (as the film's romantic lead, "Detective Tom Lone"). The photo caption read:
Benjamin Bratt, Halle Berry in "Catwoman," reportedly set in Salt Lake.
MSNBC
In an article giving a preview of upcoming Summer movies, MSNBC reported that the "Catwoman" film would be set in Salt Lake City. Source: Paige Newman, "Hot flicks in the summertime: Summer offers big scares, even bigger stars and festival favorites", 17 June 2004; URL: http://www.msnbc.msn.com/id/4799141/ :
"Catwoman"
The story: Halle Berry stars as a graphic designer in a huge cosmetic company that is preparing to release a revolutionary anti-aging product. Berry inadvertently stumbles upon a dark company secret and as a result finds herself transformed into a woman with the speed, agility and temperament of a cat. She's neither good nor evil, but definitely has some scores to settle. Stone and Wilson play the couple who run the cosmetics company. Bratt co-stars as the detective who finds Berry's cat-like nature alluring. What's the buzz: Word of mouth on this film is not good. Halle Berry could do to "Catwoman" what George Clooney did to "Batman" -- i.e.: kill the franchise (at least for a while). Changing the setting from Gotham City to Salt Lake City and turning our heroine from Selina Kyle into Patience Price won't win the film any admirers from legions of comicbook fans. And destroying a good fanbase seems rather foolhardy. But Berry may have enough fans to fill the seats. Director Pitof is a former visual effects supervisor ("Alien Resurrection"), so the film should look terrific. Web site: http://catwoman.warnerbros.com/
E!
E!online similarly identified Catwoman/Patience Phillips as a Salt Laker. Source: Lia Haberman, "Bratt's the Cat's Meow", 18 September 2003; URL: http://www.eonline.com/News/Items/0,1,12524,00.html :
Helmed by French filmmaker, Pitof, shooting on Catwoman gets underway September 29 in Vancouver... ...Berry's character is somewhat of a departure from Batman's sexy feline counterpart, Selina Kyle, depicted by a rubber-clad Michelle Pfeiffer in 1992's Batman Returns. Instead of the usual Gotham City kitty capers, Price is a veterinary scientist in Salt Lake City who takes on the identity of Catwoman in her fight against the evil-doing cosmetics company, Avenal Beauty, where she works. Said firm actually fronts as a cover for the criminal exploits of the husband and wife (Stone) team that run it.
New York Newsday
Writing for New York Newsday (9 May 2004; URL: http://www.nynewsday.com/entertainment/movies/ny-ffmorales3789275may09.story), Gene Seymour wrote:
In fact, this Catwoman has a different secret identity (Patience Phillips) than the one she's had in generations of Batman comics, where she was called Selina Kyle. And it takes place not in Gotham City, but...Salt Lake City, where Berry's Patience is working in a cosmetics company before she's killed off by her sinister bosses (one of them played by Sharon Stone).
The movie review and news website JoBlo.com also reported abou this (URL: http://www.joblo.com/arrow/catwoman.htm):
But when director Pitof spat this out in an interview: "I didn't want to be too influenced by the comic book", I knew we were in trouble. Result: although this was supposed to be based on the DC comic of the same name, don't expect to find Selena Kyle (brilliantly played by Michelle Pfeiffer in "Batman Returns") or anything remotely resembling Catwoman's comic book adventures, Gotham City (this one takes place in Salt Lake City i.e. Vancouver), or Catwoman's boy-toy Batman in here.
Univision
Spanish-language Univision (http://www.univision.com) was one of many non-English publications that reported on the Salt Lake City setting for "Catwoman" (Source: "Cambia a su esposo por traje de gata", URL: http://www.univision.com/content/content.jhtml?cid=273899):
A maullar, pero no a Ciudad Gutica
La pelicula Catwoman se este filmando en Vancouver, Canada. Pero la historia ocurre en la muy real Salt Lake City, no en la ficticia Gotham City (Ciudad Gutica), el hogar de Batman. Y es que esta gata no tiene mucho que ver con el hombre murcielago, que tiene sus propios planes.
A partial English translation follows:
To meow, but not in Gothic City
The Catwoman film is being filmed in Vancouver, Canada. But the story is set in the very real Salt Lake City, not in the fictitious Gotham City, the home of Batman.
"Catwoman" was not filmed in Salt Lake City
One might think that there was talk about Salt Lake City as the setting for "Catwoman" because the city filmed there. Sometimes movies are said to actually take place in a particular city for no reason other than because that city is where the film was made. But "Catwoman" was filmed in Vancouver and Los Angeles. Even early media reports published before filming commenced indicate that the media knew that the movie would be filmed largely in Vancouver. A few articles state that the movie was scheduled to be filmed in Vancouver, which would be standing in for Salt Lake City, which makes it unlikely that Salt Lake was identified as the movie's setting simply based on a filming location.

The arial shots in the movie "Catwoman" are not real shots filmed of Salt Lake City. These shots probably do not show Vancouver or any other real city, although visual elements from one or more real cities were used as ingredients of the CGI scenes. The city seen in the wide establishing shots in the "Catwoman" movie is probably not a real city at all, but was generated largely by computer special effects artists.

3D CGI used for establishing shots of the city in "Catwoman"
The movie "Catwoman" features many wide, panning establishing shots showing the city in which the story takes place. These shots begin with a broad view of the city, and zoom in on a particular location featured in a scene: the ultra-modern Hedare Beauty corporate headquarters building downtown; the Hedare Beauty factory on the shoreline (wherein Patience Phillips learns the secret of Beau-Line, prompting Laurel Hedare to send thugs to kill her); the low-rent apartment building in which Patience lives; the fair where Detective Tom Lone and Patience go on a date; the stately, out-of-place two-story home of the mysterial cat history researcher Ophelia.

These are all sophisticated, photo-realistic shots, but it is clear that these were CGI shots (made using Computer Generated Imagery). The shots feature panning and zooming that would be impossible to achieve simply by filming from an airplane or helicopter. Some shots even take the camera through buildings. The shots are have a look that is "too clean" and too manufactured to be reality. The Hedare Beauty corporate headquarters building is clearly an entirely fictional building, manufactured as a 3D model in a computer. Close examination of some of the buildings in freeze frame makes it apparent that their surface is comprised of sections which have been "cloned" digitally, to modify existing imagery into an overlay or "skin" used in 3D software.

It can not be said that pre-release publicity identified Salt Lake City as the film's location because Salt Lake was used for exterior establishing shots.

Theoretically it is possible that photographs and 3D models of actual Salt Lake City buildings. Viewpoint DataLabs International (based in Orem, Utah) is the worldwide leader in the creation, publishing, and licensing of 3D models for use in films, television, multimedia, online and Web applications, visual simulation, and computer-based training. The computer-based 3D models in countless feature films (including "Independence Day", "Godzilla", etc.). I do not know whether or not Viewpoint Datalabs 3D models were used for the CGI city scenes in "Catwoman." The closing credits do not mention Viewpoint Datalabs. The closing credits for visual effects modelers appear to be for modelers from Meteor Studios (based in Montreal, Quebec) and Tippett Studio (based in Berkeley, California). Even if models of buildings from Salt Lake City were used in constructing the elaborate 3D models of cities used in the "Catwoman" movie, this would hardly be a reason for the studio to specify Salt Lake as the setting for the film's story, especially when the city as a whole clearly not modeled after Salt Lake City. The city in the movie is located on a waterfront which is dominated by a massive suspension bridge, features not found in Salt Lake City.

The fact that Tippett Studio was one of the major special effects shopts that worked on "Catwoman" may be the real reason that the film was said to be set in Salt Lake City for a time. Blair Clark is a visual effects supervisor who works at Tippett, and he is a Latter-day Saint. Clark was the lead animator for the movie "Starship Troopers" (1997), and is believed by some to be at least partially responsble for that movie's inclusion of a Latter-day Saint space colony as a key plot element. (The shots the Mormon colony, ravaged by insectoid aliens, were created by the special effects, and were not part of first unit filming). Clark was not part of the special effects team that worked on "Catwoman," but the film's one-time Salt Lake setting could still have something to do with him being at the effects shop that created much of the movie's visual content, particularly its exterior establishing shots.

Was Catwoman villain "Laurel Hedare" based on real-life Salt Lake City native Heather Bird?
One possible explanation is that the character of the movie's villain ("Laurel Hedare", played by Sharon Stone) was based on real-life anti-aging advocate/entrepreneur Heather Bird, a Mormon woman who grew up as a Latter-day Saint in Salt Lake City. This may seem like a far-fetched theory, but it at least has the merit of offering an explanation for what otherwise seems inexplicable: Why did makers of the Halle Berry "Catwoman" movie plan (at least at one time) for the film to be set in Salt Lake City, Utah?

At the time that the "Catwoman" movie was being developed by French director Pitof, Heather Bird was making headlines in Europe by introducing a revolutionary new anti-ageing cream. The fictional Laurel Hedare's revolutionary new anti-ageing cream is the central plot element of the "Catwoman" movie. Halle Berry's character "Patience Phillips" is killed by Laurel Hedare's henchmen when she overhears a Hedare scientist discussing dangerous toxic effects that Hedare's "Beau-Line" cream has after prolonged use. After being reborn as "Catwoman," the movie's heroine spends most of the rest of the film trying to find out who ordered her to be killed and why, investigating the cosmetic giant, putting a stop to the release of the anti-ageing cream, and finally confronting Laurel Hedare herself.

Note that prior to filming, the screenplay referred to the cosmetics company central to the film's story as "Avenal Beauty." "Avenal" could be a play on the word "Aves," the scientific and Latin word for "birds," a subtle reference to Heather Bird's name. When the film was actually made, the name of the company was changed to "Hedare Beauty."

The real-life Heather Bird is not (as far as we know) an evil villainess. But she does have many traits in common with Sharon Stone's character "Laurel Hedare," aside from their promotion of of cutting edge anti-ageing technologies. Both are beautiful blonde women. Both are from Salt Lake City. (Heather Bird was born and raised in Salt Lake City. Laurel Hedare lived in and had he company headquarters in Salt Lake at least at some point in the planning stages of the "Catwoman" movie.) Although American, Heather Bird now lives in Europe. Laurel Hedare, also an American, is in a movie directed by a Frenchman. The long-term significant others of both women are European men. Laurel Hedare's husband is played by Lambert Wilson, a native of France. Heather Bird's fiancee Robert Tchenguiz is a London property tycoon. He is an Iranian-born Jew, for whom Bird is adopting Judaism. (Interestingly enough, Robert Tchenguiz is the principle owner of Odeon, the largest movie theater chain in the United Kingdom.) Both couples are fabulously wealthy and both live in expansive, exquisitely decorated mansions fit for royalty.

An article describing of an extravagant party that Heather Bird recently threw resembles a scene right out of the "Catwoman" movie. (Below.)

Another article (below) details some of Bird's headline-making efforts to turn back the effects of aging. Her real-life efforts seem benign enough, even beneficial. Whether or not Bird herself was the inspiration, in "Catwoman" these priorities and activies have been magnified into a dangerous obsession in the character of "Laurel Hedare."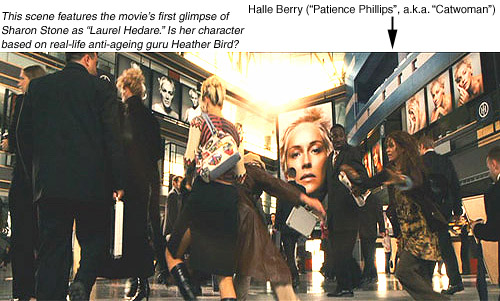 4 minutes, 21 seconds after the start of the film: Actress Halle Berry as "Patience Phillips" (prior to her transformation into "Catwoman") rushing to her job as a graphic artist at giant cosmetics company Hedare Beauty. The face of "Laurel Hedare" (Sharon Stone) can be seen on the posters and screens in the background. This is the movie's first glimpse of "Laurel Hedare."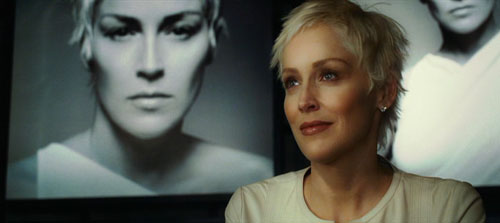 5 minutes, 14 seconds after the start of the film: Actress Sharon Stone as youth-and-beauty-obsessed cosmetics mogul "Laurel Hedare," the principle villain in the movie "Catwoman." Stone appears here in the Hedare Beauty boardroom scene that first introduces the "Laurel Hedare" character in person.
Is Stone's character based on real-life Latter-day Saint youth-and-beauty guru Heather Bird?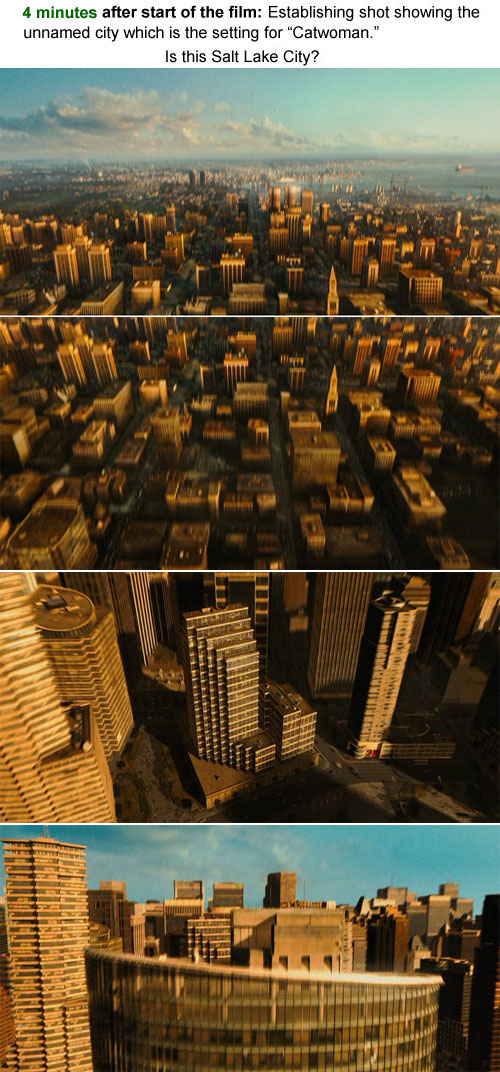 4 minutes after the start of the film: Establishing shot showing the unnamed city which is the setting for Catwoman.



Is this Salt Lake City?






---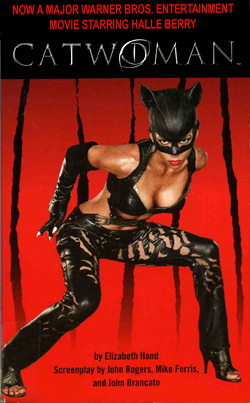 Novelization
The Catwoman Novelization
Contains no References
to Latter-day Saints, Salt Lake City, or Utah
The books upon which movies are based can often provide additional details about the background of a movie's stories and characters. Although the "Catwoman" movie was inspired by the comic book character, the story in movie was not based on a previously published book, story or comic book. The screen story was written by Theresa Rebeck, John Brancato, and Michael Ferris. The screenplay was then written by John Brancato, Michael Ferris and John Rogers.

Movie novelizations are typically written by professional writers unconnected to the production of the film. They usually write the novelization (or "novel") based on the screenplay, without having seen the movie. This way the writing of the book can be finished and the book can be printed prior to the release of the movie to theaters, so that the book's presense on shelves in bookstores, supermarkets, and elsewhere can serve as an additional advertisement for the film. Because novelizations are written from the screenplay, they often contain material which was originally written for the movie, but which was never filmed or was edited out before the final cut of the film.

Looking for clues about why pre-release publicity for "Catwoman" stated that the movie was set in Salt Lake City, I read the entire Catwoman novelization, written by Elizabeth Hand. I could find no references to Salt Lake City, to Utah, or to Latter-day Saints in the novelization. Actually, the novel contains way at all of knowing exactly where the story takes place. It is simply set in a generic large American city. It could be New York City, Chicago, or any one of dozens of others cities. The novel manages to maintain a complete absence of a sense of place.

Realistically, speaking, one would never think to associate the events of the novel and the scant descriptions of the story's setting with Salt Lake City.

Elizabeth Hand is a professional writer, best known for her science fiction and fantasy novels. She lives in Maine. She is not known to have written very much about Latter-day Saints. The only Latter-day Saint reference in Hand's fiction that I am aware of is in her novel Waking the Moon (New York: HarperPrism, 1995; page 203):
Random images flickered across the screen: Bugs Bunny, "Bonanza," soaps, "Reading Rainbow," vintage PeeWee, Windex, the Stephen King Network, what looked like a live broadcast of an assassination attempt but turned out to be the new Slush video, Pepsi, Astroboy, Hoji Fries. It was impossible to tell what you were supposed to buy and what you were supposed to actually watch--Brando, Datsun, IBM--Jack made another rude sound--Donahue, McDonald's, "Mormon Matters," Sally, Oprah, Geraldo, Angelica...
Also, on page 265 of this novel, there is a reference to a summer film fellowship in Sundance, Utah.

Based on a cursory examination of all of Elizabeth Hand's writing, one can conclude that Hand has some minimal awareness of Latter-day Saints, but RARELY write about them.

With no references to Salt Lake City in the Catwoman novel, there are two possibilities: The first possibility is that the screenplay never had any references to Salt Lake City, and the source of the pre-release material specifying Salt Lake City as the film's setting lies elsewhere. The second possibility is that the screenplay actually does refer to Salt Lake City, but all such references were intentionally left out of (or removed from) the novel.
---
Additional Articles about LDS anti-ageing mogul Heather Bird:
Is she the inspiration for Sharon Stone's villain character
"Laurel Hedare" in the "Catwoman" movie?
What makes the perfect party?
By: Sam Leith
Date: 15 December 2001
Source: Daily Mail 'Weekend' magazine
URL: http://www.corporatevents.co.uk/corp/gallery.asp?gall=1

HEATHER BIRD and her partner, property developer Robert Tchenguiz, live in a £20 million house in Kensington, west London. Robert, an Iranian Jew, manages a property portfolio worth £3 billion with his brother, Vincent. Their fortune is estimated at £195 million. Heather, who is in her late 20s, is director of a Harley Street clinic, RejuvenAge, which specialises in preventive medicine.

Heather says: We're pretty regular party throwers. We have three big events each year, costing anything from £30,000 for a fairly modest affair to £100,000 for an extravagant do. Our home, which is next door to the Albert Hall, is made for entertaining. We have a ballroom, furnished in classical style, overlooked by a mezzanine floor where we have the bar. There's a lovely conservatory and terrace on the sixth floor, with spectacular views over Hyde Park. The dining room comfortably seats 30 and every week we give a dinner party. We have a couple of kitchens - an industrial one in the basement and a domestic one on the fourth floor - and a lift, so the staff don't have to run up and down the stairs.

The most lavish party we've given recently was for Rob's 40th birthday. The theme was Louis XIV, the Sun King; the house was decorated like his palace. The staff were dressed in 18th-century costume and it was black tie for the 500 guests. We handed out dance cards, and a nine-piece string ensemble played as we danced minuets. Theme parties are always a great success if you're scrupulous about detail. We had fire-eaters, stilt-walkers, jugglers and acrobats from Cirque du Soleil for the main entertainment, which was fabulous.

We started with some fantastic canapes - frogs' legs, mini filet mignon, quails' eggs and caviar - but the caterers forgot the napkins. It wasn't an absolute disaster because our guests are inveterate party-goers and they're used to eating canapes delicately. To follow there was a full dinner with elegant dishes from around the world. I always order limitless Bollinger, as well as wines and spirits. There is never a budget, but Robert, being an astute businessman, abhors waste. I order crates and crates of champagne and keep anything that's left until the next patty. I was raised as a Mormon in Salt Lake City, in the U.S. It was a very proper upbringing: no alcohol, tobacco or caffeine. I had my first drink only a couple of years ago, but I learned all about the right wines and champagnes to serve when I was in Switzerland, studying for my master's degree.

The right mix of guests is vital. We've had Liza Minnelli and Ivana Trump, and of course we invite all our friends and family. They're high-calibre people so we don't have to worry about guests getting offensively drunk or stealing mementos. Rob is a wonderfully charismatic host, so he is a draw. I always try to greet every guest, even when there are 500. Sometimes I forget a name but usually I manage to smoothe it over. A good hostess mingles among her guests and introduces them to each other. Inevitably, there is the odd attempt an gate crashing, but we always have two big security guys at the gate and they'll call me if someone turns up without an invitation.

Our most recent party was at Halloween, quite a modest do for about 200 with a haunted house theme. We have a secret passageway linking the library and dining room and I had it draped in black fabric and festooned with cobwebs. The guests had to walk through and I hired someone to stand behind the black screen and scare them. We also had a huge cauldron full of witches' brew -- a raspberry vodka punch. I wore a red sequined dress with devil's horns and a tail. Getting the appropriate costume is more important than spending a lot of money if it's fancy dress. We don't do Christmas and New Year parties because we go abroad, but we did have a festive company party. This year it had an American holiday theme and the meal was a traditional Thanksgiving one. It was a very small dinner party, just 30 or so.
---
Holding back the years with a little passion
By: Sam Leith
Date: 11/09/2004
Source: The Daily Telegraph (London)
URL: http://www.telegraph.co.uk/news/main.jhtml?xml=/news/2004/09/11/nage11.xml&sSheet=/news/2004/09/11/ixhome.html

"We are giving birth," announces the trim, pretty blonde woman in the white trouser-suit, "to a new way of life".

Heather Bird, organiser and chief sponsor of Britain's first anti-ageing conference, is a woman who uses words like "search", "quest", "passion" and "mission" - as in: "It is my passion to get this information out."

Her personal journey has taken her from a Mormon childhood in Utah, via the World Health Organisation in Geneva, to a Beauchamp Place clinic and the modest title of "Europe's leading health and anti-ageing entrepreneur".

She believes that the time for anti-ageing medicine has come, and this two-day conference - which opened yesterday in Kensington town hall amid the vague smell of expensive moisturiser - is its showcase.

She introduces Dr Ronald M Klatz - founding President of the American Academy of Anti-Ageing Medicine ("A4M"), Doctor of Medicine (Central America Health Sciences University, Belize), and inventor of a patented "Brain Cooling Device". He has the stage presence of a cashiered televangelist, and if I didn't know he was an accredited expert in anti-ageing medicine, I'd have guessed that his lustrous chestnut-brown hair was a dye job.

"Passion," he says, "drives us." He is on a mission to defeat the defeatists: the conventional gerontologists who take a palliative, or "disease-based" view, of ageing. Why nurse the symptoms of age when you can prevent them in the first place?

Dr Klatz brings up a slide showing three photographs. "Vote for your vision of ageing," he says. On the left is a plump woman salsa-dancing in a frumpy dress - the centrepiece, he says, of the American Association for Retired People's ("unsuccessful") $100 million campaign to recruit baby-boomers.

In the middle is an ancient old doll being looked after by a nurse - the conventional gerontological vision. On the right is an orange-tanned hunk doing a cheesy Charles Atlas body-building pose, with a bikini-clad lady body-builder draped admiringly down his flank.

These are A4M's poster-people: 84 and 72 years old respectively. Hooray!

The keynote speaker, Dr Robert Goldman (curly grey hair and a faint look of Robin Williams) is A4M's chairman. Among the credentials cited to introduce him are the ability to perform 321 handstand push-ups and 13,500 consecutive sit-ups, and "a black belt in Chinese weapons". He counts Arnold Schwarzenegger as "a very personal and good friend of mine".

With even more jocularity than his predecessor, he takes up the tune. What do we want to look like when we're old? "Sophia Loren!" he cries as her image appears on the screen. "Hot! Almost 80! Hot!" Someone murmurs in the audience. "Oh. She's 70?" he says. "Seventy! Still hot!"

Other speakers over the two days of the conference are to address topics including Alzheimer's diagnosis; the Pineal Life-Clock; RNA-based therapies; aspects of obesity treatment and hormone replacement therapy, among other things. The event has the feel of maybe 40 per cent trade fair; 40 per cent publicity exercise; 20 per cent academic conference.

Much is made of the "science's" interest in respectable peer-reviewed research into such topics as stem cells, nanotechnology and gene therapy. But anti-ageing keeps its mind open to "alternative medicine and emerging therapies": the pills and potions beloved by a public always keen to be on the safe side. This is big business.

Wandering around the exhibitors' stalls outside the lecture hall, I'm offered the chance to have my urine sent to Paris; I'm offered "nutraceuticals" and "cosmoceuticals" and "isolagen"; skin creams and "heavy detoxification protocol. . . physician-proven to help support the body's natural detoxification"; glossy brochures on mesoestetic skin treatment; Ultra-Potent C 1000; Rejuvenal Dietary Supplements. . . I have no doubt that all of these are exactly as efficacious as they sound.

The actress Brigitte Nielsen, 41 - vying with Shirley Bassey to be the jewel in the crown of the evening's gala dinner - has no doubts either. She is happily gobbling her vitamin pills while her 26-year-old Italian fiance scuffs his feet, muttering: "Basta, Brigitte. Basta (Enough)."

"I'm here because I love health and it's important to eat well and stay healthy," she tells us. "I'm here for some tips."

She ruffles a photographer's hair. She makes a V-for-victory sign.

"Lots of love," she says. "Peace." She seems a bit mad.

Later, I corner Heather Bird. "This may be the only circumstance in which it's polite to ask a woman her age," I say. "How old are you?" "How old do you think I am?" she asks.

I guess: "36?" She looks a tiny bit crestfallen. "I'm 34," she says. Then she rallies: "Usually I tell everyone I'm 70."

[PHOTO CAPTION:
Brigitte Nielsen tries an anti-ageing cream]



---
Webpage created 15 January 2005. Last modified 17 February 2005.