< Return to Latter-day Saint Characters in Movies
Latter-day Saint (Mormon) Character
in the movie
Chicago (2002)

"Chicago" (2002)
Directed by Rob Marshall
Screenplay by Bill Condon
Based on the play by Maurine Dallas Watkins and the musical by Bob Fosse and Fred Ebb

Starring: Renee Zellweger, Richard Gere, Catherine Zeta-Jones, Queen Latifah, Taye Diggs, John C. Reilly

MPAA Rating: PG-13
U.S. Box Office: $170,684,505
Production budget: $45,000,000

"Chicago" won the Academy Award for Best Picture. This movie features a blatantly anti-Mormon reference which trades on old and inaccurate religious and ethnic stereotypes. Nevertheless, most Latter-day Saints who have enjoyed watching Chicago have not found the reference offensive, merely amusing.

Most of the film takes place in prison, where the two main female characters (played by Renee Zellweger and Catherine Zeta-Jones) are incarcerated on "Murderess Row." One of the women in the cell next to them is Annie (played by actress Denise Faye), who has been incarcerated for murdering the "Mormon" man she had been living with.

From Annie's description of events, the man could not actually have been a practicing Latter-day Saint. For one thing, he is described as practicing polygamy at a time over 30 years after the 1890 Manifesto through which the Church declared polygamy banned. Also, he apparently drinks alcohol and he is living with Annie outside the bonds of marriage: both things a practicing Latter-day Saint would not do, neither in the present day nor in the period during which the film takes place (the 1920s). Yet from the film's perspective (certainly from Annie's perspective), the man was definitely a Mormon.

Tony Award-winning dancer Scott Wise is briefly seen in the movie in a flashback/dance number as Annie's "Mormon" boyfriend, "Ezekial Young."

Interestingly enough, actress Denise Faye had a small part in the movie "Donnie Brasco," in which one of the main characters is a Latter-day Saint FBI chief, and Scott Wise was a performer in the TV musical special "Fosse" (2001), a salute Broadway choreographer Bob Fosse, who was a long-time collaborator with famed Latter-day Saint dancer Buzz Miller.

In "Chicago," during the musical number "Cell Block Tango," Annie describes the murder she committed:
I met Ezekiel Young from Salt Lake City about two years ago and he told me he was single and we hit it off right away. So, we started living together. He'd go to work, he'd come home, I'd mix him a drink, We'd have dinner. Well, it was like heaven in two and a half rooms. And then I found out, "Single" he told me? Single, my ass. Not only was he married ...oh, no, he had six wives. One of those Mormons, you know. So that night, when he came home, I mixed him his drink as usual. You know, some guys just can't hold their arsenic.


Below are sequentially ordered still images from the performance of the "Ezekial Young" verse of the musical number "Cell Block Tango" in the movie "Chicago." Note that this scene is from a dance number which combines suggestions of both violence and sensuality. However, the still images viewed here out of the context of the film's musical number may seem to be even more inappropriate or suggestive than they actually are in the film. In this dance, Annie is perched above the body of the boyfriend she has murdered.

Note also that during a few lines, the imagery switches back to the "real" world: Catherine Zeta-Jones playing cards with Annie and fellow inmates. Within the context of this film, the dance numbers are highly stylized fantasy scenes taking place within the imagination of the characters.



BELOW: After Annie (actress Denise Faye) finishes singing the verse about murdering her Mormon boyfriend, dancer Scott Wise (playing the ill-fated Mormon) jumps up from his pose as a murder victim and dances with Annie during another round of the song's chorus: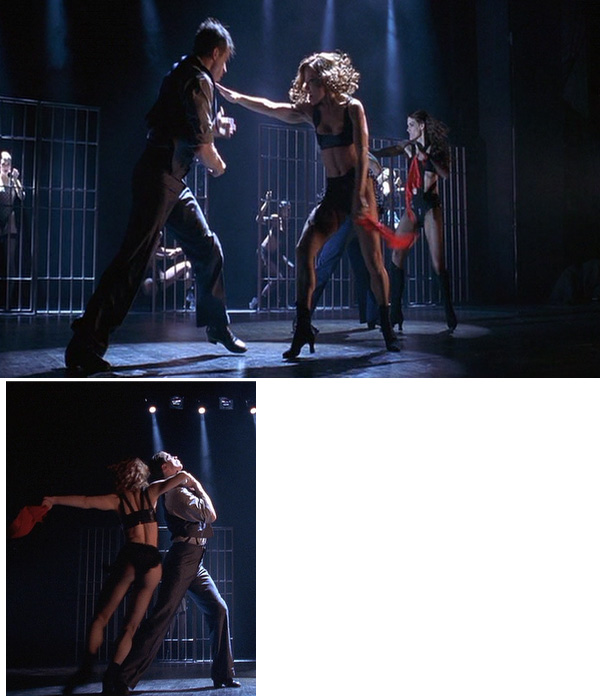 He had it coming
He had it coming
He took a flower
In its prime
And then he used it
And he abused it
It was a murder
But not a crime!
---
Webpage created 29 September 2004. Last modified 3 October 2004.