< Return to Latter-day Saint Characters in Movies
Latter-day Saint (Mormon) References
in the movie
Monty Python's The Meaning of Life (1983)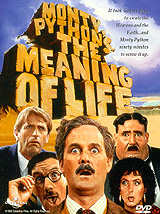 "Monty Python's The Meaning of Meaning" (1983)
Directed by Terry Jones
Written by Graham Chapman, John Cleese, Terry Gilliam, Eric Idle, Terry Jones, Michael Palin

Starring: Graham Chapman, John Cleese, Terry Gilliam, Eric Idle, Terry Jones, Michael Palin

MPAA Rating: R
U.S. Box Office: $14,929,552
Production budget: $9,000,000

This movie features the internationally famous comedy troupe Monty Python portraying each stage of life through a series of interconnected comedic sketches.

In one scene a clearly impoverished father tells his countless children that because of economic difficulties, he and their mother will be forced to sell them all for medical experimentation. He further explains that the Catholic Church is the reason they are in this predicament. He praises the Catholic Church for a long list of things that they have done, but states that it is because the Church prohibits birth control that their family is in this predicament. When one of the children asks if their mother could have worn something to affect birth control, the father breaks into a song that enthusiastically explains this Catholic teaching.

Below is the excerpt from the actual script for the film in which Latter-day Saints (Mormons) are mentioned twice. The song is primarily about Catholics and the proscriptions of the Catholic Church against most forms of birth control. Latter-day Saints are mentioned in verses that list a select number of other religious groups, simply to provide context.

The naming of other religious groups is done to contrast Catholics with other religious groups. Catholics are singled out as having a distinctive approach to birth control, while adherents of all other faiths (Buddhists, Muslims, Latter-day Saints, Jews and Taoists are mentioned by name) are said to be indiscriminate in this regard.

There appears to be no difference between the words in this song as they appear in the script and the way they were actually sung in the movie.

Michael Palin plays the part of the "Dad" in this musical number. Terry Jones plays the "Mum."



Little Boy: Couldn't Mummy have worn some sort of pessary?



Dad: Not if we're going to remain members of the fastest growing

     religion in the world, my boy... You see, we believe... well,

     let me put it like this...

     [sings]



     There are Jews in the world,

     There are Buddhists,

     There are Hindus and Mormons and then,

     There are those that follow Mohammed,

     But I've never been one of them...



     I'm a Roman Catholic,

     And have been since before I was born,

     And the one thing they say about Catholics,

     Is they'll take you as soon as you're warm...


[More to this verse, plus one round of the song's chorus, all about "every sperm" being sacred to Catholics.]


Mum: [solo] Hindu, Taoist, Mormon,

     Spill theirs just anywhere,

     But God loves those who treat their

     Semen with more care.

---
Webpage created 22 October 2004.