< Return to Latter-day Saint Characters in Movies
Latter-day Saint (Mormon) character:
Eldridge Cleaver in
Panther (1995)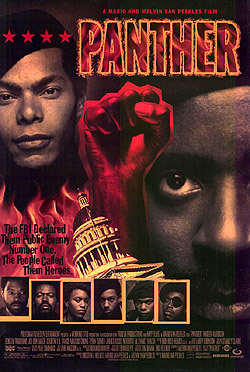 "Panther" (1995)
Directed by Mario Van Peebles
Screenplay by Melvin Van Peebles
Based on the novel by Melvin Van Peebles

Starring: Kadeem Hardison, Bokeem Woodbine, Joe Don Baker, Courtney B. Vance, Tyrin Turner, Marcus Chong, Anthony Griffith, Bobby Brown, Angela Bassett, Nefertiti, James Russo, Jenifer Lewis, Chris Rock, Roger Guenveur Smith, M. Emmet Walsh

MPAA Rating: R
U.S. Box Office: $6,834,525

"Panther" is a historical drama about the real-life "Black Panther" group. The group pushed for civil rights for African-Americans, sometimes through radical and even illegal methods. The group was most active and had its highest profile during the 1960s. Eldridge Cleaver was one of the leaders of the Black Panther movement and is a character in the movie "Panther." Eldridge Cleaver is played by actor Anthony Griffith in the movie.

In 1983 or 1984, after the heyday of the Black Panther movement was over, Eldridge Cleaver joined the Church of Jesus Christ of Latter-day Saints. A number of academic articles have been published about Cleaver's conversion to Mormonism, which was by all accounts a sincere and thoughtful choice on his part. In the years after Cleaver joined the Church, he went through different stages of Church activity. He was not an active churchgoer when he died in 1998, but he never renounced his Church membership or criticized the Church.

"Panther" covers a period of time prior to when Cleaver joined the Church, and the film makes no mention of the fact that he became, for a time, an active Latter-day Saint.
---
Additional Information about
Eldridge Cleaver
and his status as a Latter-day Saint
Famed black civil rights activist Eldridge Cleaver was, among many other things, a Mormon. This material below includes a few references to a very narrow topic: Cleaver's period as a Latter-day Saint. This page is not intended to be a comprehensive or objective summary of Cleaver's entire life. Researchers further interested in Cleaver's conversion to Mormonism could begin by reading the academic articles listed below. Numerous excellent books and films are available with information on Cleaver, in addition to a variety of materials written from particular perspectives, including Afrocentric, liberal, conservative, Christian (both Evangelical and Mormon), and Muslim.


Academic articles:
Newell G. Bringhurst. "Eldridge Cleaver's Passage Through Mormonism", Journal of Mormon History, Volume 28, Number 1 (Spring 2002), page 80.

John Clark Hammerback and Richard J. Jensen. "From Muslim to Mormon: Eldridge Cleaver's Rhetorical Crusade," Communication Quarterly, 34 (Winter 1986), 24-40.

John Clark Hammerback and Richard J. Jensen. "Leroy Eldrige Cleaver," a chapter in ed. Richard W. Leeman, African-American Orators: A Bio-Critical Sourcebook (Westport: Greenwood Press, 1996), 32-40.


News articles:
"24 Jan. 1981: New York Times reports conversion to LDS Church of Eldridge Cleaver, former Black Panther radical of 1960s. He is first nationally prominent African-American to convert to Mormonism. In 1995 he publicly reaffirms his faith in Mormonism, although he no longer actively attends LDS services." [Source: D. Michael Quinn, The Mormon Hierarchy: Extensions of Power, 1997]

"The Eldridge Cleaver Story", Sunstone Magazine, Issue 26, March-April 1981, page 8. (See excerpt below.)

John Sillito. "Cleaver Continues Campaign", Sunstone Magazine, Issue 45, January 1985. (See excerpt below.)


Books Written by Eldridge Cleaver

Soul on Ice (New York: Dell, 1968)
Post-Prison Writings and Speeches (London: Panther, 1971)
Soul on Fire (Waco, Texas: Word Books, 1978)
---
Why Did A Black Panther Become A Black Mormon?
Source: "Why Did A Black Panther Become A Black Mormon?", article on an Elijah Abel Society website.
URL: http://bridgeforth.freeyellow.com/panther.html

Q. Why did Eldridge Cleaver, the most famous member of the "Black Panthers" later in life become a Black Mormon (a Member of The Church of Jesus Christ of Latter-day Saints)?

A. Because he discovered it was the best thing for his people.

Eldridge Cleaver was one of the first members of the Black Pather Party; a radical pro-Marxist Black Nationalist group founded in Oakland, California, in the mid-1960s by Bobby Seale and Huey Lewis. Cleaver soon joined, and became the "Minister of Information". He is the one who spoke to the Press.

Although few in numbers, the Black Panthers gained a lot of media attention during the late sixties into the mid-70s. They were involved in a number of shoot-outs with Oakland Police. They also conducted charity breakfasts and other charitable activities in the black community. Eventually, chapters of the Black Panther Party were formed in most major cities in the U.S.

While in prison, Cleaver wrote Soul on Ice ; a commentary on prison life and racism in America. It became an international bestseller and basically the "manifesto" of the Black Nationalist movement in America and abroad. He also ran for President of the United States in the Black Panther Party. He got comparatively few votes, but much press.

Cleaver got into a shoot-out with Oakland police in 1969 in which one Black Panther and one Oakland police officer was killed. The Panthers said it was self-defence. Oakland police said otherwise. In any case, Cleaver was formed to flee to Algeria; a socialist-state with close ties to Marxist states. Cleaver was "wined and dined" by many Communist and Socialist states; including the Soviet Union and Cuba.

However, while in these countries Cleaver began to see that they were not "worker's paradises" as he had been led to believe. He saw that the bone-crushing poverty. He saw that the leaders of the nation lived in luxery while the rest were poor. He saw that they had no freedom of speech whatsoever. They were....for all practical purposes.... slaves.

Cleaver became disillusioned with Maxism-Leninism. He later describes that one night while in Cuba he looked up to the Moon, and saw the faces of Marx and Mao Tse-Tung and Castro and all his "heros" appearing, and then fading away. At that night, he remembered the sermons of his Baptist grandfather; a minister. That night, he got on his knees and asked Jesus to become His Lord and Savior. He lost faith in his false "gods", and accepted Jesus.

After he became a born-again Christian many Evangelical Christian ministries "wined and dined" him; just like the Communists did. All wanted a "piece" of him. He was world-famous. He was offered a ministry of his own on television. He would make MILLIONS, and share it, of course, with his Evangelical Christian backers.

He declined!

He told them that he was not interested in becoming rich and famous as a preacher; on television or off. He was interested in his people. Specifically, he was worried about the millions of young African-American men in prisons. What would happen to them? He was once "one" of them. He started a prison-ministry.

During this time he also lost faith in the "social agenda" of the Demoratic Party of the U.S. He saw more and more African-Americans being born in poverty, living in poverty, and dying in poverty. He saw the Democratic Party's "welfare state" as a means of "controlling" blacks; keeping them down by placating them with "forced poverty" via welfare. He decided to become a Republican.

As a Republican he was (as always) asked to speak. The Republicans "wined and dined" him; just as the Communists had, or the Evangelicals had. The Moonies had several anti-Communist organizations, and Cleaver was asked to speak at these. The Moonies wanted him to become a Moonie. He studied it, but never joined.

While speaking with a Moonie anti-Communist organization Cleaver met Cleon Skousen; former FBI agent, former Chief of Police of Salt Lake City, popular Mormon writer, and founder of the Freeman Institute(now called the National Center for Constitutional Studies); an organization which tries to educate the public about what the Constitution means. Skousen asked Cleaver to speak at a few Freeman Institute meetings. The two become friends.

Over the next few years Cleaver met other Mormons. As a Black Panther he had derided the Mormons as "white racists" who hated blacks. He saw otherwise. Over the years he began to study the doctrines of the Mormon Church; especially those concerning the family. The Mormons did not "wine and dine" him as the others had. They did not offer him his own "ministry"; nor great sums of money. Cleaver began to see something "different" in the Mormons.

Cleaver eventually became convinced that it wasn't "social programs" that would save his people from poverty. It wasn't even the Republican offer of "self-help". He began to see that the "key" was strong families; led by righteous men who ruled those families in righteousness. He got to know many Mormon families, and saw this for himself.

In 1980 Cleaver asked to be baptized into the Mormon Church (Church of Jesus Christ of Latter-day Saints). But, he was still on probation, and was told that nobody on probation could be baptized. Cleaver waited until 1984, and then was baptized into the Church. He became a Mormon.

Over the next few years Cleaver's activity in the Mormon Church was not consistent, but he always referred to himself as a "Mormon and a Christian". He died in 1989.

There have been Black Mormons since 1832; only 2 years after the Church was founded.
---
Cleaver in Oakland
Source: Front Page Magazine
Date: January 1, 1999
Date: http://www.frontpagemag.com/inyourface/1998/iyf1-1-99.htm

Dear Mr. Horowitz,

I listened to you for the first time on Mike Reagan show today and found your comments very interesting. You knew Eldridge Cleaver in Oakland, I became acquainted with him when I was a sponsor of lessons about the Constitution and the founding Fathers. The lessons were given by Cleon Skowsen, a member of the John Birch Society. Mr. Skowsen was a former FBI agent, an active Mormon, and a befriender Eldridge Cleaver after he returned to the USA and had experienced some sort of religious apparition that brought him to Christianity. I felt he was sincere, but his "vision" was like no other Christian conversion experience I had every heard of.

As I write this I am trying to remember the details of his story but am left with general impressions only. Mr. Cleaver at this point had made no commitment to any particular Christian organization, but Dr. Skowsen was, of course, interested in him becoming a Mormon. He, according to Dr. Skowsen, was willing to do so, but his wife objected because of the belief of Mormons at the time that excluded Blacks from holding priesthood offices in the Church. Mr. Cleaver and Dr. Skowsen were invited to stay in our home in Burley, Idaho, and would have, but they already had hotel reservations in a neighboring town. Mr. Cleaver's address to our group of 200 or 300 persons dealt with his conversion story and focused little on his days in Oakland, except to say that in his travels around the world he finally realized that America was probably the least racist country in the world and he felt entirely used by the Communists. He spoke softly and he seemed to be at peace with himself. He shed a few tears also. He and Dr. Skowsen also presented these lessons in other areas of Utah and Idaho. As far as I know, Mr. Cleaver became interested in other Christian groups, joined some, but never stayed active in any of them. I thought you might be interested in this brief time period in his life.

- Stephen Buck
---
Eldridge Cleaver confirms his conversion to the Church of Jesus Christ of Latter-day Saints during California political campaign
Source: John Sillito. "Cleaver Continues Campaign", Sunstone Magazine, Issue 45, January 1985. (Online: http://www.sunstoneonline.com/magazine/searchable/Issue45.asp)

EXCERPTS:

For recent Mormon convert Eldridge Cleaver (see Sunstone Review, January 1984), the past election brought a series of political disappointments. Late in 1983 Cleaver announced plans to run as an independent challenger to popular Oakland Congressman Ron Dellums. By summer, however, Cleaver, claiming that a campaign staffer and friend had "stolen my money," dropped his congressional bid in favor of a race for the Berkeley City Council...

Cleaver also discussed a recent article in Newsweek which quotes him as saying "anybody who wants to baptize me, come on -- bring the water." Calling the remark a "tongue-in-cheek" response that he assumed would not be taken seriously, Cleaver said he had reached the point where I get tired of arguing doctrine with people.

Defending his affiliation with the LDS Church, Cleaver said he had "searched for six years" for the right religious affiliation before becoming a Mormon.

"Before joining the Church I really wanted a religious home. I wanted to belong to a church but I was simply not really attracted to any of the others until I found Mormonism.

Cleaver continues to be active as a spokesman for conservative causes...
---
Eldridge Cleaver (at the time an investigator studying about the Church with Elder Paul H. Dunn) lectures at the Freemen Institute in Salt Lake City and screens the documentary film "The Eldridge Cleaver Story"
Source: "The Eldridge Cleaver Story", Sunstone Magazine, Issue 26, March-April 1981, page 8. (Online: http://www.sunstoneonline.com/magazine/searchable/Issue26.asp)

EXCERPTS:

Over nine hundred people crowded into the auditorium and two overflow rooms of the Freemen Institute building in Salt Lake City on 25 February 1981 to hear ex-Black Panther leader Eldridge Cleaver recount his conversion to Christianity and to extol the freedoms of America.

Interest in Cleaver's transformation had been heightened in Salt Lake City earlier in the month by revelations that he had been receiving lessons in Mormonism and had talked privately with Elder Paul H. Dunn, member of the Quorum of the Seventy. Cleaver confirmed this but indicated that he had made no final decisions about the Church.

Cleon Skousen, founder of the Institute, a conservative political education organization, took advantage of the capacity crowd and recited the history of the Freemen... But clearly the Freemen's showcase star was Eldridge Cleaver. Before he spoke a film was shown-"The Eldridge Cleaver Story," which recounted his early life in prison for various crimes, his involvement with the Black Panthers, including a shootout with Oakland police in 1968 during which Panther founder Bobby Hutton was killed, and his flight from the country when charged with attempted murder and assault. As a fugitive he lived in Cuba, Algeria, and France and made trips to North Korea and North Vietnam.

The film also described Cleaver's conversion to Christ. While living in France, he became increasingly disillusioned with Marxism and came to feel there was "no light or direction or purpose" in his life. One night, in deep depression, he fingered a pistol and considered suicide. Looking up he saw a procession of his heroes marching across the moon-Marx, Castro, Mao. Suddenly he saw the image of Jesus Christ. Trembling, frightened, crying, he remembered the words of the Lord's Prayer and the Twenty-third Psalm. The misery subsided and he fell peacefully asleep. He awoke with a start the next morning and "saw a path of light all the way back home"-through a prison cell. He returned to the United States in 1975 and quipped to newsmen at the airport, "Anyone who hasn't changed his views since 1968 is in trouble."

While in prison he met several Christians who helped him strengthen his own religious beliefs. His final benefactor was Arthur ("Arby") DeMoss, head of the Campus Crusades for Christ and the Christian Freedom Foundation, who posted $100,000 bond and helped Cleaver fight charges stemming from the Oakland shootout. For the past five years Cleaver has been traveling and sharing Christ through the "Eldridge Cleaver Crusades."

After the film Skousen, an ex-FBI agent, introduced Cleaver to the audience as "my very good friend" and described his surprise at looking into the crowd during a lecture in Oakland, California, and seeing his nemesis from the protests of the sixties.

Cleaver, who laughingly agreed that "if someone had told me in 1968. . ., " then described his own "relief" at finding a group like the Freemen Institute. Many people had wanted to listen to his testimony of Christ but few had wanted to hear anything political. But he had wanted to share his disillusionment with and growing disdain and fear of communism... "I am glad to combine with Skousen to help to turn this country around," he said. "What we need is a thousand Skousens."

He encouraged those present who were not part of the Freemen Institute those who had only come to see a "reed blown by the wind"-to take a chance and join with Skousen's group. There is a political and spiritual message in Salt Lake City and in Utah, he concluded, which can rescue this country and bring about "a brave new world."...

---
Webpage created 28 February 2005. Last modified 7 April 2005.