< Return to Latter-day Saint Characters in Movies
The Book of Mormon reference
in the Sherlock Holmes/Sigmund Freud movie
The Seven-Per-Cent Solution (1976)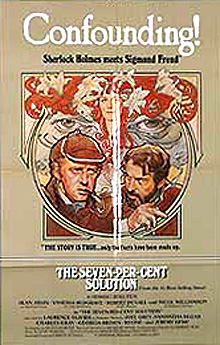 "The Seven-Per-Cent Solution" (1976)
Directed by Herbert Ross
Screenplay by Nicholas Meyer
Based on the novel The Seven-Per-Cent Solution by Nicholas Meyer
Fictional characters created by Arthur Conan Doyle

Starring: Alan Arkin, Vanessa Redgrave, Robert Duvall, Nicol Williamson, Laurence Olivier, Joel Grey, Samantha Eggar, Jeremy Kemp, Charles Gray, Georgia Brown, Anna Quayle, Jill Townsend

MPAA Rating: PG

"The Seven-Per-Cent Solution" (1976) is an adaptation of the same-titled 1975 novel by Nicholas Meyer, who also wrote the screenplay. Somewhat fancifully, the story brings the famous detective Sherlock Holmes together with Sigmund Freud, the father of psychoanalysis. "The Seven-Per-Cent Solution" features a number of characters introduced in Sir Arthur Conan Doyle's famous Sherlock Holmes stories, including Dr. John H. Watson and the villainous Professor Moriarty. But "The Seven-Per-Cent Solution" was not based directly on any story written by Doyle himself.

In "The Seven-Per-Cent Solution," Watson bring Holmes to Sigmund Freud to be treated for cocaine delusions. Subsequently there is a conversation between Freud and Holmes in which the famous detective comments on the famous doctor's copy of the Book of Mormon.

The high-caliber cast includes Alan Arkin as Dr. Sigmund Freud and Nicol Williamson stars as "Sherlock Holmes." Co-stars include Robert Duvall as "Dr. Watson," Vanessa Redgrave as "Lola Deveraux," and Laurence Olivier as "Professor James Moriarty."

Nicholas Meyer is also also the writer and director of "Time After Time" (1979), another movie which uses a similar gimmick of bringing together 19th Century British fictional material with a 19th Century British historical figure. (In "Time After Time," real-life author H. G. Wells is not only the author of The Time Machine, he is actually the inventor of the machine depicted in his ground-breaking novel. A mishap brings both Wells and the evil Jack the Ripper together in contemporary San Francisco.) Meyer may be best known for his work on a number of "Star Trek" movies. He wrote "Star Trek IV: The Voyage Home" (1986) and "Star Trek VI: The Undiscovered Country" (1991) and he directed "Star Trek: The Wrath of Khan" (1982) as well as "Star Trek VI." His other writing credits include "Fatal Attraction" (1987), "Sommersby" (1993) and "The Prince of Egypt" (1998). Meyer received his only Academy Award nomination for writing "The Seven-Per-Cent Solution."

"The Seven-Per-Cent Solution" was directed by Herbert Ross, who soon thereafter received Academy Award nominations as director and producer of "The Turning Point" (1977). Ross directed "Footloose" (1984), which was filmed in Utah, and many other movies, including: Steel Magnolias (1989); The Secret of My Succe$s (1987); Boys on the Side (1995); The Goodbye Girl (1977); Undercover Blues (1993); Pennies from Heaven (1981); True Colors (1991); The Sunshine Boys (1975); Max Dugan Returns (1983); Funny Lady (1975); Goodbye, Mr. Chips (1969); Nijinsky (1980).

As noted, "The Seven-Per-Cent Solution" was not based on a story actually written by Sherlock Holmes creator Arthur Conan Doyle. Perhaps it is surprising that references to Mormons were not found in more stories by Doyle himself, given the fact that Latter-day Saints (Mormon missionaries proselyting in England) were the featured antagonists in the very first Sherlock Holmes story ever written: "A Study in Scarlet" (Nov. 1887). But Doyle never again featured Latter-day Saint characters or references in his Holmes stories. Doyle wrote his original "Sherlock Holmes" tale without actually knowing abou Mormons from first-hand experience. After he travelled to Utah and met them, he was greatly impressed by the Church and its members, and his statements and writing about Latter-day Saints thereafter were highly complimentary. (Source: Harold Schindler, "Conan Doyle's Tale of Mormonism Had Utah Faithful Seeing Scarlet", page D1, Salt Lake Tribune, 04/10/1994).

Nicholas Meyer's book and movie "The Seven-Per-Cent Solution" is not the only Holmes pastiche to include a reference to the Book of Mormon. The book of scripture is also mentioned in Marcel Theroux's Holmes pastiche The Confessions of Mycroft Holmes, published by Harcourt in 2001. Tangentially, Julian Symons' comedic Holmes pastiche A Three-Pipe Problem (Penguin U.K., 1984) includes a reference to a fictional book titled I Was a Transvestite Mormon.


Below is dialogue from the movie "The Seven-Percent Solution" (1976) from the scene in which the Book of Mormon is mentioned:

Sherlock Holmes: I never guess: it is an appalling habit, destructive to the logical faculty. A private study is an ideal place for observing facets of a man's character. That the study belongs to you exclusively is evident from the dust: not even the maid is permitted here, else she would scarcely have ventured to let matters come to this pass.

Sigmund Freud: Go on.

Sherlock Holmes: Very well. Now, when a man collects books on a subject, they're usually grouped together, but notice, your King James Bible, your Book of Mormon, and Koran are separate, across the room in fact, from your Hebrew Bible and Talmud, which sit on your desk. Now these books have a special importance for you not connected with a general study of religion, obviously. The nine-branched candelabra on your desk confirms my suspicion that you are of the Jewish faith; it is called a menorah, is it not?

Sigmund Freud: Yah.

Sherlock Holmes: That you studied medicine in Paris is to be inferred from the great number of medical texts in that language. Where else should a German use French textbooks but in France, and who but a brilliant German could understand the complexities of medicine in a foreign tongue? That you're fond of Shakespeare is to be deduced from this book, which is lying face downwards. The fact that you have not adjusted the volume suggests to my mind that you no doubt intended referring to it again in the near future. (Hm, not my favorite play.) The absence of dust on the cover would tend to confirm this hypothesis. That you're a physician is evident when I observe you maintain a consulting room. Your separation from various societies is indicated by these blank spaces surrounding your diploma, clearly used at one time to display additional certificates. Now, what can it be that forces a man to remove these testimonials to his success? Why, only that he has ceased to affiliate himself with these various societies and hospitals and so forth, and why do this, having once troubled to join them all? It is possible that he became disenchanted with one or two of them, but NOT likely that his disillusionment extended to all. Rather, I postulate it is THEY who became disenchanted with YOU, doctor, and asked you to resign, from all of them. Why, I've no idea. But some position you have taken, evidently a medical one, has discredited you in their eyes. I take the liberty of inferring a theory of some sort, too radical or shocking to gain ready acceptance in current medical thinking. Your wedding ring tells me of your marriage, your Balkanized accent hints Hungary or Moravia, the toy soldier on the floor here ought, I think, to belong to a... small boy of five? Have I omitted anything of importance?

Sigmund Freud: My sense of honour.

Sherlock Holmes: Oh, it is implied by the fact that you have removed the plaques from the societies to which you no longer belong. In the privacy of your study, only you would know the difference.



---
Webpage created 16 February 2005. Last modified 15 April 2005.