< Return to Latter-day Saint Characters in Movies
Latter-day Saint (Mormon) Characters
in the movie
Shanghai Noon (2000)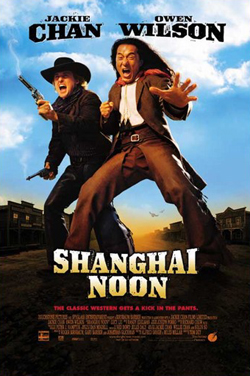 "Shanghai Noon" (2000)
Directed by Tom Dey
Screenplay by Miles Millar and Alfred Gough

Starring: Jackie Chan, Owen Wilson, Lucy Liu, Brandon Merrill, Roger Yuan, Xander Berkeley, Rongguang Yu, Ya Hi Cui, Eric Chen, Rick Ash, Valerie Planche

MPAA Rating: PG-13
U.S. Box Office: $56,932,305
Production budget: $55,000,000

Three warriors of the Chinese Imperial Guard (played by actors Rongguang Yu, Ya Hi Cui and Eric Chen) have accompanied Jackie Chan's character (Chon Wang) from China to the Old West in the United States in order to assist him in his mission to rescue the kidnapped Chinese princess Pei Pei (played by Lucy Liu). Famous and amiable outlaw Roy O'Bannon (played by Owen Wilson) attempts to rob the train as it crosses Nevada. Mishaps ensue, and Jackie's character is separated from the Imperial Guardsmen.

The film primarily follows the story of Jackie Chan and Owen Wilson's travels. The next time we see the Chinese Imperial Guardsmen, we see that they have been travelling with a family of Latter-day Saint pioneers.

While the family takes a break from travelling to rest and eat, the guardsmen perform some exercises with their swords. In a brief scene that begins 31 minutes and 24 seconds after the start of the film, we see the pioneer family, and they discuss who they think the guardsmen are.


Below is the dialogue from this scene, as it can be heard in the movie:

Jedediah's wife (Valerie Planche): They don't look like any injuns I ever seen, Jedediah.

Jedediah (Rick Ash): That's because they're no injuns, woman! They're Jews!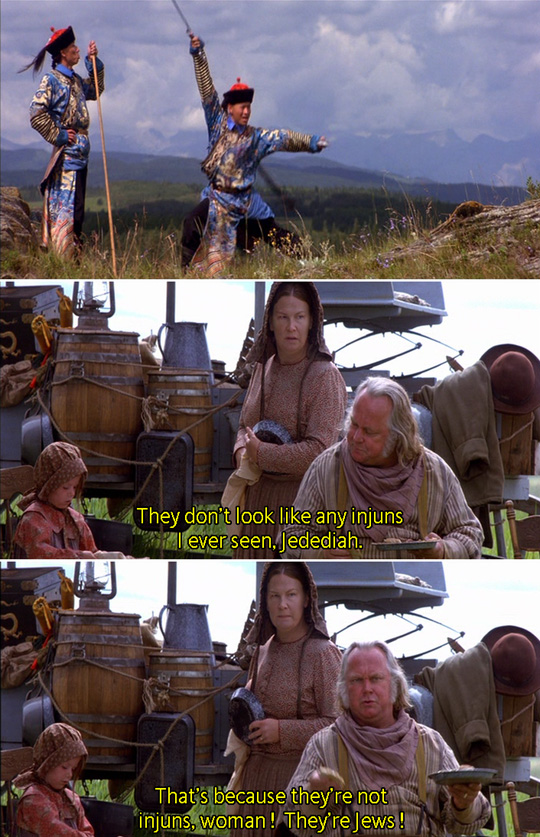 The Latter-day Saint pioneer family appears briefly in a later scene, in which they are shown dropping off the Chinese Imperial Guardsmen in a town. The pioneers have no dialogue in this scene. Immediately after the Guardsmen are dropped off in town they are spotted by a travelling showman named "Bulldog Drummond." Drummond attempts to recruit the Guardsmen to star in a travelling show, for which townspeople will pay money to see them. This additional scene showing the pioneer family was deleted from the final cut of the movie, but it can be seen in the Bonus Materials section of the DVD, under the Deleted Scenes sub-menu, in the deleted scene named "Bulldog Drummond."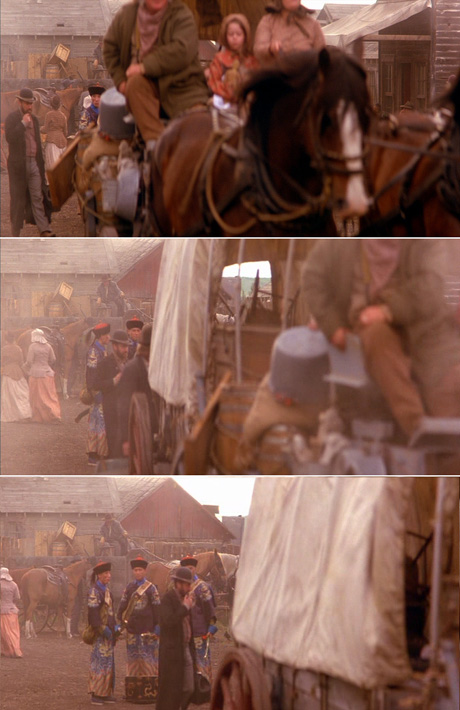 ---
Webpage created 8 October 2004.