Return to home page
The Field is White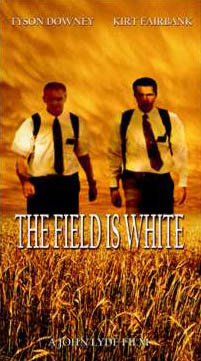 Related Links
LDSFilm.com interviews
John Lyde
about his film
"The Field is White"
5 February 2002 - Some audiences have seen Lyde's short film "Turn Here," which was included in the Best of Competition show that was part of the 1st International Young LDS Film Festival (October 2001). But "The Field is White" is Lyde's first commercially available film.

Like the first feature-length films of many directors, "The Field is White" is a very low-budget production. How low? Let's just say its budget was low enough that anybody reading this could afford it -- if they already had access to the equipment used. The budgetary constraints mean that the production quality (sound and image) are not on par with what you would see in a theatrically released film. Actually, I didn't find the sound distracting, but the lack of professional-quality lighting is noticable at times. (Alternatively, one could say that "The Field is White" follows all the rules of the Swedish-originated back-to-basics filmmaking movement known as "Dogma 95," popularized by critically acclaimed filmmakers such as Lone Scherfig and Lars von Trier: hand-held cameras, natural lighting, real locations, no artificial costumes or makeup, no optical effects.)

Budget constraints aside, there is much to recommend this video: The story and themes are unique. "The Field is White" is intended to be inspirational, but it also tells an interesting story with unique and believable characters. There is nothing that audiences will find offensive, yet there is much that is informative and thought-provoking. Parents and youth leaders who preview "The Field is White" might decide it would make a useful (as well as entertaining) video to watch with their families, youth or young adults.

The film is also very realistic in its portrayal of missionary life -- in many ways it is more realistic and revealing than other available films with higher production values, such as "God's Army" and "The Other Side of Heaven." The writer and director, John Lyde, is a recent returned missionary, as are the actors portraying missionaries and many of the people involved in the production. There are at least a dozen realistic scenes portraying aspects of missionary life that have probably never been filmed before. All of this gives "The Field is White" a very ethnographic feel. The video would be a welcome addition to any public or college library, or to sociology and religious studies departments in universities.

We caught up with filmmaker John Lyde in the first week of February 2002, soon after his movie "The Field is White" was shipped to stores as a video. The video is distributed by Thomson Productions, the company that distributes dozens of other videos to LDS bookstores, including "Only Once" and "Christmas Mission." His detailed answers will be of interest to people considering buying "The Field is White", and to budding filmmakers thinking about making their own films.


Q. What equipment did you use to make "The Field is White"?

Lyde: I purchased a Canon XL1 earlier in the year to use for wedding videos that I do occassionally on the side. That is what I used to shoot this film. So I already had a camera. I also had a big paint job earlier in the summer, which made it possible for me to purchase a computer and editing software. I used Canapus DV Storm. I did have to pay for the tapes. I used about 9, so I spent around 70 bucks. I also had to purchase a pack of cigarettes for one scene. This was a whopping 4 dollars. All the acting was done for free. I was blessed with a great cast. Everyone in the film is a good friend of mine, in my ward, or a co-worker at BYU. Most of the film was shot in Provo around my apartment. The scene at the beginning was filmed at Tyson's grandparents' house in Benjamin, Utah. Once I had a first cut of the film we transferred it over onto a Soft Image system and gave it a Film Look and did some Color Correction. We also did some sound work on Fast Silver.


Q. What was the biggest frustration caused by your limited budget?

Lyde: The sound quality and the lighting were some of my biggest limitations. I didn't have a lighting kit and a good mic, so I had to do most of the sound in post production. Rocco Devilliers let me use his DAT Recorder to do most of the looping and Lisle Moore let me use his mic. I think if I used this stuff during production the sound would have turned out a lot better. Also, due to the fact that I wasn't paying any of the actors I had to work around everyone's schedule. Most of them were in school and also had jobs. It wasn't an easy thing to get four people in the same shot.


Q. Thematically, "The Field is White" is about missionaries, a topic that a few other filmmakers have addressed. One of the many things that makes your film unique is the focus on returned missionaries struggling with their faith. What made you decide to make a movie about this subject? What is the film's purpose and who is the target audience?

Lyde: I was read the Doctrine & Covenants with my wife and we were on section 4. She asked me if I could still quote it. I did and then we checked to see if I was right. While looking at verse four, I thought that it would be a good opening scripture for a movie about missionaries. Then I thought if the verse faded out except for the words the field is white, we had a cool opening title. I started looking in my missionary journals for ideas for the script. While reading I was able to think back about many of my experiences that I had forgotten about. It then came to me -- the plot of the movie could be about a returned missionary who is struggling with his faith and he finds his missionary journal and starts to read. I wanted to keep this as the theme of the film -- that once we find the truth we have to hold on to it.

I think the main target audience is returned missionaries because I think they can relate to the film more. I also wanted to make it enjoyable for families to see.


Q. In addition to Church-produced videos such as "Labor of Love," recent missionary-themed films have included Richard Dutcher's "God's Army", Michael Schaertl's "Christmas Mission" and Mitch Davis's "The Other Side of Heaven." Many (perhaps most) of your potential audience is familiar with these films. Did this have an effect on how you made "The Field is White"? Did it make things easier or harder?

Lyde: I think every missionary movie will now be compared with God's Army. I thought it was a great movie. I wanted to make my film not quite as real as God's Army and not as "hollywood" as The Other Side of Heaven. I had a very limited budget which made it very difficult to compete with the technical achievements of those two movies. But I am still happy with the way my film turned out.


Q. How many of the events in the film were drawn from real experiences, and how many were completely fictitious?

A. The story of the returned missionary going inactive is fictitious. It happens, but I didn't really base that character on anyone. Almost every other story in the movie happened during my mission except for the scene with the minister and the scene when the missionaries are attacked. The scene with the minister is actually based on a experience of one of my home teachers. The other scene is fictitious. The character of Elder Taylor was mostly based on myself and the character of Elder Johnson was a combination of several of my companions.


Q. The missionaries in the movie encounter a surprising variety of people who exhibit anti-Mormon prejudice, ranging from people who are simply misinformed or rude, to others who are violent. Anti-Semitism and other forms of bigotry have been treated extensively by other directors, and anti-Mormonism was touched upon in "God's Army" and "The Other Side of Heaven." But "The Field is White" seems unique in the way this topic is addressed pointedly and realistically, and addressed from many different angles. Why include this in "The Field is White?" Was this a challenging topic to write about?

A. During my mission we met many wonderful people, but also many people who misunderstood the church and had no interest in changing their opinions. In writing the script I wanted to keep it truthful by putting in the hard times as well as the good. Sometimes the spirit was able to soften their hearts, but most of the time their hearts were too hardened.


Q. What made Tyson Downey and Kirt Fairbank right for the lead roles in "The Field is White?"

Lyde: Kirt and I had wanted to do a movie together for a while. While writing the character of Elder Johnson I thought Kirt would be perfect. Tyson on the other hand was a small miracle. A couple weeks before shooting I still didn't have Elder Taylor cast. I thought about doing it myself, but thank goodness that didn't happen. Tyson was off his mission for a couple of weeks and we shot the opening scene with him and it turned out great. I had shot a short film with Tyson when he was 12 and also he had a short bit in a film I did in 1998.


Q. Seeing Lynne Carr in "The Field of White" was a great delight. Her character and appearance is so different from her role in "God's Army" that I can imagine many people wouldn't know it was her if her name wasn't in the credits. What made you decide to cast her?

Lyde: Lynne Carr is my neighbor here in Provo. When I moved into the ward someone told me that the ward chorister was in God's Army. I thought, awesome. We became friends and when writing the script I always had Lynne in mind. I knew if I could get someone with a lot of acting experience it would help the production tremendously.


Q. Was anything specific done to make her look like a heavy smoker?

Lyde: The only thing I tried is to use just one light from outside the window which caused some heavy shadows. But doing so is not very flattering for the actor or actress. I promised Lynne that in our next film that I would use more than one light and there would be no shadows on her.


Q. The missionary with the foreign accent gave a stand-out performance. Who is he and where is he really from?

Lyde: He was played by Dave Kenchington, who is from England. He is going to school at BYU right now and works as a teacher at the MTC. He worked on the BYU Paint Crew with me over the summer and I thought he would be great as a missionary.


Q: I thought the editing (which you did yourself) was one of the film's strengths. Did you have a specific approach in mind while editing "The Field is White"?

Lyde: Most of the films I have done previously have been action films. With those I have always used rapid cuts to make the pacing seem faster. With this film I wanted to keep the pacing slower and not cut as much to keep the focus on the actor's performance.


Q. What directors do you admire or try to learn from?

Lyde: I have always enojoyed Robert Rodriguez (Spy Kids), John Woo (Hard Target), and James Cameron (Terminator 2). However, sometimes I don't like the content in their films, such as the swearing, gore, sexuality, etc. Two Mormon filmmakers I really admire are Richard Dutcher (God's Army) and Rocco Devilliers (Pure Race). I have found their films to be clean and very well done. I really like Richard's directing style and Rocco's editing style. And both of them are nice guys.


Q. Imagine you have the opportunity to make a big budget feature. (Up to $40 million, but you don't necessarily have to use that much.) What's the topic? Who's in it?

I actually have two scripts that I would love to turn into big-budget Hollywood films. One is a martial arts epic, Kurosawa. I wrote the lead for Mark Dacascos (Only the Strong) and parts for every big martial artist in the industry -- Jet Li, Jackie Chan, Jean Claude Van Damme, Wesley Snipes, Dolph Lungren, James Lew, Jason Scott Lee, etc.

My other script I don't think I am ready to make yet. Maybe when I have more experience under my belt. It is a love story between a Jewish girl and a German soldier set during World War II. It is called The Broken Wall. I would love Natalie Portman (Star Wars) and Josh Hartnett (Pearl Harbor) to play the leads.
---
Lyde films break into LDS market
By: Brittany Brough
Date: 26 January 2002
Source: BYU NewsNet / Daily Universe
URL: http://newsnet.byu.edu/story/36185

John Lyde is one of several independent filmmakers who is trying to make a difference in the world with inspiring short films.

His latest, "The Field Is White," describes a returned missionary who struggles with his testimony.

Lyde, 25, a part-time student from Orem, has produced short films since he was 12.

But now, his film "The Field Is White" will be distributed by Thomson Productions and sold in local bookstores.

Lyde said he ultimately wants to have his own company where people come to him with scripts.

"With each project, I want to use the money earned from previous films to put towards the next one, and get bigger and bigger," he said.

Lyde's next project will be a feature-length action film, he said.

Lyde said his favorite roles in film are director and editor. He was both on his film "The Field Is White," as well as almost every other role behind the camera.

"I did almost everything myself," Lyde said. "This film was definitely low budget, but the finished product turned out very professional."

Lyde traded services and winnings from the Minute Maid contest to have "The Field Is White" completed.

He said he painted one person's house for help with the sound, and traded Olympic tickets he won for post-production work.

However, Lyde said he filmed in a park by the LDS Motion Picture Studio when several BYU police officers showed up. A father in the park had called the police about a black box, and thought it contained drugs. The black box ended up being the camera.

Despite such speed bumps, Lyde managed to finish the film and create others.

The idea for "The Field Is White" came from reading Doctrine and Covenants 4:4, a standard and well-known scripture for every LDS missionary, Lyde said.

"I started reading my missionary journals to get ideas for scenes. That's when I came up with the plot of a guy whose life is in the gutter," he said. "He starts reading about his experiences, and the feelings he had then start to come back."

Lyde didn't want to make preachy, Hollywood-style or realistic films like "God's Army," but rather wished to capture something in between.

"I wanted something that's entertaining, but you can still feel the Spirit," he said. "I mostly wanted to help returned missionaries think back about their missionary experience."

Maryanne Packer, the office manager at Thomson Productions, said the company anticipates the film to do fairly well.

Linda Thomson, president of Thomson Productions, said she hopes the film will be a classic for members of the Church of Jesus Christ of Latter-day Saints by next year.

Thompson said the film addresses a sensitive topic which needs to be addressed.

"Nobody has ever dealt with the fact that kids lose their way after missions," she said.

This was Lyde's second spiritual film.

The first was based on an article from the Ensign, and was shown at the Young International LDS Film Festival.

"The Field Is White" is over 50 minutes long, and will be released by the end of January.
---
"The Field is White"
CLOSING CREDITS as they appear in the film
Written, Edited & Directed by
John Lyde

Produced by
John & Lorien Lyde

Music by
Jonny Taylor




Cast
Character
Actor
Elder John Taylor
Tyson Downey
Elder Alma Johnson
Kirt Fairbank
Melissa
Lynne Carr
The Minister
Richard Pratt
Elder Newell
Dave Kenchington
Elder Wursten
Jacob Ballentine
Karen Crover
Rose Rowbury
Danny Crover
Roger Rowbury
Mariah Crover
Annette Rowbury
Jasmine Crover
April Rose Rowbury
Scott
Nicholas Frey
Licentious Drunk
Jaelan Petrie
Lewd Drunk
Mike Wood
Ball Player
Brent Wursten
Homeless Man
Frank Stubbs
Grumpy Lady
Marcaux Lodge
Young Ladies
Crystal Rucker
Jenny Larsen
Elders
Jon Johnson
Michael C. Wood
Sisters
Maren McCoy
Evelyn Buck
Elder Gray
Jonny Taylor
Elder Wilford
Dan Singer
Young Family
Cory Woolstenhulme
JJ Woolstenhulme
Hayden Woolstenhulme
Pamela
Lorien Lyde
Megan
Stefanie Walker
John's Mother
Pat Brann
Contacts
Michael Pratt
Brother Cottrell
Sister Madsen
Michael Kennard
Celeste Kennard
Sister Law
Sister Cannon
Becky Downey
Rachelle Heward
A Special Thanks To

Rocco DeVilliers
Adam Abram
Lisle Moore
Rosalie Killpack
Richard Pratt
Jim & Merle Downey
Ben & Cliff
Gary & Becky Downey
Kae Jolley
The Rowbury Family
The Griffits Family
The Law Family
The Pratt Family
The Lyde Family
Steffanie Walker
Lorien Lyde
Ethan Lyde
Michelle Fairbank
Melanie Packer
Beo Michalek
Weston Flamm
Carol Roylance
Josh Souter
Cecily Cox



THE FIELD IS WHITE
copyright 2002 JKL Entertainment
---
NOTE: Marcaux Lodge is apparently credited as "Margaux Lodge" in Lyde's next film, "In the Service of God" (2003).
---
Web page created 28 January 2002. Last modified 24 February 2003.