Back to "The R.M." page 2




"The R.M."
Articles and Reviews
- Page 3 -
"The R.M" Production Information
(complete opening and closing credits)
Date: 13 January 2002
Source: "The R.M." official website
URL: http://www.rmthemovie.com/press.html (downloadable PDF file)




"Just when you thought it was safe to go back into the world . . ."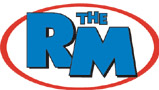 production information
HALESTORM
ENTERTAINMENT

www.rmthemovie.com




[Page 2]

HaleStorm Entertainment, Inc.

Presents
A HomeComing Production

THE R.M.

Directed By
Kurt Hale

Written by
John E. Moyer and Kurt Hale

Produced by
Dave Hunter

Executive Producers
Kurt Hale and Dave Hunter

Starring
Kirby Heyborne

Director of Photography
Ryan Little

Edited by
Wynn Hougaard

Production Designer
Doug Ellis

Music by
Cody Hale

Casting by
Michelle Wright


A Hale/Hunter Fireside




[Page 3-5]
CAST
(in order of appearance)
Airport Singers
Erica Hansen
Jenny Ord
Elder Sniffler
Jed T. Robinson
Emma Phelps
Tracy Ann Evans
The R.M.
Kirby Heyborne
Brigham Phelps
Merrill Dodge
Molly Spraggen
Erin M. Robert
Kori Swenson
Will Swenson
President Homer
Don Ainge
Sister Porterhouse
Michael Birkeland
Kelly Powers
Britani Bateman
Trish
Julie Thayne
Naked Ninja
Joel Tamiguchi
Clayton Kid
Shaun Schofield
Jan Clayton
Becky Heiss
Humuhumunukunukuapua'a
Leroy "Big Budah" Te'o
The Twins
Dylan Chatwin
Darik Chatwin
Jewelry Store Clerk
Christopher Robin Miller
Brother Spraggen
Gary Ludlow
LD3 Fat Guy
Chad Long
LD3 Nerd
Jared Hess
Joseph Phelps
Jake Pedersen
Sariah Phelps
Maren Ord
Ruth Phelps
Anne Kathryn Parma
Sam Phelps
David Christenson
Alma Phelps
Erik Michael Schofield
Amulek Phelps
Jordan Drumiler
Brother Jensen
Wally Joyner
Sister Jensen
Sherry Leigh
Jensen Girl
Ana Hunter
Jensen Boy
Cody Cowdell
Duey
Michael Birkeland
Grandpa Phelps
Fred Derbyshire
Grandma Phelps
Marlene Arnold
Organist
Ruth Hale
Bishop Andrews
Gary Crowton
Elder's Quorum President
Mark P. Cowdell
Relief Society President
Anne Bown
Sister Cooper
Debbie Ellis
Steve
Lincoln Hoppe
Russ
Sam Cardon
Brother Nielson
Gregory D. Stout
Priests
Justin Harrison
Brandon Forsey
Jonathan Rudy
Telemarketing Manager
Scott Lazerson
Telemarketer
Patrick Livingston
Himself
Larry M. Miller
Zak
Robert "Bob-O" Swenson
Rent-to-own Manager
Keith Nelson
Rent-to-own Employees
Allen Handy
Neil Winget
Rent-to-own Trainer
Danny G. Allen
Mattress Girl
Kyah Morris
Wind-blown Dance Hottie
Kelly Grover
Sister's Date
Scott Champion
Greenland R.M.
James F. Halcom
Micro-Indonesia R.M.
Michael Hollingshaus
R.M. Lover
Leslie Jenson
Eagle Scout
Christopher Johns
Sympathetic Dance Hottie
Christa Lindhardt
Motel Clerk
Nico Sorhaitz
Lloyd "Pants" Finderlyon
Mitch English
Kelly's Friends
Allan Groves
Rochelle Barton
Tow Truck Driver
Christopher E. Kendrick
Nancy Powers
Sherry Brian
Elder H. Ronald Powers
Richard R. Dayhuff
Stake President
Donald Cosney
Would-be Home Teachers
Larry Goodenough
John E. Moyer
Lee C. Fobert
Lawn Mower
Mearl McGinty
Jogger
Steve Black
Tucker
Adam Johnson
Reed
Jacob Jones
Frat Guy
Jeremy Hoover
Miss October
Heather Bryant
Good Samaritan
Rulon Gardner
Orderly
Dan Ivie
Relief Society Sisters
Kristine K. Bethers
Cathy Madsen
Ricky
Ryan Radebaugh
Wedding Band
The Rockamatics
Wedding Gust
Joan Johnson
Rex
Rob Johnson
Duey's Mom
RuthAnn Hogue
Duey's Dad
Dana B. Harper
Basketball Players
Daryn Tufts
Micah O. Young
Tommy
Jake Suazo
Brother Thompson
Robert Lee Farris
Sister Thompson
Ramona Denery
Brother Miller
Jim Westwood
Sister Miller
Holly Cowdell
Rusty
Chris Bringhurst
Sister Boris
Melva E. Taylor
Candy
Cami Tweed
Mandy
Brittany Suzanne Sperry
Phat Cop
Jimmy Chunga
Mini Cop
Rob Westerman
Field Reporter
Angie Larson
Cameraman
Randy Kendell
Herself
Ruth Todd
Himself
Randall Carlisle
Prisoners
David Sullivan
Grant Anderson
Larry Milton
Ron Jones
Gary Bortolussi
Prison Band
Jericho Road
Judge
S. Bryce Chamberlain
Greg
Curt Doussett
Bailiff
Ronald Williams
Council
Michelle K. Wright
Prosecutor
Scott Christopher
Court Officer
Mick Martin
Attack Dog
Oscar The Weenie
Tow Truck Dog
Zipper
Power's Cat
Pelegrina
[Page 5-8]
CREW
Directed by
Kurt Hale
Screenplay by
John E. Moyer
Kurt Hale
Produced by
Dave Hunter
Executive Producers
Kurt Hale
Dave Hunter
Associate Producers
Wally Joyner
Todd Pedersen
Eric Martinis
Keith Nellesen
Mark Comer
Steve Black
MTCCookies.com
Brad Plowman
Will Swenson
Don Ainge
Director of Photography
Ryan Little
Edited by
Wynn Hougaard
Unit Production Manager/
First Assistant Director
Brian Brough
Second Assistant Director
Heather Toone
Second Second Assistant Director/
Transportation Coordinator
Eric Johnston
Additional Screenplay
Daryn Tufts
Paul Eagleston
Stephen Rose
George Dayton
Casting Director
Michelle K. Wright
Casting Assistant
Kristi Labrum
Art Director
Cory Lorenzen
Set Decorator
Anne Black
On-Set Dresser/Still Photographer
Merrily Evans
Art Swing
Jacob M. Terry
Art Interns - Brigham Young University
Heidi Hathaway
Adam Baillio
Andrea Pimentel
Stori Lauritzen
Christina Lyon
Richard Clifford
Richard Gordon-Smith
Jason Yancy
Kynan Griffin
Brandon Dayton
Jason "Badger" Tieman
Sylvia Stoll
Ruthanne Laws
Craig Peeler
Allison Everett
Rocky Davies
Props
Master C. Howard Gallup
Props Assistant
Drew Champion
Costume Designer/Wardrobe
Julia Cregor
Wardrobe Assistant
Emily Yu
First Assistant Camera
Jared Hess
Second Assistant Camera
Jerusha Hess
Camera Intern
Jeff Gustafson
Production Accountant
Joel Jensen, Jr
Production Coordinator/Location Manager
R. Adam Abel
Script Supervisor
Mary Jo Manwill-Condor
Story Boards
Brian Lefler
Gaffer
Christopher E. Kendrick
Best Boy Electrician
Scott Hurst
Key Grip
Marty Patch
Best Boy Grip
Noah Sunday
Grip/Electric Swing
Richard Patch
Sound Mixer
Jeff Carter
Boom Operator
Spencer Carter
Key Makeup/Hair
Hillary Straga
Makeup/Hair Assistant
Shelba Dredge
Craft Service
Tim Cregor
Craft Service Assistant
Jessica Joyner
Office Coordinator
Brandi Terry
Set Production Assistants
Mike Hammari
Jason Allred
Darin Everitt
Master Intern
Chris Coppel
ABC 4 News Video Segment
Director
Trista Valdez
Technical Director
Dennis Sagers
Audio
Korey Vancott
Chryon Operator
Krachel Whiting
Teleprompter
Brett Stagg
Camera Operators
Clint Burgi
Brandi Jones
Ben Benally
Graphic Artists
Juan Maestas
Chikaye Dial
| | |
| --- | --- |
| Post Production Services | Telos Productions |
| Post Production Sound | Jeff Carter |
| Negative Cutter | richard Flores |
| Titles/Opticals | iO Films |
| Optical Design | Chip Potter |
Cameras Provided by
OTTO NEMENZ INTERNATIONAL

Grip and Lighting Provided by
MOVING PICTURES LIMITED

Color by
DELUXE LABORATORIES




[Page 9]
Soundtrack
"In The Hollow Of Thy Hand"
Words and Music by Janice Kapp Perry
Arranged and Performed by
The Sugarland Run

"Give Said The Little Stream"
Words by Fanny J. Crosby
Music by William B. Bradbury
Arranged and Performed by
Matt Harding

"Called To Serve"
Words by Grace Gordon
Music by Walter G. Tyler
Arranged and Performed by
Edit Nothing

"Love One Another"
Words and Music by Luacine Clark Fox
Arranged and Performed by
Jamen Brooks and John Hancock

"I Need Thee Every Hour"
Words by Annie S. Hawkes
Music by Robert Lowry
Arranged and Performed by
The Debra Fotheringham Band

"Love Is Spoken Here"
Words and Music by Luacine Clark Fox
Arranged and Performed by Clay

"I Need Thee Every Hour"
Words by Annie S. Hawkes
Music by Robert Lowry
Arranged and Performed by
The Debra Fotheringham Band

"My Heavenly Father Loves Me"
Words and Music by Clara W. McMaster
Arranged and Performed by
One Cent Stamp

"Abide With Me; 'Tis Even Tide"
Words by Lowrie M. Hofford
Music by Harrison Millard
Arranged and Performed by
Ponchillo

"I Hope They Call Me On A Mission"
Words and Music by Newel Kay Brown
Arranged and Performed by
Ryan Shupe and the RubberBand

"Onward Christian Soldiers"
Words by Sabine Baring-Gould
Music by Arthur S. Sullivan
Arranged by Tim Fullmer
Performed by The Cretins

"If You Could Hie To Kolob"
Words by William W. Phelps
Music English Melody
Permission Oxford University Press
Arranged by Kirby Heyborne
Performed by
Kirby Heyborne and Marc Thorup

"Onward Christian Soldiers"
Words by Sabine Baring-Gould
Music by Arthur S. Sullivan
Arranged and Performed by
Stretch Armstrong

"Where Can I Turn For Peace"
Words by Emma Lou Thayne
Music by Joleen G. Meredith
Arranged and Performed by
Maren Ord

"We'll Bring The World His Truth
(Armies of Heleman)"
Words and Music by Janice Kapp Perry
Arranged and Performed by
Hudson River School

"I'm Trying To Be Like Jesus"
Words and Music by Janice Kapp Perry
Arranged and Performed by Jerrytown

"Go Back"
Performed by Sweet Haven
© 2002 Sweet Haven
Courtesy of Echo Ridge Records

© 2003 HaleStorm Entertainment, Inc.
All Rights Reserved.




[Page 10]

Special Thanks
All Event Rentals
Jil Hunter
Marnie Brian
Utah Film Commission
Dave Nicholson
Apex Alarm
Downeast Outfitters
Hale Center Theaters
City of Lindon
Salt Lake International Airport
Timp Bookstore
City of Wallsburg
G&K Services
Utah Brewers Cooperative
Afroman Productions
Sysco Foods
Ruth Ellis
Dragon
Clegg Family
Pinnacle Signs and Graphics, Inc.
Cricket Wireless
Carrie's Cakes and Catering
Sandy City P.D.
Maverik Country Stores
Bob's Towing and Recovery
City Of Provo
Tom Lefler
June Audio
Carrie Jenkins
Brigham Young University
Tour Ice
City Of American Fork
Olympus Bottling Co.
Carl Wanlass
Cotton Tree Inn
Coca-Cola
Provo Towne Center
Losee Jewelers
Mayan Restaurant
Airtimer.com
Utah County Commission
Dale Harvey
Don Nay
East Lake Care Center
UtahWeddings.com
Larry Miller Dealerships
Treehouse Marketing
Latter-Day Bride
Lifeadvisors.org
Marilyn Toone
Jack Evans
Cinemark Cinemas
Jennifer Kirkham
Krystal Kreations Glass
Great China Restaurant
Signs Now
Hogi Yogi-Teriyaki Stix
Jon T. Fischer
MTCCookies.com
Krispy Kreme Doughnuts
Magelby's Fresh
Chipper Snacks
Meadow Gold
Ernie's Deli
Pier 49
Gandolfo's
The Cabo Grill
Outback Steakhouse
Buona Vita
Blackjack Pizza
Fazoli's
Kneaders
Ottavio's
Jumbal Jar Cookies
Sonic Burgers
Durango Grill
Cornerstone Baker
Hotsaints.com




12/4/02



---
Notes: Is "Erin M. Robert" the actress credited in the role as "Molly Spraggen" in "The R.M." the same actress as "Erin Roberts," who played an announcer in "The Singles Ward"? Script supervisor Mary Jo Manwill-Condor has had her name credited under numerous spelling variations, including simply Mary Conder. Storyboard artist Brian Lefler is usually credited as Bryan Lefler.
---
Go to "The R.M." page 4