Back to "The R.M." page 3




"The R.M."
Articles and Reviews
- Page 4 -
"The R.M" Production Notes and Plot Summary
Date: 13 January 2002
Source: "The R.M." official website
URL: http://www.rmthemovie.com/press.html (downloadable PDF file titled "RM Summary.PDF")




"Just when you thought it was safe to go back into the world . . ."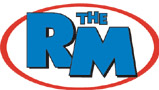 production information
HALESTORM
ENTERTAINMENT
www.rmthemovie.com
Introduction
The R.M. is the hilarious story of a young man who returns home from his LDS mission to discover that life rarely turns out the way you want or expect. In the comic tradition of The Singles Ward, it is a film, which explores the idiosyncrasies of Mormon Culture in a light-hearted and playful manner. Specifically, the film focuses on the plight of returned missionaries or "RM's" (as they are often lovingly referred to in Latter-Day vernacular) and their sometimes-awkward readjustments back to into normal life as non-missionaries. While the film is often funny, it also offers a very poignant story of a young man coming to terms with his own faith and conviction in dealing with life's many unforseen challenges.
Like The Singles Ward, the film is primarily geared toward LDS and family audiences. In particular, the film is for those individuals who have been on LDS missions, or those who know someone who has been on a mission--which comprises almost the entire Mormon population. Nevertheless, the film contains many universal themes and elements, and should appeal to broader audiences, specifically those that are open to culturally specific films/comedies like My Big Fat Greek Wedding and Barbershop.



Synopsis
For the last two years, Jared Phelps (KIRBY HEYBORNE) has faithfully served his God and church as a Mormon Missionary. Now that his time of service has come to an end, Jared is ready to return to normal life and all of the perks that come with it. He has a beautiful girlfriend (Erin M. Robert), a great job, a loving family, a chance to go to a prestigious university and his trusty old car all waiting for him. Now he can reap the many blessings of his obedient and faithful service. Or so he thinks.
The movie begins with Jared's return home. His parents, Brigham and Emma (MERRILL DODGE and TRACY ANN EVANS), like most Mormon parents, are stretched to the limit. With eleven kids (and another on the way), a fledgling home-based business, and the upcoming wedding of their daughter, Sariah (MAREN ORD), some things are sure to slip through the cracks . . . like Jared's homecoming, which they altogether forget.
However, not only does the Phelps family forget to pick Jared up from the airport, but they also forgot to tell him that they've moved, that a Tongan exchange student (LEROY "BIG BUDAH" TE'O") is living in his room and that they have sold his car to send his younger brother on a mission. Although Jared is surprisesd, he maintains his perspective; at least he still has Molly and his old job . . .
Once home, Jared is anxious to get on with his life. He uses his college savings to buy a ring and rides an old family bike over to Molly's house so he can surprise her with a marriage proposal. With a newly purchased ring in hand, Jared can't wait to see the love of his life. Unfortunately, his much-anticipated reunion turns horrific as he discovers that Molly is already engaged to someone else. Frustrated, Jared attempts to return the ring, but the jewelry store has a no-return policy. Now he's stuck with an expensive ring and no takers.
The R.M. is ultimately a tale, not unlike the story of Job in the Old Testament. Although it is a modern comedy, The R.M. is really the story of unwavering faith and redemption in the face of bad luck and misfortune.



About the Production
In 2002 filmmakers Kurt Hale and Dave Hunter released their first film, The Singles Ward, a comedy about the ups and downs within congregation of Mormon singles. The film, produced for a mere $450,000, became a local phenomenon in Utah and performed exceptionally well in a limited theatrical release throughout the western United States. In the process, it grossed close $1.5 Million in just over a hundred theaters, and went on to become a best-seller on video and DVD, with well over 100,000 copies sold.
As a follow up to this modest success, Hale and Hunter began shooting The R.M. during The Singles Ward's theatrical release.
"The degree of success of Singles Ward was truly surprising," says producer Hunter. "We had planned to shoot The R.M. regardless of how well Singles Ward did. It [SIngles Ward's success] just made things easier when we approached our investors the second time around."
Many of the cast and crew members that worked on The Singles Ward returned for The R.M., including Director of Photography Ryan Little, Film Editor Wynn Hougaard, and Actors Kirby Heyborne, Will Swenson and Michael Birkeland.
"I was very pleased with the way The SIngles Ward turned out," says director Hale. "Kirby, Will and Michael are just fantastic. From the moment we got serious about The R.M., I knew I wanted them all back."
Casting for The R.M. was reunion of sorts. Says Heyborne, who stars as Jared Phelps, the title character: "It was great to work with people you've worked with in the past. You don't have to build trust--it's already there. Will, Michael and myself have such good chemistry. Lightning struck twice."
Even though The R.M. has many of the same people working on it as The Singles Ward, it has a different look and feel. "We were very conscious of trying to give The R.M. its own identity," says Hale. "But we didn't want to be dramatically different from our first film. The humor in The R.M. is much more universal and plays more like a family film. The comedy is also very situational."
Shooting began in July and wrapped in August 2002. During the next four months, Hale and Hunter spent most of their days working with editor Wynn Hougaard and music supervisor Scott Wiley. "We couldn't be more pleased with the final product," stated Hunter. "I didn't know if we could top Singles Ward, but I think we did."



About the Music
Following in the footsteps of The Singles Ward, the soundtrack for The R.M. is bound to be another bestseller. Mixing the often-staid LDS/Christian church hymns with a modern rock beat really brings them to life. It is these lively hymns, which propel, The R.M., from scene to scene with musical energy. "The soundtrack was what helped make Singles Ward a hit," said Hunter, "Why should we mess with a good thing?"
To carry the movie along the Singles Ward road, Hale and Hunter approached a local music producer, Scott Wiley with June Audio. Over fourteen songs from both the LDS children's songbook and the LDS hymnbook have been rearranged using drum loops and electric guitars. The soundtrack features many local, LDS artists. Canadian singer/songwriter, Maren Ord, lends her talent to the soundtrack as well as bands such as Ryan Shupe and the RubberBand, The Sugarland Run, Edit Nothing, The Cretins, and Jerrytown.



About the Cast
KIRBY HEYBORNE (Jared Phelps) won audiences over with his performance as Dalen in the LDS comedy hit The Singles Ward. The R.M. marks his first starring role. He has also appeared in the films Social Suicide, Cumorah/Kirtland Projects as well as numerous commercials. He was also recently cast as the lead in the upcoming features The Best Two Years of my Life and will also be seen in the upcoming The Work and the Story.
WILL SWENSON (Kori) received critical acclaim for his starring role in The Singles Ward. He has performed in various off-Broadway and touring productions of Jekyll and Hyde, Miss Saigon and Fame. He starred in the Broadway-bound musical Kept, the first to perform the role of Ian. He has appeared in several LDS Church-produced films, most notably Firm in the Faith as Captain Moroni. Swenson resides in New York City.
BRITANI BATEMAN (Kelly Powers) makes her feature film debut in The R.M. She has performed at Robert Redford's Sundance Theater over the last two years. In her first production, she was cast as a lead opposite Christopher Lloyd in Oliver. She then followed opposite Maureen McGovern in Dear World. She was also a regular of the Japanese sitcom Sweet Seasons and has appeared in many commercials and has done voice-overs for numerous entertainment companies including Disney, ESPN and PBS.
TRACY ANN EVANS (Emma Phelps) is a twenty-year veteran of the stage and theater. Among other credits, she has been a lead player [at] Hale Centre Theatre in Salt Lake City for over five years. On film she has appeared in Roger Corman's Looking for Trouble, and numerous other roles. In addition, she sings with the Sterling Singers and Lex de Azevedo's Millennium Choir.
MERRILL DODGE (Brigham Phelps) has appeared on the television series Touched By An Angel as well as several films produced by the LDS Church. He has also directed several plays at the Hale Centre Theatre in Orem, UT and performs with the singing group the Sterling Singers.
MICHAEL BIRKELAND (Duey) is best remembered for his breakthrough role as Hyrum in The Singles Ward. A professional stand-up comedian, Birkeland made his film debut in the independent feature Push. He is currently working with his own production company Fueld Films, and has a host of commercial projects in development.
MAREN ORD (Sariah Phelps) makes her acting debut in The R.M. She is best known as a singer/songwriter. Her freshman album, Waiting, was released by Capitol Records in Canada in 2000 and by Nettwerk America in the US in 2002. In 1998 she performed at the Lilith Fair with such artists as Sarah McLaughlin, Sheryl Crow and Lisa Loeb. Her music has been featured on such television series as Felicity, Alias, Ed and in the film crazy/beautiful starring Kirsten Dunst.
LEROY "BIG BUDAH" TE'O (Humu) is a well-known radio personality who can be heard on Salt Lake City radio station KISN 97.1. He began his radio career at KSFM 102.5 in Sacramento. The RM marks his acting debut.
CURT DOUSSETT (Defense Lawyer) has appeared in numerous stage productions and commercials. Television and film credits include Everwood, Touched By An Angel and Dumb & Dumber. He is also the director of ComedySportz Utah, an improvisational comedy troupe based in Provo, UT.



About the Cameos
WALLY JOYNER (Brother Jensen) is best known as a former All-Star first baseman for teams such as the Anaheim Angels, Atlanta Braves, and the San Diego Padres. Joyner recently made his acting debut in 2002's The Singles Ward as Brother Angel.
JERICHO ROAD (Prison Band) gained praise and acclaim for their self-titled Christian pop-themed debut album. They recently released their sophomore effort, True North on Shadow Mountain records.
GARY CROWTON (Bishop Andrews) is best known as Brigham Young University's head coach, succeeding LaVell Edwards in 2001.
RULON GARDNER (Good Samaritan) is best known as the heavyweight wrestler who came from relative obscurity to defeat the previously unbeaten Russian world champion. In the process, he won the Gold Medal at the Sydney 2000 Summer Olympics.
LARRY H. MILLER (Car Dealership Owner) is a successful entrepreneur who is best known for his many car dealerships and his ownership of the Utah Jazz.
JIMMY CHUNGA (Phat Cop) reprises his cameo role he played in The Singles Ward. He is one of Salt Lake City's most popular radio personalities, hosting The Morning Show on 107.5 The End with Mister West and Casey Scott.
RUTH HALE (Church Organist) has been producing stage plays for over five decades. She owns the longest running theater group in America, with theaters in California, Utah and Arizona. In addition, she has appeared in well over one hundred films, TV shows and commercials.
RUTH TODD (Newscaster) is a well-known Utah celebrity and can be seen regularly as the lead prime time anchor for the Channel 4 Utah News Team (KTVX).
RANDALL CARLISLE (Newscaster) is a seasoned journalist and is best known as lead prime time anchor, who works with the Channel 4 Utah News Team (KTVX).
SCOTT CHRISTOPHER (Prosecution Lawyer) has appeared in numerous films, television programs and commercials. He recently appeared in Kels Goodman's Handcart and 2002's The Singles Ward.
LINCOLN HOPPE (Steve) is best known as DeVerl, the love struck loser from The Singles Ward. Other film credits include Handcart and Ryan Little's Out of Step. He also serves as artistic director for ComedySportz Utah's Salt Lake troupe.
MITCH ENGLISH (Lloyd Finderlyon) can be seen on the nationally syndicated morning news show, The Daily Buzz.



About the Filmmakers
KURT HALE (Director/Co-Writer/Producer) made his feature directorial debut with the independent feature The Singles Ward. The breakthrough film won three awards at the Thunderbird Film Festival, including Best Picture and Best Director. The R.M. is Hale's second feature. He and producing partner Dave Hunter will begin preproduction on Church Ball, another LDS-themed comedy, for an anticipated release in 2004.
DAVE HUNTER (Executive Producer) co-produced The Singles Ward with filmmaking partner Kurt Hale. In 2001, Hunter and Hale, who studied film together at BYU, formed HaleStorm Entertainment to produce and distribute comedic feature films primarily for the LDS audience. Church Ball, the third comedy from HaleStorm, will be released in early 2004.
JOHN E. MOYER (Co-Writer) is a professional writer/stand-up comedian. He co-wrote The Singles Ward, which is primarily based on his own experience in the LDS dating scene. The R.M. is his second produced screenplay.
RYAN LITTLE (Director of Photography) worked previously with Kurt Hale's on The Singles Ward. He directed the 2002 feature film Out of Step, which was very well received among the Utah critics. He received several collegiate awards for his short films Auteur and The Last Good War and is currently in preproduction on his second directorial feature.
WYNN HOUGAARD (Editor) edited Kurt Hale's The Singles Ward and Ryan Little's Out of Step. Wynn was also the supervising editor for Jack Weyland's Charly. He has edited numerous projects for the LDS Motion Picture Studio in Provo, UT.
DOUG ELLIS (Production Designer) was art director on the Michael J. Fox television series Spin City for four seasons. He has also worked for various production companies, including Worldwide Pants, Jim Henson Productions, HBO Independent Productions and DreamWorks Dramatic Television. He served as production designer for Ryan Little's Out of Step and currently serves as the technical director at Brigham Young University.
CODY HALE (Composer) has been writing and producing music for both the stage and and cinema for over twenty years. Most recently, he wrote the score for The Singles Ward. He co-owns the Hale Center Theater in Orem, Utah.
MICHELLE WRIGHT (Casting Director) cast both The Singles Ward and The R.M. As an actress she has appeared on NYPD Blue, General Hospital and Touched By An Angel. She can be seen in the upcoming feature film Day of Defense.



12/4/02
---
HaleStorm Entertainment Corporate Bio
Date: 13 January 2002
Source: "The R.M." official website
URL: http://www.rmthemovie.com/press.html (downloadable PDF file)




HALESTORM
ENTERTAINMENT




Longtime friends Kurt Hale and Dave Hunter, both graduates from Brigham Young University's film program, formed HaleStorm Entertainment in 2001 to produce and distribute LDS-themed and family friendly motion pictures. Their first feature film, The Singles Ward, became a local phenomenon in Utah and performed extremely well in limited release throughout the western United States.

HaleStorm's second feature, The RM, will be released in Utah in January 2003. They are also currently in preproduction for their third LDS-oriented comedy, Church Ball, scheduled for release in 2004.

In the fall of 2002, Hale and Hunter formed Hale Yeah! Recrods, a sister company to HaleStorm. Their first release, A Very Singles Christmas, follows the pattern of The Singles Ward soundtrack by taking popular Christmas songs and remaking them with an alternative rock edge. Hale Yeah! will release the soundtrack to The RM in early 2003.

HaleStorm Entertainment
580 South State Street
Orem, Utah 84058
(801) 434-####
info@halestormentertainment.com
---
Go to "The R.M." page 5