Alison Akin Clark * * * Jeremy Elliott * * * Michael Buster
Tayva Patch * * * Rick Macy
Out of Step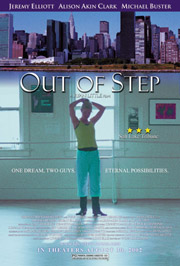 Related Links
The "Out of Step" official website was once at http://www.ldssilverscreen.com, but is no longer there

The Last Good War - short film directed by Ryan Little
The Singles Ward - feature film on which Ryan Little is the cinematographer
God's Army - film starring Michael Buster
Charly - film starring Jeremy Elliott
Brigham City - film starring Tayva Patch and Rick Macy

Handcart Ensemble - Latter-day Saint theatrical troupe New York City
"Out of Step" tells the fictional story of "Jenny Thomas," a Mormon girl from a small town in Utah pursuing her dreams of becoming a professional dancer. After being accepted to a prestigious dance program Jenny finds herself alone and overwhelmed in New York City. The film combines high energy dance and cutting edge music with comedy, romance, drama, a traditional quest and very untraditional characters.
The screenplay for "Out of Step" was written by Willow Leigh Jones, Nikki Schmutz, actor/writer Michael Buster, who may be best known as the AWOL "Elder Kinegar" from Richard Dutcher's independent hit "God's Army" (2000). The script was based on an original story by Willow Leigh Jones.
Michael Buster also stars in "Out of Step" as "Paul Taylor," a witty New York City filmmaker who befriends Jenny soon after she arrives in New York. Like Jenny, Paul is a Latter-day Saint, but as he begins to have feelings for her, she falls in love with David Schrader, a musician. David does not share Jenny's religious or cultural background, yet he seems to be the man of his dreams. "David" is played by actor Jeremy Elliott, who has previously starred as Jacob in "The Testaments of One Fold and One Shepherd" (2000), directed by Academy Award-winning director Kieth Merrill. Jeremy Elliott also plays "Sam" (the male lead) in "Charly," the upcoming feature film directed by Adam Anderegg from the best-selling Jack Weyland novel.
Jenny's parents are played by Tayva Patch and Rick Macy, who have previously starred together (although never before playing husband and wife) in Blair Treu's "Secret Keeper", Dutcher's "Brigham City" and Merrill's "Testaments."
Simply listing this incredible cast should make it clear that "Out of Step" is a "must-see" film. But perhaps the most compelling aspect of the film is its director: Canadian-born prodigy Ryan Little. Although "Out of Step" is his first feature film as director, Little's name is already known to film fans. Little was the director and producer of the independent short "The Last Good War" (14 min.), which in 1999 won both the Jimmy Stewart Crystal Heart Memorial Award (at the Heartland Film Festival) and the Student Emmy for Best Dramatic Film Award, awarded by the Academy of Television and Film. "The Last Good War" is the story of two soldiers from opposite sides of the World War II conflict who end up in the same shelter during a brutal winter storm. "The Last Good War" has been screened at over 20 film festivals and is available for purchase by itself on video, or as part of the video "Treasured Stories of the Golden Rule," which includes 2 other short films.


---
Information from the Official "Out of Step" Website
Cast
Alison Akin Clark
Jenny Thomas
(lead)
Jeremy Elliott
David Schrader
(non-member musician love interest)
Michael Buster
Paul Taylor
(LDS filmmaker friend)
Nicole White-Robledo
Kiesha
(Jenny's friend)
Peter Asle Holden
Mr. Rigg
(Jenny's dance instructor)
Tayva Patch
Jenny's mother
Rick Macy
Jenny's father
T. L. Forsberg
Desiree
(Jenny's rebellious roommate)
Crew
| | |
| --- | --- |
| Director of Photography | Michael Worthen |
| Production Designer | Doug Ellis |
| Editor | Wynn Hougaard |
| Producer | Cary Derbidge |
| Producer | Kenneth Marler |
| Casting Director | Jennifer Buster |
| Writer (story) | Willow Leigh Jones |
| Screenwriters | Michael Buster, Willow Leigh Jones, Nikki Schmutz |
| Director | Ryan Little |
| Composer | Merrill Jensen |
| Music by | Kriya, Alex Boye, Moxie Tonic, John McVay, Jeremy Elliott |
---
"Out of Step" Website Updated
21 January 2002 - The official "Out of Step" website is back online after its previous largely unannounced debut late last year. The site is largely the same as it was when it first went online, with the addition of material in two previously blank sections: "Soundtrack" and "Contest."

On the "Contest" screen, the text reads:
WIN FREE PASSES TO THE PREMIERE OF OUT OF STEP
DETAILS COMING SOON..

SPONSORS
TEMPLE SQUARE INN
HILTON
CRYSTAL INN
TEMPLESQUARE.COM
"TempleSquare.com" in this section is a link to that commercial website.
The "Soundtrack" section (actually a sub-section within the "Production" section) includes a photograph of Alex Boye and the following text:
Alex Boyé grew up in London, England. In 1996 he formed the boy band Awesome, signing a major deal with Universal Records in England. Awesome had hit records worldwide including "Rumours" selling 400,000 copies in fifteen countries. The group made top-10 chart runs across Europe. They performed with well-known artists such as Missy Elliott, MC Lyte, Lutricia McNeal, The Backstreet Boys and N'Sync. In 1999, Alex took the opportunity to develop his solo career as a performer, singer and songwriter, working with a number of well-known producers including Full Crew, Tim Laws, and R&B master Paul Waller. Alex released his latest album, a gospel record produced during the summer of 2000 called "The Love Goes On", with Boye Central Music Publishing in September 2001. He is currently working on many different projects including song writing for Thurl Bailey's new CD for 2002 and has recorded for Senator Hatch.
Alex Boye is not the only musician featured on the "Out of Step" soundtrack, so it is likely that this is not the final incarnation of the text on the "Soundtrack" screen.

The "Out of Step" is FLASH file. The HTML index file at the root level includes the following original version of the text for the site:
One Dream, Two Guys, Endless Possibilities.....

SYNOPSIS
Graced with the instinctive ability to dance, Jenny Thomas (Alison Akin Clark) wants nothing more than to become a professional dancer. All of her hard work pays off when she is accepted to a prominent dance program in New York. Jenny is determined to take her chance. Against her Mother's will (Tayva Patch), but with the support of her Father (Rick Macy) she leaves her small Mormon town in Utah and heads to New York in pursuit of her dream. Jenny soon finds herself financially broke and spiritually lost in her new surroundings. She quickly makes friends with Paul Taylor (Michael Buster), a witty Mormon Filmmaker who finds Jenny's ambitious dream to be the subject for his next Film. Keeping her mind diligently focused on dance proves harder than she expected as she finds herself falling in love with David Schrader (Jeremy Elliott), a dark and mysterious New York Musician. As their relationship builds Jenny starts to struggle with her religious beliefs and her new lifestyle. Paul's true romantic feelings soon surface and Jenny finds things to be a little more than she can handle. Her scholarship and her dream are on the line and Jenny takes an emotional rollercoaster ride to work it out. Jenny must fight to keep her scholarship and try to find balance between the man of her faith and the man of her dreams.


TRAILER
COMING SOON...


CAST

ALISON AKIN CLARK
Clark makes her film debut as Jenny Thomas, a gifted dancer from a small Mormon town who is determined to make it big in New York. Clark was destined to be a success from the moment she stepped onto a stage. While attending College at BYU she was chosen to be in the highly recognized performance group Young Ambassadors. This past year Clark has traveled to over 30 countries as the lead singer performing on the MS MAASDAM for the Holland American Cruise Line. She has an extensive theatrical background playing various rolls, such as Billie Dawn in Born Yesterday, Amalia Balash in She Loves Me, and has recently starred as Laurey in the Tuacahn production of Oklahoma.

JEREMY ELLIOTT
Elliott plays Dave Schrader, a savvy New York musician. Jeremy is well known for his lead role as Jacob in the film The Testaments of One Fold and One Shepard, directed by Academy Award winning Director Keith Merrill. He has appeared in such productions as Touched by an Angel, Promised Land, Cover Me, Pacific Blue, Perfect Town Perfect Murder and The King's Falcon. He has received such prestigious acting awards as the Irene Ryan Award. Along with being an accomplished actor, he is also a trained singer as well as a prolific songwriter; several of his songs appear in the film. He will be appearing in the upcoming television mini-series, Firestarter. Elliott will be also seen playing the part of Sam in the new film Charly, bound for theatres early this spring.

MICHAEL BUSTER
Buster plays the hysterically comical part of Paul Taylor. Michael is no stranger to the big screen, playing such roles as Elder Kinegar in the Independent hit God's Army. He has worked extensively in the voice-over market and has lent his voice to many commercials, television shows and animated series. He has also appeared on The Drew Carey Show, The Visitor and Kenan and Kel. Buster appears as the lead role in the up and coming film The Summer House.

NICOLE WHITE-ROBLEDO
Robledo plays Kiesha, a Religious College student who helps Jenny with her spiritual struggles. Nicole makes her feature film debut with Out of Step. She has been acting since the age of fifteen when she was cast on the New England TV show Super Kids. Robledo went on to do the ABC television drama In the Shadow of Love: A teen AIDS story. Her love for acting brought her to "The Harrison Project", a critically acclaimed Boston theatre company, where she did many productions including Search & Destroy and The Gingerbread House. A short time later she returned to TV to co-host a weekly television show Food New England.

PETER ASLE HOLDEN
Holden plays the part of Mr. Rigg, Jenny's dance instructor. Peter, originally from Portland Oregon counted his gas money and moved to LA where he landed a recurring roles on The New Dragnet and The Wonder Years. He has appeared on such shows as The Desert Sand's Rise, Pretender and Frasier. When he is not doing a film he is back on the stage where he first started his acting career. Holden has performed in such theatrical productions as Merlin, When a Woman Loves a Man, Man of Destiny and the critically acclaimed anti-gulf war production of KIA.

TAYVA PATCH
Patch plays Jenny's mother. Since beginning a professional film career over six years ago Tayva has work extensively in L.D.S film productions. She currently appears in the film The Testaments of One fold and One Shepard at the Legacy Theatre in Salt Lake City, Utah. Tayva has appeared in Touched by an Angel, Promise Land as well as several movies of the week for television. In addition to her film work she performs on stage in such productions as Wait Until Dark, Playing For Time, and A Man for All Seasons. She recently appeared in Brigham City and the up and coming Blair Treu film The Secret Keeper.

RICK MACY
Macy plays Jenny's father. Rick was one of the lead roles in The Testaments of One Fold and One Shepard. He has appeared in such films Bugg-Off, Message in a Cell Phone, Return to the Secret Garden, Secret of Treasured Mountain, Knocking at Heaven's Door and Two Catch Two. He has also appeared numerous times on Touched by an Angel as well as such television shows as Perfect Town Perfect Murder, Unsolved Mysteries, and Under Contract. Rick has also done two PBS specials, as well as numerous industrial and educational films.

T. L. FORSBERG
Forsberg plays the part of Desiree, Jenny's rebellious roommate. She has appeared on such TV shows as Earth: Final Conflict, Le Femme Nikita and Showtime's Room Full of Mirrors: The Jimmy Hendricks Story. Forsberg, originally from Canada, brings more to the production than just her beautiful smile and a stellar sense of fashion. She is the lead singer of the alternative rock group Kriya, which makes a guest appearance in the film. TL's avante garde vocal style as well as her creation of "Visual Phonics", the mixture of American Sign Language and her vocals, has helped to create a cutting-edge visual style for the band. Kriya has earned nationwide recognition on various TV programs such as Much Music, The New Music and City TV.



CREW

DIRECTOR - RYAN LITTLE
Award-winning Director Ryan Little makes his feature film debut with Out of Step. The Canadian born filmmaker first captured the public's attention winning accolades from audiences and critics alike for his film The Last Good War. The film received The Jimmy Stewart Crystal Heart Memorial Award at the 1999 Heartland Film festival and Best Dramatic Film at the 1999 Academy of Television of Arts and Science College Awards. In addition to theatrical film work Ryan has directed many TV commercials and other short films including the award-winning mockumentary Auteur. He recently completed working as the Director of Photography on the hit comedy The Singles Ward, due in theatres January 2002.

PRODUCER - CARY DERBIDGE
At the age of nine, Cary Derbidge wrote his first screenplay. He began acting and performing in local and professional commercials and plays. He played a supporting role in the theatrical play A Day, A Night and A Day, produced by Doug Stewart, writer of the hit play Saturday's Warrior. During his two years of performing he fell in love with the stage. At age sixteen he wrote, directed, starred and scored his first musical Flight Upon Light. At the age of 22 he went on to produced such films as Private Eyes 2000 and Stripling Warriors. Two years later Derbidge founded Vision Star Entertainment and since then has continued working on many local and national productions.

PRODUCER - KENNETH MARLER
Marler started his career on the road to producing right out of high school at The Record Lab in Provo, learning sound engineering. He spent the next ten years doing live sound for several local bands such as Sun Shade & Rain, The Justus Brothers, Avatar and Ike Egan. During this same time he opened his own recording studio, Premier Info. He produced several recording projects such as Talon, Flight Upon Light and Kynda. Marler has commissioned two other screenplays to be written, Turnabout and Other Side, which will be going into production this coming year.

DIRECTOR OF PHOTOGRAPHY - MICHAEL WORTHEN
As well as Director of Photography for Out of Step, Worthen also holds credits in numerous television commercials, industrial films and independent feature films, dealing with many different aspects of film production. Among these independent features are Rockwell, Summer of the Eagle and Nightfall.

PRODUCTION DESIGNER - DOUG ELLIS
Ellis has been art directing for the TV show Spin City for over four years. Before working for Dreamworks Dramatic Television, Doug art directed for several other primetime television series including Madigan Men, Aliens in the Family and The High Life. Other credits include: House of Buggin, 3 A.M., Entropy, and the PBS documentary Memory of Fire. Ellis' roots started in the theatre with numerous productions such as: La Traviata, Madame Butterfly, Hay Fever, Robber Bridgegroom and Philadelphia Story. He is currently the Technical Director for the Division of Arts Production at Brigham Young University.

EDITOR - WYNN HOUGAARD
Hougaard has been a freelance editor at the LDS Motion Picture Studio for over five years. While working there he has been involved in countless narrative, documentary and commercial productions for the Church of Jesus Christ of Latter-day Saints. He was the Assistant Editor on director Blair Treu's feature film Secret Keeper. When not involved in commercial productions Hougaard teaches editing to film students at Brigham Young University. He is currently editing the feature film The Singles Ward.

CASTING DIRECTOR - JENNIFER BUSTER
Jennifer Buster got her casting start with Liberman/Hirschfeld Casting in Los Angeles, where she worked on such projects as Band of Brothers, The Drew Carey Show, It's Like, You Know, and The Norm Show. During that time she also took on her first independent feature film as the sole Casting Director for Richard Dutcher's film God's Army. Since then she has continued to work with Zion Films as the Casting Director for the Brigham City and is currently working on their third feature Prophet.



PRODUCTION
Out of Step is a film for anyone who has ever had a dream that just seemed a little bigger than they could achieve. It embraces the age-old theme that a small town nobody can become a big city success when your heart is in the right place.

Willow Leigh Jones wrote the original story. Then with enthusiasm Producer Cary Derbidge purchased the rights. The next step was to find someone to adapt the script for the screen. The writing skills of Michael Buster were brought on to adapt the story into a living, breathing screenplay.

Derbidge immediately approached Director Ryan Little about jumping on board. "I knew Ryan Little would be perfect to direct this film due to his fresh perspective and his very strong visual style." After reading the script Little felt intrigued by the characters "It's an emotional story and even though there is a lot of comedy going on, the strongest element is the very real love story between two people of different religious beliefs. There was no question going into this film that it was essential that we had to bring in someone who was an actor and a great dancer to pull off the lead" commented Little.

Casting Director Jennifer Buster knew exactly who was right for the part. Alison Akin Clark was the natural choice for the lead part of Jenny Thomas. With a strong background in musical dance theatre, she had the right combination to play the lead.

The Production decided to take the Mormon based script and to shape it in such a way that it could relate to an audience of any faith. A vision was set and the production was on its way. "This film is unique in style and rich in performance," says Derbidge. Canadian based music band Kriya was eager to get involved and help to bring an edgy feel to the music.

Michael Buster and Jeremy Elliott were a perfect fit to round off the professional cast with their authentic performances, giving the film another level of truism and honesty.

Music was an important part of the film. It was imperative that the film had a soundtrack that would enhance the visual style of the film. Groups such as Kriya, Alex Boye, Moxie Tonic, John McVay were just a few of the talented artists that eagerly participated in creating a highly anticipated soundtrack.

Vision Star Entertainment put together a stellar crew of people who were eager to be a part of the film. Principle Photography started in Salt Lake City, Utah and after two weeks of shooting moved to New York City to finish the remaining scenes.


Captions of photographs displayed in the "PRODUCTION" section:
DP MICHAEL WORTHEN AND AC DALAN GRANIT
CHOREOGRAPHER JAKE FRY WORKS WITH ALISON AKIN CLARK
DIRECTOR RYAN LITTLE
DIRECTOR RYAN LITTLE WORKS WITH SCREENWRITER MICHAEL BUSTER


Later, two names were added to the cast section:
CHOREOGRAPHER - JAKE FRY
Jake Fry has been working in the music theatre world for nearly ten years. Jumping from one project to the next, letting his interests grow from singing, musicals, Shakespearean acting and modern dance. He found modern dance during college and discovered a love for creativity and choreography that he hopes to pursue in the future. Jake has danced aboard a cruise ship, toured North Africa, Canada, parts of Europe, and the U.S. while continuing to work locally choreographing for high schools and theatres. Jinx in Forever Plaid, and Bobby Child in Crazy for You are among his favorite performing opportunities. Jake first collaborated with director Ryan Little back in 1996 when he took on the lead roll in Little's award-winning sci-fi short Exposure. They have been good friends ever since.

COMPOSER - MERRILL JENSON
Merrill Jenson grew up as a small town farm boy from Utah. He started his journey into the world of music by learning to play the piano. This quickly turned into a love for the Trumpet which aided him in getting a music scholarship at BYU. After completing college Jenson grabbed the attention of the LDS Church and was offered to score the upcoming film The First Vision. Since that time he has composed more than fifty film scores. Jenson has worked extensively with Academy Award-winning director Kieth Merrill and together they have collaborated on such films Windwalker, Legacy and The Testaments. Besides a consideration for an Oscar and a Grammy, Merrill Jenson has been praised by hundreds of critics for his outstanding ability to score music that speaks to the soul. He continues to compose music for Television and Major Motion Pictures today.
---
Out of Step Character Names:
"David Schrader" and "Paul Taylor"
What's in a name?

The two handsome NYC creatives who are the second and third corners of the "Out of Step" love triangle are named "David Schrader" and "Paul Taylor." Writers Jone and Buster may have simply come up with these names out of the blue. Or, they may be paying subtle homage to an American film legend famous for some classic films set in New York City.

Recombine "David Schrader" and "Paul Taylor" and one gets "Paul Schrader," which is the name of the screenwriter of many Oscar-winning and Oscar-nominated films, including "Taxi Driver" (1976), "Raging Bull" (1980) and "American Gigolo" (1980). All of these films are set in New York City (the setting for "Out of Step"), as are other Schrader films such as "Bringing Out the Dead" (1999) and "City Hall" (1996). Oddly enough, at least one movie reviewer has mistakenly identified Schrader as a Mormon (Review of Schrader's 1997 film "Touch": Andrew Worsdale, "Novel Perceptions", Mail & Guardian, November 12, 1997). Actually, Schrader was raised in a strict Calvinist household belonging to the Christian Reformed Church.

Another curiosity can be found in the un-recombined "Paul Taylor," the name of the LDS filmmaker in "Out of Step." This is exactly the same name as the character played by Brian Clark in the 1998 movie "Winding Roads." Who is Brian Clark? He is an actor who also happens to be the husband of "Out of Step" lead actress Alison Akin Clark. Of course, it is possible that the actor who starred in "Winding Roads" is a different actor named "Brian Clark." Either way, it makes for an odd coincidence.
---
Buzz Miller
The fictional story of "Jenny Thomas" may remind audiences of the real-life history of Vernal "Buzz" Miller, who was born to a large Mormon family on a farm in Snowflake, Arizona, and went on to become the country's top male dancer in the 1950s. Miller, who died in 1999, was esteemed on Broadway and in Hollywood, yet he never lost his rural charm and small town sensibilities.

Obituary (online source):
Buzz Miller (faculty) - (obituary from Dance Magazine, May 1999, written by Gemze de Lappe and Mary Kerner) - 75, a dancer prominent on Broadway and in film, died of emphysema in New York City on February 23, 1999. While the word "legend" is often bandied about, in the case of one particular male dancer, it is completely appropriate. Buzz Miller was not only a Broadway legend; he was also esteemed in Hollywood, on the concert stage, in Europe, in nightclubs, and throughout New York City after the War and during the 50s, when he was considered the hottest male dancer around. Miller worked extensively on Broadway with both Jack Cole and Bob Fosse in such shows as Magdalena, Two's Company, Bells Are Ringing, and Funny Girl. He danced in both the stage and film versions of The Pajama Game and also worked with the companies of Roland Petit and John Butler. Yet for all the fame he justifiably claimed, Buzz Miller was born simply Vernal, to a large Mormon family on a farm in Snowflake, Arizona, where the closest he came to the performing artist's creative life was on long rides far into the countryside alone on his hors. Miller had sex appeal and charisma as well as passion and wit in his dancing, with a mix of relaxed animal tension and contained energy that made audiences, both men and women, melt.
---
LDS Film Genre on the Brink
By: Brittany Brough
Source: Daily Universe / BYU NewsNet
Date: 15 January 2002
URL: http://newsnet.byu.edu/story/35908

The LDS film genre may disappear if local and national audiences do not increase their support for this year's movie releases such as "Out of Step," "Singles Ward" and "Charly.".

Ryan Little, director of photography in Spanish Fork and a BYU graduate, said the problem with making a multimillion dollar film for the LDS audience difficult due to the uncertainty about a financial return.

"That's why these films are low-budget," he said.

Little said making low-budget films is hard.

"You have creative restrictions because you can't always film where you want. You can't always have big price actors in the movie. That doesn't mean the actors aren't good. It just means you can't have star power attached to your product," Little said.

However, "The Other Side of Heaven" starred rising actress Anne Hathaway.

"People argue 'The Other Side of Heaven' is a beautiful film with actors people recognize. But the film cost $7 million to make," Little said.

By comparison, Managing Director of Zion Films, Emily Pearson, said "God's Army" cost $300,000 to make, and "Brigham City" $900,000.

Little said those in the LDS film industry know if they invest more money they won't see their financial return, and then they won't be able to continue making these films.

"The rule of thumb is that you have to make three times what it costs you to make the film to get your financial return back," Little said. With "The Other Side of Heaven," a return of $21 million would be necessary.

Mary Jane Jones, the media relations representative of Excel Entertainment Group, said "The Other Side of Heaven" has earned more than $800,000. However, the producers are not nervous about recouping costs.

"It's just begun to play. We plan to open in every state, and internationally," Jones said.

Little said the LDS market is not big enough because people do not go see the films, or they wait until it goes to dollar theaters.

"If the Mormon audience really wants to see high quality end products, they have to vote with their dollar. They have to support these films," he said.

Little encourages people to participate by going to Web sites and telling producers what they want, like or don't like in these types of films.

Little, who recently directed the upcoming film, "Out of Step," likes the feedback, but still finds it difficult to make these types of films.

"I tried really hard to make a film that was intended for the LDS audience and still tell an interesting story with conflict in it," he said, "but do it in such a way that if you weren't LDS, you could still relate and enjoy the story. I wanted to bridge the two markets."

"Out of Step" is about a girl who is from Utah, who kind of lives a sheltered Mormon life, and wants to be a professional dancer, Little said. She goes to New York and learns very quickly what it is like to be a minority, from a religious standpoint.

Alison Akin Clark, a BYU graduate, plays the main character, he said.

Her character has to decide on her own who she wants to be and what her values are going to be, Little said.

"It's kind of a coming-of-age film."

The film also stars Michael Buster from "God's Army" and Jeremy Elliott from "Testaments," and has music composed by Merrill Jenson.

Little called this year a make-or-break year in determining if the LDS film genre will continue. The success of this year's releases could directly affect other planned projects, he said.

"Out of Step" will release the trailer Thursday morning at Jordan Commons. The event is free and open to the public.


Related Web Sites
---
Is more better?
Hollywood will release 50 movies during next 3 months
By: Jeff Vice, Deseret News movie critic
Date: 2 February 2002
Source: Deseret News
URL: http://deseretnews.com/dn/view/0,1249,370008782,00.html?

There's a new strategy in Hollywood for 2002 -- if the studios can't make better movies, they'll make more. Fox's "Ice Age" is a computer animated comedy about prehistoric animals. It opens on March 15. There are more than 50 films scheduled to open between February and the start of the summer movie season (which will begin early this year when "Spider-Man" is released May 3).
Some of these pictures had their original 2001 release dates canceled after Sept. 11, including the Arnold Schwarzenegger thriller "Collateral Damage," the ensemble comedy "Big Trouble" and the sci-fi/action remake of "Rollerball" (which has been cut down from an earlier R-rated version to a more teen-friendly PG-13).
And the beloved classic "E.T. The Extra-Terrestrial" will be released in theaters in the form of a "director's cut," courtesy of one Mr. Steven Spielberg.
But it is some of the more "original" 2002 releases that show the most promise:
"Panic Room," David Fincher's thriller starring Jodie Foster is already receiving comparisons to last year's sleeper hit "The Others."

"Monster's Ball" is an Academy Award hopeful arriving late here on the heels of positive buzz for the Billy Bob Thornton and Halle Berry's performances.

"No Man's Land," a wartime comedy/drama from Bosnia, is another Oscar hopeful, in the Best Foreign Film category.

"We Were Soldiers" and "John Q." are notable as vehicles for superstars Mel Gibson and Denzel Washington, respectively.

"Ice Age" and "Return to Neverland" are animated features for families, the first a comedy that boasts a hysterically funny trailer, and the second a Disney sequel to the 1953 feature "Peter Pan."

"The Time Machine," "Blade 2: Bloodlust," "Resident Evil" and "Queen of the Damned" offer something for fans of science fiction and horror.

"The Singles Ward" and "Out of Step" represent local filmmakers and performers in LDS-themed movies hoping to cash in on the popularity of "God's Army," "Brigham City" and "The Other Side of Heaven."
A complete roundup of early 2002 releases -- including tentative release dates -- is on Page W3.
---
Coming soon to a theater near you . . .
Date: 2 February 2002
Source: Deseret News
URL: http://deseretnews.com/dn/view/0,1249,370008804,00.html?

Here's a list of movies scheduled to open in local theaters over the next three months: ...


FEB. 15
...
OUT OF STEP -- Locally produced drama about a Mormon girl pursuing her dreams of becoming a professional dancer in New York City. Stars include BYU graduate Alison Akin Clark, Michael Buster ("God's Army") and Jeremy Elliott ("The Testaments").


... SCHEDULED TO OPEN; NO FIRM DATES

POSSESSION -- Neil LaBute adapts the A.S. Byatt novel about two literature buffs (Aaron Eckhart and Gwyneth Paltrow) examining the romance between two Victorian poets and discovering their own mutual attraction.


[Article lists a total of 58 films. The other films opening on February 15th, the same day as "Out of Step" are: "Crossroads" (starring Britney Spears), "Dark Blue World" (Czech film with subtitles), "Hart's War" (starring Bruce Willis), "Iron Ladies" (Thai film with subtitles about gay volleyball team), "John Q" (drama and indictment of health care industry, starring Denzel Washington), Disney's animated "Return to Neverland" and "Super Troopers" (police comedy).]
---
Go to "Out of Step" page 2